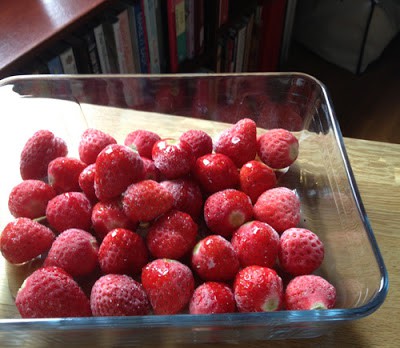 For the benefit of any new readers of Farmersgirl Kitchen, I am not a Vegan, I am not even a Vegetarian. I do, however, enjoy meatless meals so I was interested to receive a copy of 'Mouthwatering Vegan' by Miriam Sorrel, to review.
About the Author
Miriam Sorrell is the blogger behind
www.mouthwateringvegan.com
She is a natural health practitioner and vegan chef and currently lives in Malta.

About the book
Mouthwatering Vegan is promoted as a book of vegan recipes for everone's favourite comfort foods. Miriam challenges herself to replicate dishes that are usually impossible to include in a vegan diet and opens up the scope for what vegan eating can be. Included in the book are recipes for vegan cheese, cream and mayonnaise; Chilli Con 'Carne', Shepherd's Pie, Mince and Ale Pie, Stroganoff Supreme and the Perfect Roast.
I was rather surprised by this approach to vegan cooking, surely the point of being vegan is not to eat or use products from any living thing? So why would you want to recreate recipes which are based on meat and dairy? Many of the recipes use substitutes for meat and dairy products such as vegan bacon, vegan ground meat substitute, vegan burgers, vegan beef strips or textured vegetable protein (TVP) it is perhaps a matter of semantics but it still seems a little strange to me.
The Chapters
The Introduction tells you a little about the author and her reasons for choosing a Vegan diet.
Vegan Nutrition and The Vegan Pantry are very well laid out and would be extremely useful for anyone starting out as a vegan.
Breakfast, Juices and Smoothies includes Blackberry Muffins, Scrambled Tofu with Mushrooms, Sizzle-Sozzle Sausages, Banana Oat and Cinnamon Smoothie and Rose Coconut and Cardamom Smoothie.
Appetisers and Sides includes Moroccan Smoked Eggplant Dip, Pecan and Cognac Pate, Chilli, Olive, Garlic and Rosemary bruschetta and Mouthwatering Vegan Pastizzi.
Soups and Salads includes Greek 'Chicken' and Lemon Soup, Creamy Coconut Broccoli Soup, Cherry Tomato Soup, Cherry Tomato, Chickpea and Orange Pepper Salad and Rainbow Rice Salad.
Pasta, Pizza and Burgers includes Five Perfect Pesto Variations, Nutty Ragu Bolognese, Cheesy Cauliflower Pasta Bake, State-of-the-Art Lasagne, Stir-fried veggies with Cashews and Noodles, Fast Layered Tomato Cheese Burgers and Wacky Hot Dogs.
Curries includes Fastest Thai Curry ever, Orange and Chocolate Knockout Curry, Sweet Potato Fusion Curry and Tandoori Kofta Masala.
Mouthwatering Mains includes Chilli Con "Carne", Greek Garlic Bean Stew, Spicy Rice and Quinoa Bake, Juicy Portobello Steaks in a Peppered Cognac Sauce, Lemon Spiced Dolmades, Sweet Potato Moussaka, Cornish Style Sausage Pie, Mince and Ale Pie and The Perfect Christmas Roast.
Desserts, Cakes and Treats includes Raw Chocolate, Fruit and Nut Balls, Maltese Date and Fig Bars, Chocolate, Kahlua and Orange Trifle, Ruby Red Strawberry Crumble (see recipe below), Double Chocolate Coke Cake and Bountiful Coconut Chocolate Bars.
Decadent Cheese and Dairy Alternatives includes Happy Milk, Vegan Mozzarella, Mature Cheddar "Cheese", Nutty Parmesan and Bechamel Sauce.
The final chapter is "Why Vegan?" where Miriam explores the ethical, dietary and environmental reasons for being vegan.
There are over 130 recipes and I found myself drawn toward the Appetisers, Salads and the Desserts and any recipes which didn't use substitutes.
I had bookmarked the Cherry Tomato, Chickpea and Orange Pepper Salad but in the end decided to make the Ruby Red Strawberry Crumble

Ruby Red Strawberry Crumble
serves 4
1 1/2 lb (750g) fresh strawberries, washed and sliced into 3-4 slices each (I used frozen strawberries, which I baked from frozen and left whole, it worked perfectly well.)
2 tsp (10ml) turbinado or raw sugar
2 tbsp (30ml) maple syrup
1 cup (250ml) unbleached all purpose or wholewheat flour, or a combination
1 1/2 tbsp (22.5ml) rolled oats
3 tbsp (45ml) vegan white sugar or turbinado sugar
3 tbsp (45ml) vegan margarine
1/2 tsp (2ml) almond extract
1. Distribute the strawberries evenly in a 9 x 13 inch (3.5L) greased casserole dish, then cover with the sugar and pour the maple syrup over the top.
2. Preheat the oven to 350F (180C)
3. Place the flour, oats and sugar in a food processor and process until crumbs are formed.
4. Add the margarine and almond extract and process for a few moments.
5. Tip the mixture into a large bowl and continue to crumble by hand. You should be left with a crumble mixture, not a dough, it if over thickens, add a little more flour to dry it out.
6. Distribute the crumble as evenly as possible on top of the strawberry filling, cover in aluminium foil and bake for 20 minutes (baking covered helps the filling to cook and yield its nectar).
7. Uncover and cook for another 15 minutes, until the crumble turns golden. Serve hot.

This is an excellent recipe and very forgiving. I did the first 20 minutes with the foil lid earlier in the day when I had the oven on anyway, then reheated the crumble for 15 minutes to crisp up the crumble. The frozen strawberries worked really well, I don't usually freeze strawberries, but they were given to me on a day I had already bought some strawberries and didn't have time to use the for anything else.

I served the Ruby Red Strawberry Crumble with vanilla icecream on the first night and then with custard the second time I served it. I can thoroughly recommend this crumble, it's the first time I've used strawberries in a crumble and I wouldn't hesitate to do it again. There is no overwhelming taste from the Maple syrup nor is the fruit too sweet. The crumble is not very crisp but I know from experience that that is the oats in it, but it is quite light and not cloying at all. I got five generous helpings from the dish, so I think it could easily stretch to six.
Pros
There are many interesting and varied recipes in Mouthwatering Vegan, each recipe has a page to itself with a bit of introduction, ingredients on the left and instructions on the right. The photographs are excellent and really do make your mouth water.
Cons
I definitely struggled with the concept of meat and dairy style recipes, but as I said at the beginning, I'm not a vegan and as Miriam says "each of us should take responsibility for our food choices" so each to their own. My only other comment is that the book does not sit open easily, it's a large paperback and I think the spine would eventually break from pressing it open.
The Verdict
If you are a vegan or are interested in becoming a vegan, I would suggest you start with Miriam's blog and if you like her style of cooking then you will love having all the recipes organised into a book. I'll certainly make some of the recipes, at least those which don't use processed substitutes, as that is my choice.
Mouthwatering Vegan by Miriam Sorrell
Published by Appetite by Random House
A special US import distributed by Turnaround
RRP £19.99