I have a whole slew of goodies to share with you on my Kitchen Table today. Everything from Salmon, coffee, a lazy arm, and Golden Kiwis. Let me take you through this eclectic mixture of product reviews.
Big Fish Brand Salmon Fillets are frozen salmon fillet marinated with a variety of fantastic flavours: Piri Piri, Lemon and Pepper, Sweet Chilli. Garden Mint, Eastern Thai, Sticky Maple, BBQ Sauce. They come in packs of two fillets and cost £5,89 per pack.
We really enjoyed every single flavour, the fillets are ideal for a quick dinner to pull out of the freezer. They have become a Friday night staple in our house and I will definitely be buying them in future. I think the price point is right too, as two salmon fillets without any flavouring can be around £4.00.
Rating 10/10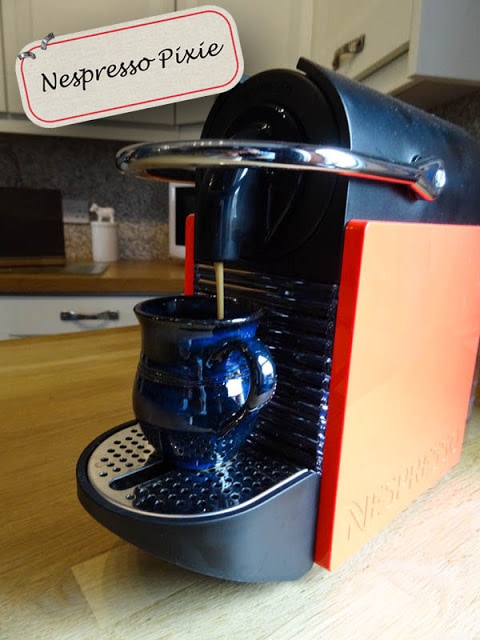 Customised coffee machines are here – introducing the new Nespresso Pixie Clips
A new 'capsule wardrobe' for the Pixie range
Okay, I know this does sound rather pretentious! a wardrobe for your coffee machine, but if you are one of those people who like everything in your kitchen to match, it's good to know that won't have to buy a new machine when you redecorate your kitchen you can change the side panels and voila your coffee machine looks like new and is totally co-ordinated for your look.
Here's what the people at Nespresso say:
This machine will be a popular choice for both coffee aficionados and style devotees as it features interchangeable side panels that can be adapted to suit any style or the latest kitchen design trends.
With an extensive range of colour contrasting side panels and a simple clipping system, changing the style of the machine to suit the occasion or mood, couldn't be easier. This newest addition to the Pixie range will not only create the perfect coffee at the touch of a button, time and time again, it will also allow the user to reflect their individuality as they can change the colour to match their mood, their kitchen or even their favourite Grand Cru capsule.
Pixie Clips comes complete with two pairs of exchangeable side panels but the fun doesn't stop there – 12 other pairs of clips will be available including Pop, Arty, Elegant or High-Tech making it easy and exciting to change the style – the possibilities are endless.
The Pixie machine features two programmable cup size buttons to deliver the perfect serving size of an espresso or lungo coffee. Furthermore, the foldable drip tray support accommodates differing cups for espresso and milk coffee lovers alike. Purchasing an Aeroccino milk frother with the Pixie Clips machine ensures the perfect latté can also be created, time after time.
I was a bit of a sceptic about coffee pod machines so was pleasantly surprised at the quality of the coffee, however be careful which coffee pod machine you buy. The Pixie will provide a great Espresso and stretch to a Lungo, but if you are a full on Americano girl like me, then you'll find you need three Espressos in your mug before you can top it up and have it strong enough. There are lots of different Nespresso machines so sure to be one to meet your preferences. I still prefer a big jug of filter coffee and do have concerns about the use of pods in terms of the environment, but I appreciate that they are useful in certain situations and for particularly for an individuals.
Priced at £139 (or £179 with an Aeroccino) the newest Pixie machine comes with two pairs of clips, additional decorative panels can be bought separately – prices range from £15 to £30 a pair, depending on the finish. Pixie Clips and panels are available from Nespresso boutiques, or online at www.nespresso.com.
Rating 8/10
Ooh I love a gadget, have you noticed? The Lazy Arm is designed to give you a helping hand, it's a flexible Smartphone holder can be clipped onto most surfaces. Perfect for watching cooking techniques on YouTube, read online recipes from your favourite blogs or websites or simply listening to music and making hands free calls,
The only thing negative thing I would say about the Lazy Arm is that you need to be strong to use the clip and the flexible arm has to be firm or it would fall down, but it does take a bit of maneuvering into place. However other than that it is a really useful gadget and I found that you can also use it to film yourself preparing food, so there may be some of that coming to Farmersgirl Kitchen in future.
The Lazy Arm is compatible with most Smartphones. To use, clip onto desired surface, attach your Smartphone and enjoy the comforts of The Lazy Arm!
The Lazy Arm is available from Genie Gadgets at £8.95 which is pretty reasonable.
Rating 8/10
I wasn't quite sure what to expect from these Zespri SunGold kiwifruit, billed as a new super-fruit packed with nutrients and high in Vitamin C (three times more than oranges!). However, I was really pleasantly surprised, they were super-delicious, way nicer than the green kiwis. Sweet and with a real flavour almost like a very sweet gooseberry, although they are said to have flavours of mango and melon.
There are lots of recipes on the Zespri website for juices and smoothies but I simply paired them with some Scottish raspberries and served them with greek yogurt. I can highly recommend these golden kiwis and will be looking out for them in the shops.
Rating 9/10
I was provided with products to review and I was not paid for these reviews and all opinions are my own.