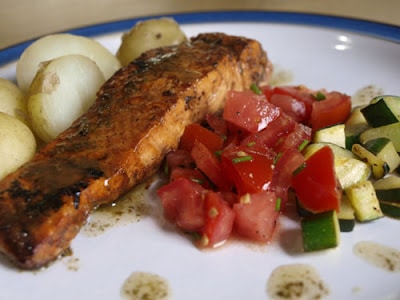 Farmed salmon is something we eat regularly, it can be a little bland, so it's nice to dress it up with some punchy flavours. This recipe exceeded both our expectations and is definitely going on my summer favourites list!
Salmon Steaks with Basil and Balsamic Vinegar
from Good Housekeeping Cookery Book (The Cook's Classic Companion)
Serves 4
4 salmon fillets
30ml (2tbsp) balsamic vinegar
10ml (2tsp) soy sauce
90ml (6tbsp) extra virgin olive oil
40g (1 1/2 oz) fresh basil, stalks removed
8 ripe plum tomatoes (or other flavourful tomatoes) diced
30ml (2tbsp) chopped fresh chives
salt and pepper
basil sprigs to garnish
1. Place the salmon steaks in a shallow non-metallic dish. Mix the balsamic vinegar and soy sauce together and pour over the salmon, turning to coat. Cover and leave to marinate in a cool place for 30 minutes.
2. Meanwhile, put the olive oil and basil in a food processor or blender and work until smooth. Pour into a bowl, cover and leave to infuse. (do not make this too far in advance)
3. In a bowl, mix the tomatoes with the chives and season well with salt and pepper. Cover and set aside
4. Lift the salmon out of the marinade and place skin side down in a hot pan with a little olive oil. Cook for 4 minutes each side, once cooked add the rest of the marinade to the pan and reduce to a syrupy sauce.
5. Whisk the basil oil briefly at this stage to re-combine.
6. Spoon the tomato mixture onto the warmed serving plates and place a salmon fillet on top. Drizzle with the basil oil and spoon on the reduced marinade. Serve immediately, garnished with basil.
The eagle-eyed amongst you will notice that there are also some courgettes on the plate. They came straight from the garden, chopped into small dice and cooked in a little olive oil in a pan with lemon zest and a teaspoon of lemon juice, seasoned with rosemary salt and pepper.
And finally some boiled new potatoes to soak up the juices.