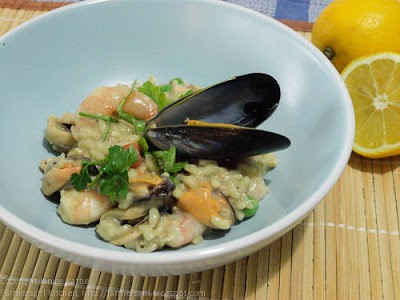 I love seafood, it is probably the thing I would choose when eating out over any other type of food.  While I cook and eat prawns and fish quite frequently I have never actually prepared mussels from scratch before, it was a bit more time consuming but the mussels were much tastier.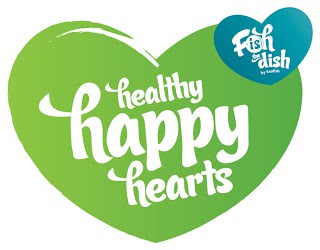 I'm taking part in an initiative organised by Fish is the Dish called Healthy Happy Hearts   Eating seafood gives great health benefits, in fact there is a whole section of the Fish is the Dish website dedicated to them
http://www.fishisthedish.co.uk/health Health benefits include better heart, brain development, muscle repair, good skin and hair and so much more.
The Food Standards Agency and experts throughout the world recommend
we eat two portions of fish per week, one of which should be oily fish.  So I've signed up to do just that and tell you about how I get on.

My first dish is a Seafood Risotto containing, mussels, prawns and salmon fillet. The risotto was delicious, adding coconut milk to the mussel liquor and fish stock made the rice rich and creamy.  If you buy mussels already cooked and shelled, they are generally a bit rubbery and tasteless. These were soft and sweet and adding the salmon at the end so it just cooks in the heat of the risotto makes it soft and flaky.
Seafood Risotto (serves 6)
450g mussels in shells, cleaned
50g butter
1 onion, peeled and chopped
2 garlic cloves, peeled and crushed
2tsp jerk spices
1 tsp turmeric
1/2 tsp ground cinnamon
225g arborio rice
300ml fish stock (I used Essential Cuisine)
400g coconut milk
2 tomatoes peeled, deseeded and diced
225g raw prawns, peeled
225g salmon fillet, cut into small cubes
125g frozen peas
25bsp chopped fresh coriander
1 tbsp lemon juice, or to taste
1. Put the mussels in a large pan with a dash of water over a high heat.  Cover with a tight-fitting lid and steam for 4-5 minutes until cooked; discard any mussels that remain closed.  Strain the liquid through a fine sieve into a clean pan.  Refresh mussels under cold running water and reserve.
2. Melt the butter in a large pan and fry the onion with the garlic and spices for 10 minutes until softened.  Add the rice and stir-fry fr 1 minute until glossy.
3. Add the stock and coconut milk to the mussel liquor; bring to a simmer.
4. Add the tomatoes to the rice, then start adding the coconut liquid, a ladleful at a time, stirring constantly.  Continue in this way, allowing each addition of the liquid to be absorbed before adding the next, for about 20 minutes.
5. Add the prawns, squid, tomato and peas with the remaining liquid; cook for 5 minutes.  Remove from the heat.  Stir in the mussels, coriander and lemon juice.  Cover the pan and leave to rest for 5 minutes.  Check the seasoning before serving.
More Healthy Happy Heart Dishes