Belleau Kitchen: Random Recipes #6 – a few of my favourite things…
Random Recipe challenge for July is to choose a recipe at random from your Favourite cookbook. Eeek, how on earth do you choose your favourite cookbook? I have different favourites for different types of food and eating. In the end, as I am on a bit of a fat reduction mission, I decided to choose my favourite low-fat cookbook.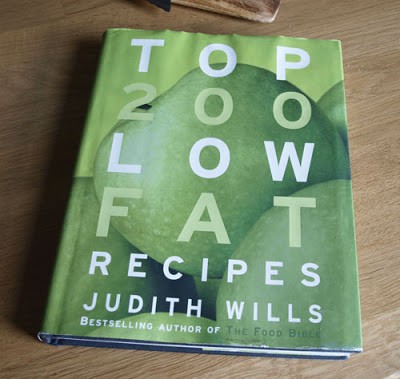 And this is it! Top 200 Low Fat Recipes by Judith Wills, I've had it for years, it was published in 2003 and I've probably had it since just after that. There are many delicious recipes which are not 'diet' just lower fat versions, some of the recipes are old favourites, but as this is a random recipe challenge I opened the book at random and actually came upon a recipe I haven't made before.

Seared Ginger Beef and Mushrooms (serves 2)

1 tbsp groundnut oil
100g broccoli, cut into small florets
300g lean rump steak, cut into strips
3 cm piece of fresh ginger, grated
2 cloves garlic
125g shitake mushrooms, sliced (I just used ordinary mushrooms)
100g canned bamboo shoots, drained sliced
For the sauce
1dsp sauce flour (I used cornflour)
1tsp brown sugar
1 tbsp soy sauce
1 tbsp dry sherry
1/2 tbsp sherry vinegar (I used white wine vinegar)
1 dsp black bean sauce
50ml beef stock
1. Combine the sauce ingredients thoroughly in a jug or bowl and set aside.
2. Heat the oil in a non-stick wok or large non-stick frying pan and stir-fry the broccoli over high heat for 2 minutes.
3 Add beef and stir-fry for 1 1/2 minutes, then add the ginger and garlic and stir to combine.
4. Add the mushrooms and bamboo shoots and stir-fry for 1 minute, then tip in the sauce ingredients, stir well and cook for a further 2 minutes, stirring continuously. Serve immediately with thread egg noodles or rice.

Overall it was a nice combination, I had some pak choy so added that with the broccoli and doubled up the ingredients to make enough for four. I think it would have benefited from some chilli or a bit more black bean sauce as we had to add some extra soy at the table. But that my just be that I like a bit of a kick to my food.
Remember to check out Random Recipes at Belleau Kitchen.