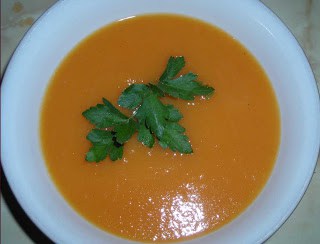 I got this recipe from the Recipe Card Swap on Bubblyfunk Forum
It is a lovely colour and tastes very nice, it would have been nicer had I used the butter and cream that was recommended but I stuck to a little oil and some milk as I am trying not to eat too much fat at the moment, still put in the sherry though lol. Mind you, I HAD to have doughnut today as it was someone's birthday and we always have 'buns' on birthdays – it wouldn't have been polite to refuse now would it? hee hee hee.
Serves 4
1 onion, chopped
25g butter
450g carrots peeled and sliced
1 potato, diced
750mil chicken stock
pinch ground ginger
pinch ground cinnamon
salt and pepper to taste
150ml single cream
2tbsp dry sherry (optional)
chopped parsley, to garnish
1. Ina heavy based saucepan, melt the butter then fry the onion gently until soft but not browned.
2. Add the sliced carrots and diced potato, stirring until well coated with butter.
3. Add the stock, spieces and seaonsing to the pan
4. Bring to the boil then lower the heat and simmer, covered, for 45 minutes
5. put the soup into a blender of food processor and blend until smooth.
6. Return the soup to the pan, then stir in the cream and sherry and heat through without boiling.
Serve sprinkled with parsley. You can prepare ahead and freeze it after step 5.