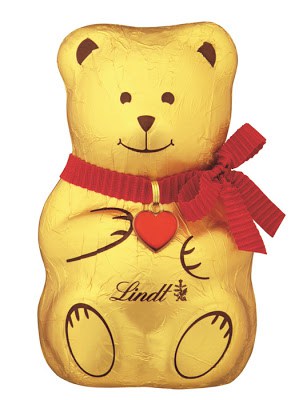 What a great way to give to charity! With its familiar cheery smile, loveable little heart and smooth milk
chocolate body, the Lindt Bear makes the perfect treat. It's also the perfect way to 'show you care', as the
Lindt Bear is helping raise £100,000 for BBC Children in Need in 2012.
Lovingly crafted
by the Lindt Master Chocolatiers, each luxury chocolate Lindt Bear is a
seasonal favourite that helped to delight thousands of adults and children after
its launch last year. Wrapped in its distinctive golden foil and complete with
keepsake heart and ribbon, it looks almost as good as it tastes.
The charming Lindt Bear 100g is already in your local store
(RRP £2.99)
In the run up to
the BBC Children in Need Appeal which culminates on 16th November 2012, there
will be a special charity auction of limited edition porcelain Lindt Bears –
each signed by a well known celebrity. Keep an eye out for more information and
auction details at
facebook.com/lindtuk
.
As well as the
classic Lindt Bear 100g, there are also six other ways to 'Show you care with
the Lindt Bear' this festive season, available from stores nationwide or online
from lindt.co.uk.