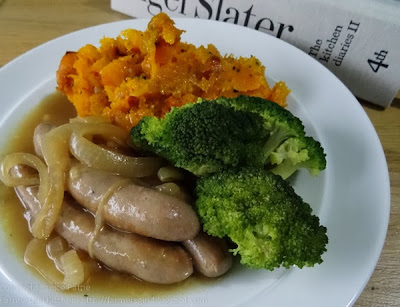 In the November chapter of Nigel Slater's the kitchen diaries II there are all kinds of warming dishes for those cold damp days as autumn draws to a close and winter begins. One of these is Slow-Baked Sausages, pork butcher's sausages cooked with dark beer, onions and brown sugar.
Nigel suggests serving the sausages with mashed potatoes, but I served my sausage dish with roasted and mashed butternut squash and some fresh green broccoli as a bit of a contrast. The rich beery gravy worked really well with the sweet butternut squash and the sausages were tender and meaty. Another big success from Mr Nigel Slater! I'm really looking forward to watching him with Countryfile favourite, Adam Henson, on BBC 1 from 20th November for Nigel and Adam's Farm Kitchen.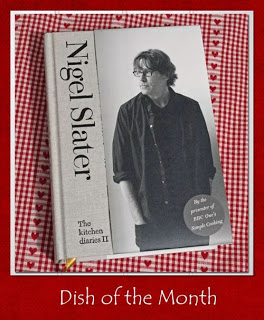 If you would like to take part in Dish of the Month, then please:
Make a Dish of the Month from ANY recipe by Nigel Slater
Link to Farmersgirl Kitchen or A Little Bit of Heaven on a Plate
Use the Dish of the Month logo in your post
If you use twitter, tweet your post with @FarmersgirlCook or
@Heavenona_plate and #DishoftheMonth and we will re-tweet it to our
followers.
Rules:
If you own The kitchen diaries II please do not publish the recipes on your blog without permission, they are copyright.
If you are using recipes from the BBC Food website, please link to the recipe on BBC Food rather than publishing the recipe. Likewise recipes on the Guardian Lifestyle website.
One entry per blog.
Recipes must be added to the linky by the 28th of each month.
document.write(");