I'm so impressed by the entries to the Slow Cooked Challenge this month. January is the perfect time to have warming slowly cooked stews, soups and casseroles. I hope you will visit some of the blogs, enjoy making these dishes and join us for the Slow Cooked Challenge in February over at Baking Queen 74
Slow Cooked Borlotti Bean Chilli is a Veganuary inspired recipe from The Veg Space.
Slow Cooker Venison Sausage Stew is a great week night filler from Slow Cook convert Sew White.
Slow Cooker Lamb Cobbler from Jibberjabber UK makes a great one pot meal.
Slow Cooker Sausage, Mushroom and Red Onion Casserole is a rich and warming dish from Jam and Clotted Cream
Mushroom Stroganoff is a simple and healthy dish from Food Jam, I love how it's topped with a fried egg!
Slow Cooker Mixed Game Stew is a great way to enjoy game, brought to us by Onions and Paper

A Slow Cooker Christmas present has inspired Becks Bake to join us with this delicious Chilli Con Carne served in Taco shells with all the trimmings.
Slow Cooker Chana Masala (Vegan and oil free) is the entry from Janet at The Taste Space, it looks like a real winter warmer.
Balsamic Tomatoes and Butterbeans Soup is a really inspired combination from Shaheen at Allotment 2 Kitchen (A2K)
More beans feature in Slow Cooker Vegetable and Cider Cassoulet from Sarah at Tales from the Kitchen Shed, another great meat free slow cooked recipe.

Chicken and Pearly Barley Stew is a lovely bowl of comfort food brought to you by Karen at Lavender and Lovage.
My Slow Cooked Challenge 'partner in crime' and co-host Lucy at Baking Queen 74 has gone meat-free with a Slow Cooker Aubergine, Pepper and Mozzarella Bake
An unusual and delightful recipe for Salted Caramel Apple Sauce comes from Niki at Rooted in Food.
For a recipe that's healthy, spicy and comforting, look no further than this Veggie Sausage, Butternut Squash and Kale Cajun Stew from Dom at Belleau Kitchen.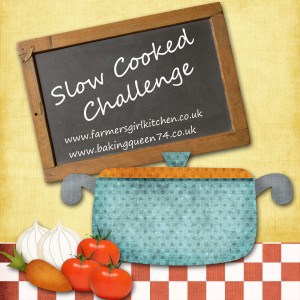 Thanks again to everyone who entered the Slow Cooked Challenge, your recipes are so inspiring so please keep them coming. Full details of the Slow Cooked Challenge and links to previous round ups are available on the SLOW COOKED CHALLENGE page.