I took a bit of a gamble with the Slow Cooked Challenge May, choosing 'Rice & Grains' as the theme. It was either the start of the warmer weather or the theme itself which kept the usual suspects away from their slow cookers, so I was more than delighted with the two outstanding entries that popped up in the Linky.
Sarah at Maison Cupcake has created the most amazing dessert, it's rice pudding but not as you know it! Let's just say, Mars Bars and Mars Milk Protein Drink are involved – oh my goodness you need to go and visit Maison Cupcake and see this MARS BAR SLOW COOKER RICE PUDDING.
The other entry for the Slow Cooked Challenge May is also a real cracker. Lucy of Baking Queen 74 and my co-host, has come up with a beautiful SLOW COOKER SPINACH & HALLOUMI PEARL BARLEY RISOTTO, those more robust grains are really good in the slow cooker, they swell up and soak up their cooking liquid, but retain a good texture.
You can also see my recipe Slow Cooked Risotto which was made using arborio rice.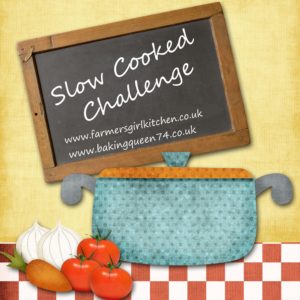 For more information and links to all the round ups with links to all the reicpes, visit the Slow Cooked Challenge page at Farmersgirl Kitchen. The new challenge will be posted on 1st June and will be open for 3 months with a mega-round up at the end of August.