I have been absolutely delighted with the recipes linked up to the Slow Cooked Challenge this month. All the Slow Cooker and Slow Cooked recipes are meat-free and a feast for the eyes and the palate, we have everything from a simple bowl of Lancashire Black Peas from Jane to Dominic's beautifully layered Spinach, Rocket, Watercress and Ricotta Lasagna, with a slow cooked pot full of squashes and vegetables in between. Please do click through to the Slow Cooked Challenge recipes, you certainly won't be disappointed.

Slow cooker and Slow Cooked Challenge Meat Free Recipes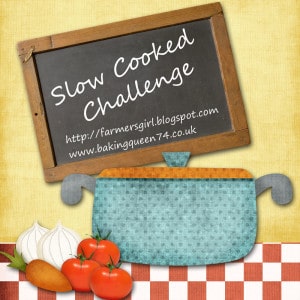 Many thanks to the participants in the Slow Cooked Challenge For all your Slow Cooker and Slow Cooked Recipes. The December Slow Cooked Challenge will be hosted by Lucy at Baking Queen 74 from December 1st.