Smoked Haddock Bake is filled with sweet lightly smoked haddock and buttery fresh leeks combined with creamy creme fraiche. A crisp crunchy cheese and breadcrumb topping finishes off this delicious bake and adds great texture.
Who is St Andrew?
St Andrew is the Patron Saint of Scotland. He is also the Patron Saint of Romania, Greece and Russia.
When is St Andrew's Day?
St Andrew's Day is celebrated on 30th November each year. It is a day to celebrate the food and culture of Scotland.
What is St Andrew's Flag?
The flag of Scotland is dark blue with a white St Andrew's cross. St Andrew is believed to have died on a diagonally transversed cross which the Romans sometimes used for executions. This is how it came to be called
St Andrews Cross. The flag is most commonly known as the Saltire.
Smoked Haddock Bake
Seafood Scotland's Young Chef of the Year, Adam Newth, has created a couple of fish dishes for Scotland.org, the Gateway to Scotland.  I made the Smoked Haddock Bake after a long day preparing for a pre-Christmas family feast. 
It was so quick easy to make and pop into the oven, everything is in one dish, we really enjoyed it.  There are lovely contrasting textures of salty, smoky fish, creamy but sharp creme fraiche, tender pieces of potato and the crispy breadcrumb and parmesan mix on top.  The dish also contains broad beans and peas making it a great one-pot meal.
Check out the rest of the St Andrew's Day menu and maybe you could have a St Andrews Night In this Saturday?
More Scottish Recipes from Farmersgirl Kitchen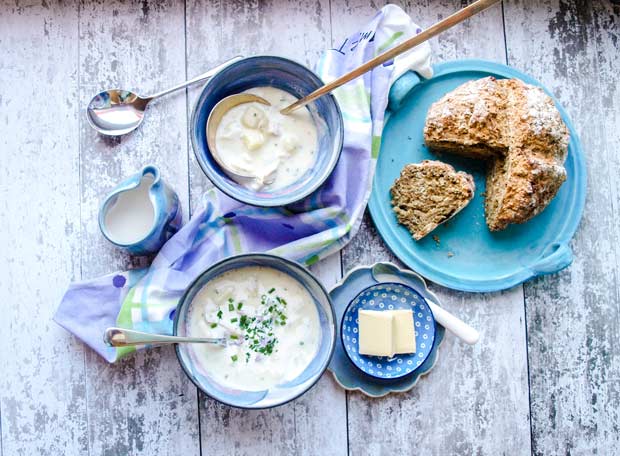 Cullen Skink – Scottish Smoked Haddock Soup
Cullen Skink is a traditional Scottish soup made with smoked fish, potatoes, and onions. It's the perfect soup to serve as a hearty family meal with homemade soda bread and equally at home at an elegant dinner party.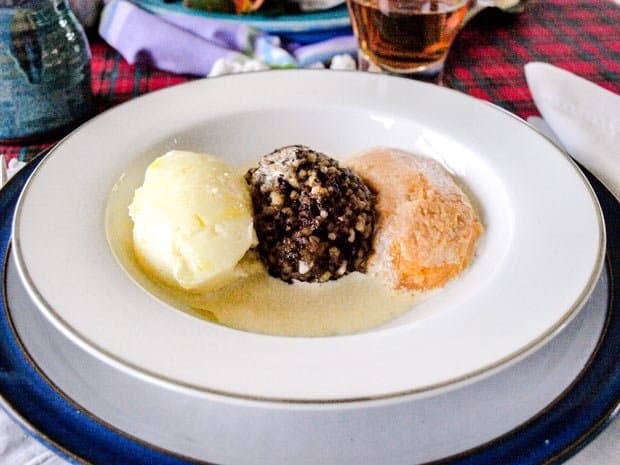 Haggis, Neeps & Tatties
Haggis, Neeps (Swede) & Tatties (Potatoes) is the iconic Scottish recipe. I have put together an article to show you How to host the Ultimate Burns Supper. It is a  step by step guide to the recipes and traditions of a Burns Supper held to celebrate the poems and songs of Scotland's National Bard, Robert Burns.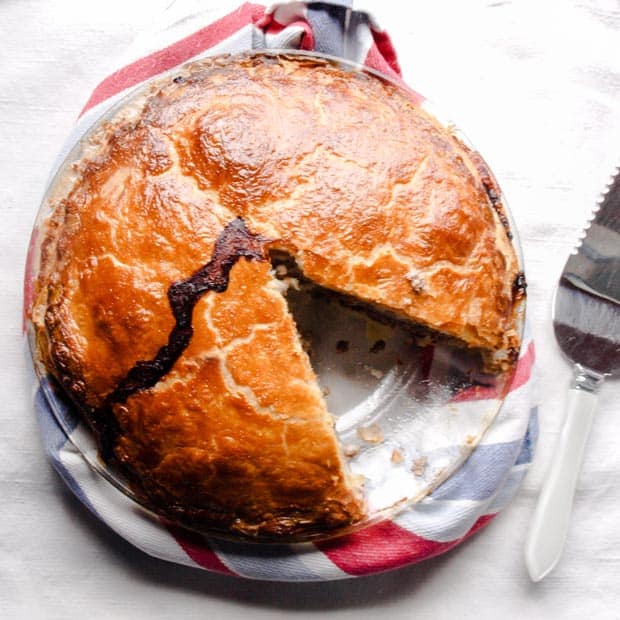 Scottish Minced Beef Pie
Cut through the crisp buttery puff pastry crust of this traditional Scottish Mince Beef Pie to find the delicious beef and onion filling. This is my grandfather's recipe and it's so easy to make using ready-made puff pastry and with no pre-cooking needed for the minced (ground) beef.
I was not paid to write this post and all opinions are my own.