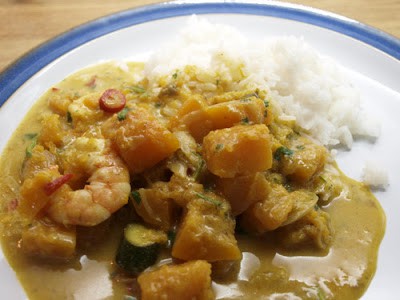 We don't have a Sainsbury store near my home. But I travel about a bit in my work and at one of the sites I frequent there is a Sainsbury's within walking distance and I like to drop in their in my lunch hour. I picked up a copy of the Sainsbury's Magazine for October as I liked the look of some of the recipes.
I particularly liked this recipe for
Spiced Butternut Squash and Prawns with coconut and chilli:
Serves 3-4
Serve with Basmati rice
2 tbsp groundnut or vegetable oil
1 small onion, finely sliced
4 cloves garlic, crushed
2 green chillies, finely chopped, plus sliced chilli to serve (I only had red chillies so used these instead)
1/4 tsp turmeric
2 tbsp jalfrezi or other medium curry paste (I used Pataks Jalfrezi)
1 medium butternut squash, peeled and cubed
I had a couple of little courgettes which I also added.
2 x 400ml tins coconut milk
20 large, raw shelled prawns, ideally with tails left on
juice of 1/2 large lime
2 handfuls of coriander leaves
1 Heat the oil in a shallow-sided pan and gently fry the onion, garlic and chopped chilli for 5-7 minutes, until softened. Stir in the turmeric and curry paste and fry for a further minute.
2. Add the butternut squash and coconut milk, bring to the boil, then simmer for 15 minutes.
3. Stir in the prawns and lime juice ans dimmer for a couple of minutes until the prawns are cooked. Check the seasoning. Add most of the coriander and serve topped with the rest and the slices of chilli.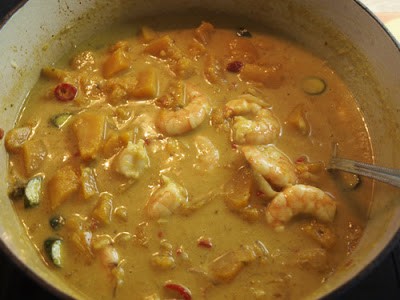 I really can't recommend this recipe enough, it was easy to make and was lovely and creamy. The recipe says it feeds 3-4, but you could easily feed 6 with this potful. It would also be a great vegetarian dish by simply leaving out the prawns.