2 eggs
175g (6oz) caster sugar plus 15g (1/2 oz) extra for sprinkling
1/2 tsp vanilla extract
75g (3oz) butter
75ml (2 1/2 fl oz) milk
125g (4 1/2oz) plain flour
1/2 tsp ground cinnamon
2 1/4 tsp baking powder
2 small or 1 large cooking apples
75ml (2 1/2 fl oz) double cream, to serve
20cm x 20 cm (8 x 8 in) square cake tin
1. Preheat the oven to 200C (400F), Gas mark 6. Line the sides and base of the cake tin with parchment paper.
2. Using an electric whisk, whisk the eggs, 175g (6oz) caster sugar and vanilla extract in a large bowl until the mixture is thick and mousse-like and the whisk leaves a figure of eight pattern (this will take about 5 minutes).
3. Melt the butter in a saucepan with themilk, then pour onto the eggs, whisking all the time. Sift in the flour, cinnamon and baking powder and fold carefully into the batter so that there are no lumps of flour. Pour the mixture into the prepared tin and smooth the surface.
4. Peel and core the apples and cut into thin slices, then arrange them over the batter. They will sink to the bottom(this is meant to happen). Sprinkle with the remianing sugar and bake in the oven for 10 minutes. Reduce the oven temperature to 180C, 350F, Gas mark 4 and bake for a further 20-25 minutes or until well risen and golden brown.
5. Allow to cool in the tin , cut into squares and serve warm.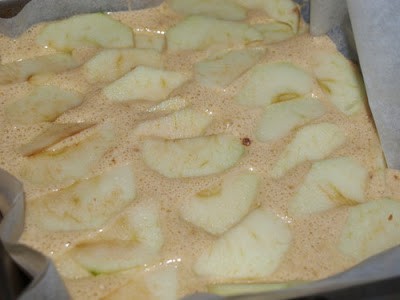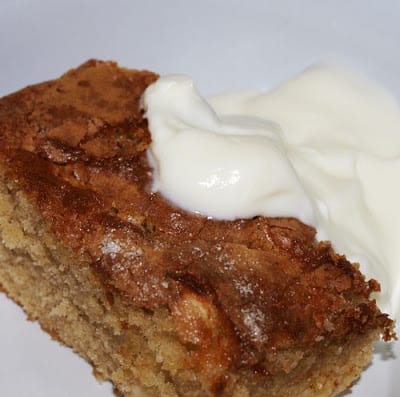 It is delicious, I served it with greek yogurt, rather than cream and the apples didn't all sink into the batter, some stayed on top and were nicely caramelised with the sugar.