Spicy Moroccan Kale and Rice Soup is a really hearty and healthy soup, the kind that fills you up and also provides all the vitamins, minerals and protein that you and your family need. We've had some really odd weather here on the farm this winter. One day it's hard frost but the sun is shining, the next day it's pouring with rain and it's snowing on the high ground. It's so important to maintain your health in these conditions, and this soup fits the bill!
You couldn't do better than a warming bowl of Spicy Moroccan Kale and Rice Soup, a recipe from a new cookbook: We Love Kale from Apple Press.

We love Kale
The Blurb: We love Kale is bursting with over 100 original and exciting mouthwatering recipes – with kale taking centre stage in everyone. Low in calories, yet high in fibre, this zero fat "queen of greens" is the perfect ingredient to have in your kitchen. Packed with nutrition, kale is high in iron, Vitamin K, and powerful antioxidants, keeping you healthy whilst tasting delicious.
The Authors: The recipes in We Love Kale come from five leading food and healthy lifestyle bloggers and food writers: Kristen Beddar of The Kale Project; Karen S. Burns-Booth of Lavender and Lovage; Carolyn Cope of Umami Girl; Jassy Davis of Gin and Crumpets and Kristina Slogget of spabettie.
Recipes that stood out: Kale and Shitake Pot Sticker Dumplings; Baby Kale Falafel with Green Hummus; Spicy Chipotle, Kale and Lime Enchiladas; Lentils, Caramelized Onions and Kale with Roasted Walnuts; Spicy Moroccan Kale and Rice Soup (recipe below); Kale Saag Aloo with Homemade Rotis; Kale Red Pepper and Feta Muffins and Triple Rich Hidden Gem Brownies which look so good and good for you too!
Pros & Cons: I really love the way this book is laid out, there is loads of nutritional and preparation information and most recipes feature a variations page, giving you even more options for the recipe. See the Baked Eggs, Kale and Guyere page below..

…and this is the Baked Egg Variations page, giving three more ways to use the recipes.

Not a lot of Cons, unless you don't like Kale and are not willing to give it another go with the great advice and delicious recipes in this book. however, it is one of those annoying books that won't stay open on its own!
The Verdict: I love green vegetables and have been cooking with kale for some time now, however, I found some really useful information and different ways to use these super-charged leaves. It's a keeper.
Recipe for Spicy Moroccan Kale and Rice Soup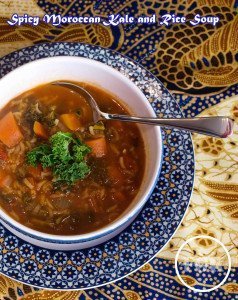 Spicy Moroccan Kale and Rice Soup
This Spicy Moroccan-Style Soup is low in calorise and fat but high on flavour. Packed with vegetables, it's perfect for a light lunch that will leave you satisfied.
Ingredients
300

ml

vegetable stock

1

onion

diced

4

garlic cloves

inced

2

carrots

peeled and sliced

2

teaspoons

ras el hanout

spice mixture

1/2

teaspoon

cayenne pepper

400

g

can chopped tomatoes

100

g

long-grain rice

250

g

kale,

washed de-stemmed and shredded

salt and black pepper

crusty bread or flatbread

for serving
Instructions
Put a tablespoon of the stock in a large saucepan and saute the onion, garlic and carrots for 10 minutes until softened, stirring frequently.

Add the spices, tomatoes, remaining vegetable stock and rice; cover and simmer for 15-10 minutes over a low heat, until the rice is cooked.

Season to taste with salt and pepper, add the kale and simmer for another 5-10 minutes until the kale is cooked.

Serve immediately with crusty bread or warm flatbread.
Notes
Free from dairy, gluten and wheat, if served without bread.
Nutrition
Calories:
163
kcal
Carbohydrates:
35
g
Protein:
5
g
Sodium:
477
mg
Potassium:
512
mg
Fiber:
5
g
Sugar:
6
g
Vitamin A:
8630
IU
Vitamin C:
36.1
mg
Calcium:
221
mg
Iron:
2
mg
Don't Miss My Latest Recipes
CLICK TO SUBSCRIBE NOW to join my newsletter list & receive a FREE 'How To Adapt Recipes For Your Slow Cooker' printable!
Share by Email
More Spicy Soup Recipes from Farmersgirl Kitchen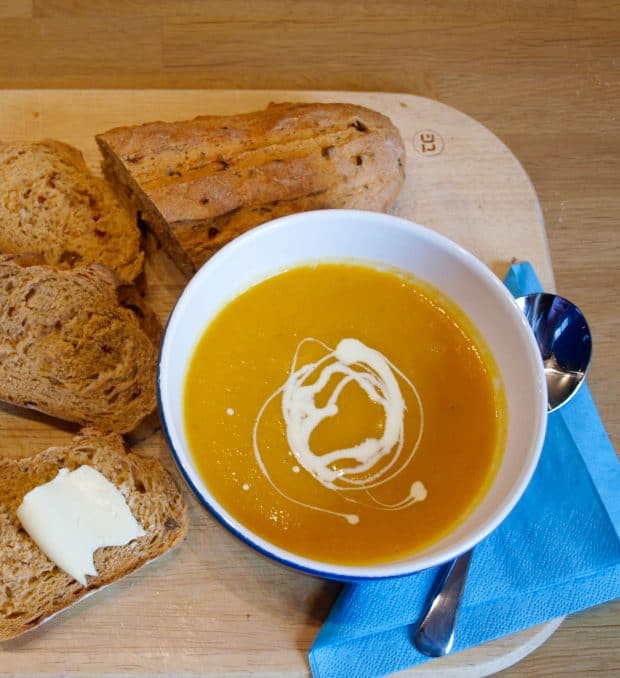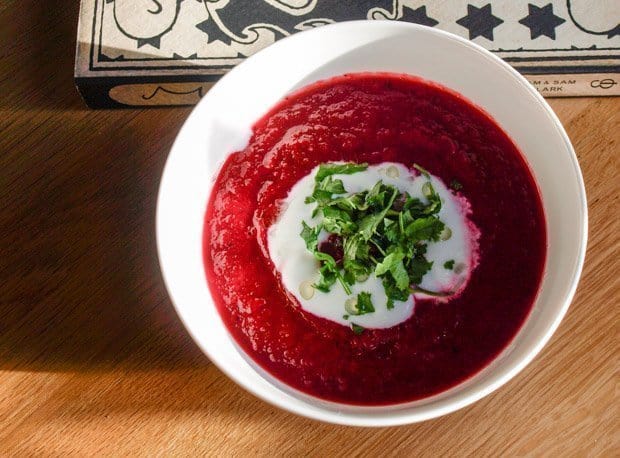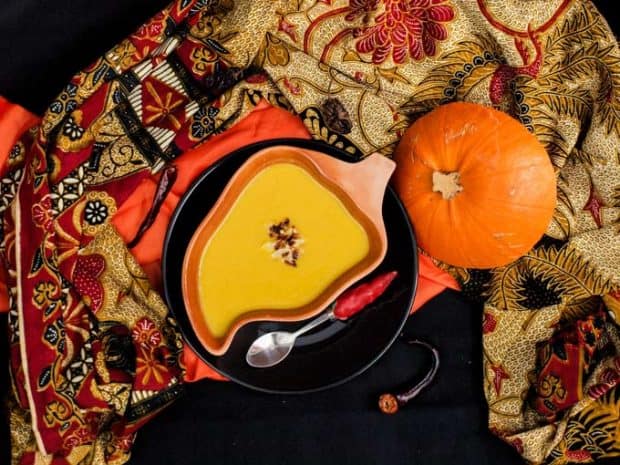 We Love Quinoa
We Love Quinoa is the partner to We Love Kale featuring quinoa, the ancient grain, and super-food which has taken the food world by storm.
The Blurb: Quinoa is a really versatile ingredient which contains all nine essential amino acids making it a complete-­‐protein source and an excellent choice for vegans who may struggle to get enough protein in their diets. Naturally high in dietary fibre, quinoa is a slowly digested carbohydrate, making it a good low GI option.
The Authors: a slight change to the lineup but still including Karen S. Burns-Booth, Carolyn Cope, Jassy Davis, Kristina Sloggett but this time with Jackie Sobon of Vegan Yack Attack.
Recipes that stood out: Quinoa Pancakes with Spiced Strawberry Compote with Yogurt; Quinoa-coated Fish Finger Sandwich; Quinoa Bean Burger with Basil Aioli and all it's variations; Risotto-Style Quinoa with Caramelized Onions and Mushrooms; Fluffy and Fruity Quinoa Scones and Rich and Fudgy Quinoa Brownies.
Pros and Cons: The same excellent information and easy to use recipe layout with variations as We Love Kale. Loads of great recipes for every meal.
The Verdict: I was a quinoa sceptic until last July when I finally cracked it with this recipe for Quinoa with Summer Roasted Vegetables and Harissa Marinade now I'm converted and was delighted with the range and variety of the recipes.
We Love Kale by Kristen Beddar; Karen S. Burns-Booth; Carolyn Cope; Jassy Davis and Kristina Slogget. Published by Apple Press RRP £14.99
We Love Quinoa by Karen S. Burns-Booth, Carolyn Cope, Jassy Davis, Kristina Sloggett and Jackie Sobon. Published by Apple Press RRP £14.99