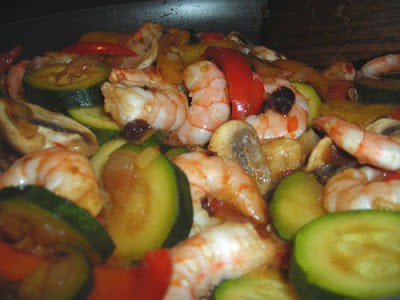 This was a delicious and very quick meal, I served it with noodles which will, of course, increase the calorie count.
Serves 4
185 calories per serving
1/6G fat
Prep Time 10 minutes
Cook Time 15 minutes
2 red onions
2 garlic cloves, crushed
1 red pepper, seeded and sliced
450g large peeled uncooked prawns
1 tsp smoked paprika
2 small courgettes, thinly sliced
115g chestnut mushrooms, sliced
2 tsp finely chopped fresh gineger
1 tbsp sweet chilli sauce
1 tbsp fruit chutney
juice of 1/2 lemon
1 tbsp runny honey
salt and freshly ground black pepper
1. Heat a non-stick wok. Add the onions and garlic and dry fry until soft. Add the red pepper, prawns and paprika, toss well, and continue to cook for 2-3 minutes until the prawns are cooked through. Season with salt and black pepper.
2. Add the remaining ingredients and cook for 2 minutes, tossing them well.
3. Serve straight from the pan.