Baking is off the agenda at the moment with my temporarily limited kitchen facilities. So I had to think creatively to 'cook' up some Valentine's treats.
Duerr's sent me a jar of their limited edition Aphrodisiac Jam, as well as containing strawberries and champagne it has some Horny Goat Weed added which is, apparently, a natural viagra! Strawberry and Champagne Aphrodisiac Cheesecakes (no bake)Makes 46 McVities Digestive biscuits (crushed)50g butter, melted1 teaspoon cocoa powder100g full fat cream cheese1 teaspoon caster sugar100g Duerr's Aprodisiac Jam Whipped cream (optional)four silicone cupcake cases 1. Mix the crushed digestives with the butter and cocoa powder. 2. Divide between the four cupcake cases and press up the sides to create a cup, refrigerate for at least half an hour until firm.
3. Put the cream cheese and sugar into a bowl and mix together with a wooden spoon. Divide between the cupcakes and refrigerate for another 30 minutes.
4. Place a couple of teaspoons of Duerr's Aprodisiac Jam on top of each mini-cheesecake and return to the refrigerator.
5. Just before serving, remove from the silicone case and, if liked, top with a swirl of whipped cream.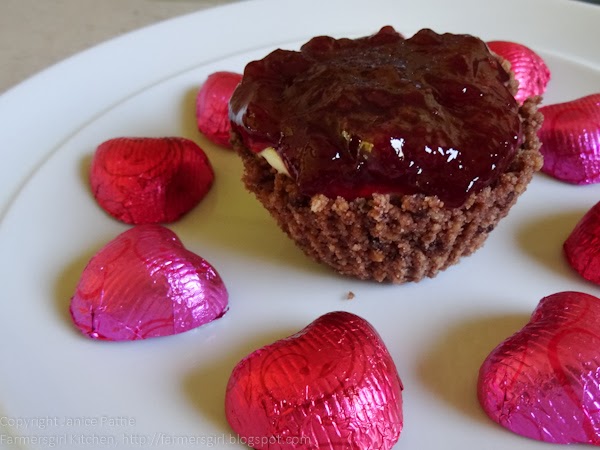 without cream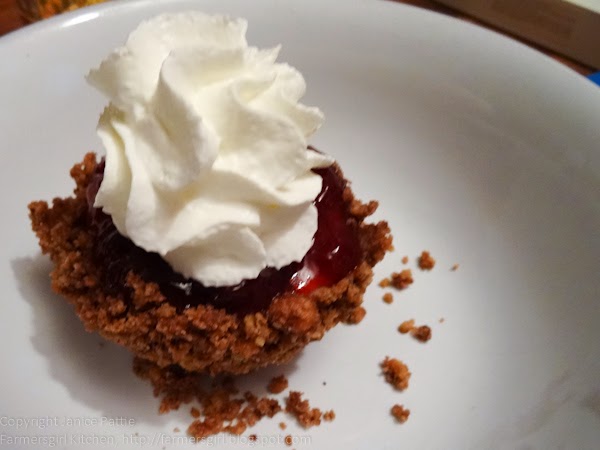 with cream
I was concerned that the cheesecakes would be too sweet, but they were actually really delicious. I can't vouch for the aphrodisiac qualities of the jam, but it certainly tastes good!
I'm entering this recipe for a slew of Valentine themed blogger challenges:
Four Seasons Food Feburary Challenge is 'Food from the Heart' the challenge from Delicieux & Eat Your Veg and hosted this month by Anneli at Delicieux.
Let's Cook Sweet Treats for Valentine comes from Simply.Food and is all about preparing delicious treats to woo your loved one.
The theme for Tea Time Treats is chocolate so I'm sneaking this in as it does have a teaspoon of cocoa powder in the biscuit base! Tea Time Treats is the blog challenge run by Lavender and Lovage and The Hedgecombers and this month it is hosted by my friend Karen at Lavender and Lovage.
Family Foodies is in the mood for 'luurve' and this cheesecake is as good a foodie cuddle as you could possibly want. Family Foodies is the challenge run by Eat your Veg and Bangers and MashI was provided with a jar of Duerr's Aprodisiac Jam I was not paid for this post and all opinions are my own.
Eat Your Veg and Bangers & Mash Eat Your Veg and Bangers & Mash Eat Your Veg and Bangers & Mash