I love spices and they are very much a part of the winter season bringing warmth to your cooking and baking. So when my DH requested a cake, I thought I would make a Gingerbread. Also it doesn't require any eggs and I only had two left!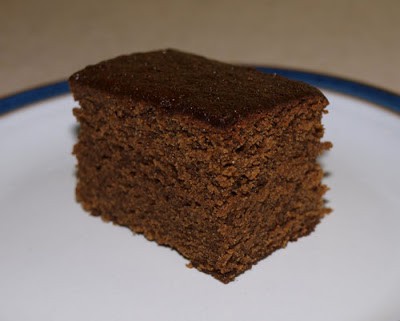 The recipe is the Gingerbread Slab from The Good Housekeeping Complete Book of Home Baking.
Gingerbread Slab
Gingerbread should always be wrapped tightly in greaseproof paper and foil, then stored in an airtight tin for 2 days before eating. This allows the cake to mature and become moist and sticky. We managed to leave it for 1 day and it is moist and sticky, but I am sure will get better as the week goes on!
125g (4oz) black treacle (molasses)
125g (4oz) golden syrup
50g (2oz) butter or margarine
50g (2oz) lard ( I used all butter)
225g (8oz) plain white flour
1.25ml (1/4 level tsp) bicarbonate of soda
5 ml (1 level tsp) mixed spice
5ml (1 level tsp) ground ginger
100g (4oz) dark brown soft sugar
150ml (1/4 pint) milk
1. Grease a deep 18cm (7in) square cake tin. Line with greaseproof paper and then great the paper.
2. Put the treacle, golden syrup, butter and lard into a saucepan and heat gently until melted.
3. Sift the flour, bicarbonate of soda and spices into a bowl and stir in the sugar. Make a well in the centre and pour in the milk and treacle mixture. Beat well until smooth and of a thick pouring consistency.
4. Pour into the prepared tin and bake in the oven at 170C (325F) mark 3 for 1-1 1/4 hours or until a fine warmed skewer inserted in the centre of the cake comes out clean. Cool in the tin for 1 hour then turn out and cool completely on a wire rack.
5. Wrap in greaseproof paper and foil and store in an airtight tin for 2 days before eating.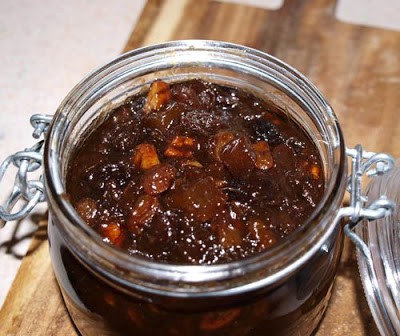 I also made some mincemeat for Christmas consumption. I used a great recipe from Uma Wylde's blog . Although I did make some changes to the mixture of dried fruits. I used a 300g bag of Testco Island Mix which has dried apricots and pineapple in it as well as raisins. I used a couple of Pink Lady apples rather than the Bramleys, glace cherries instead of cranberries and chopped pecan nuts instead of flaked almonds. I also substituted Cherry Brandy for the cointreau or grand marnier, just because I already had it for my Christmas cake. I had a little lick of the spoon and I have to say it was absolutely delicious and very, very easy to make.