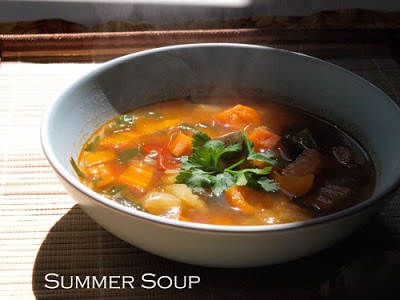 Even in the summer, you sometimes feel the need for a bowl of soup. This weekend I decided to make a pot of soup using summer vegetables and herbs. It's not a million miles from minestrone and was created with what I had available in the fridge and the garden.
Summer Soup
1 tbsp olive oil
1 large onion, chopped
4 stalks of celery
2 medium courgettes (zuchinni),cut into large chunks
200g carrots, peeled and diced
4 ripe tomatoes, deseeded and chopped.
1 ltr vegetable stock
salt and pepper
bouquet garni of rosemary, thyme, marjoram and chives
2 tbsp Orzo pasta (or other small pasta)
4 tbsp chopped flat leaved parsley
1. Heat the oil in a pan and add the onion, celery and carrots. Put the lid on, turn the heat down to medium and let the vegetables sweat for about 5 minutes.
2. Add the courgettes and tomatoes, put the lid back on for another 3 minutes.
3. Add the vegetable stock and bouquet garni and season with salt and pepper.
4. Simmer for 15 minutes then add the pasta and simmer for another 5 minutes until it is cooked.
5. Add the chopped parsley just before serving.
I'm entering this recipe for Cooking with Herbs run by Karen at Lavender and Lovage.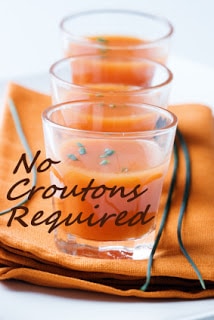 I'm also adding this to No Croutons Required. No Croutons Required is a monthly vegetarian soup and salad challenge.
It's hosted by Jac at Tinned Tomatoes and Lisa at Lisa's Kitchen.This month Jac is hosting and the theme is 'Seasonal'.
My seasonal ingredients are courgettes, tomatoes and herbs.