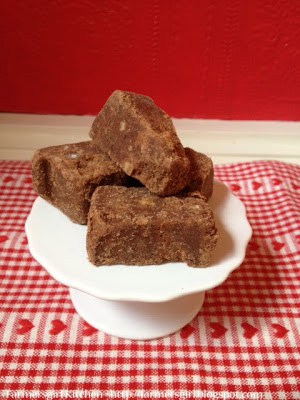 I've heard about Cobnuts, but live a long way from Kent and have never had the priviledge of tasting them. A Cobnut is a type of hazelnut traditionally grown in Kent. They are
harvested in their green state form mid August and with brown shells and
husks by mid October. All the Kentish Cobnuts are sold dehusked from November
onwards. I still haven't tasted the fresh green cobnuts but I can certainly recommend this Handmade Chocolate and Kentish Cobnut Fudge which was sent to me, for review, by Potash Farm. The fudge has a smooth creamy texture with lots of small nut pieces through it and a rich chocolate flavour, it was a big hit with my husband.
Potash Farm have a range of nuts, fudges and brittles, chocolates, biscuits, preserves and sauces sold from their website. A 200g bag of Handmade Chocolate and Kentish Cobnut Fudge costs £5.25
YOU CAN GET A DISCOUNT OF 10% OFF ANY ORDER FROM POTASH FARM UNTIL 10TH OCTOBER 2013, JUST USE THE CODE: FARMERSGIRL 10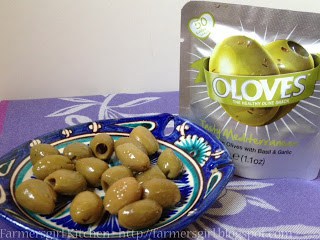 I'm a big fan of olives and Oloves is a new way to eat olives as an 'on the go' snack. The little foil pack contains 30g of flavoured olives and there are four different flavours: Lemon and Rosemary, Basil and Garlic, Chilli and Garlic and Chilli and Oregano. The Oloves were very tasty and the flavourings tasted natural. One of the big pluses for this way of presenting olives is that there is no oil or brine in the packages and they are only 50 calories per pack. Holland and Barret are currently selling packs of Oloves for 99p with two for £ 1.48.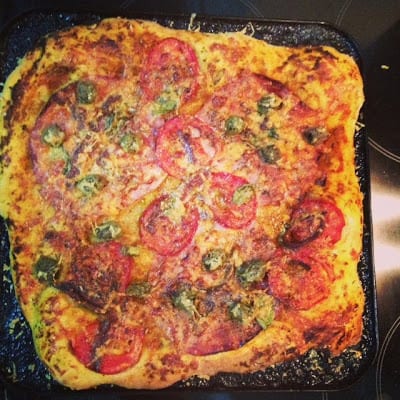 I also used one of the packs as part of my homemade pizza topping which worked well, they stayed moist and added a great flavour to the pizza.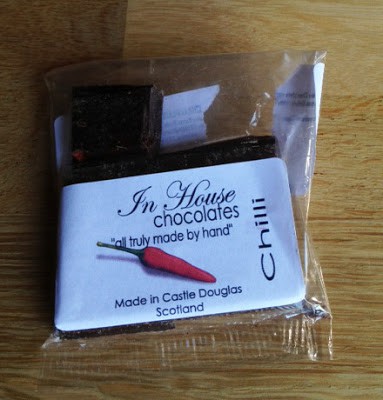 I was given a pack of this locally produced In House chocolate for my birthday. I've tried the Green and Blacks Spice Chilli chocolate, but this little bar packs a much bigger punch. It has real pieces of dried chilli in the dark chocolate and a small piece is quite sufficient to give you a real buzz of chocolate and leave your tongue tingling from the heat of the chilli. I loved it!
In House chocolates gained 6 Gold Great
Taste Awards and 2 Shortlistings in the Scottish Food Excellence Awards,
renowned as the Food Oscars of the Scottish food industry. All the chocolates are made by hand in Scotland and they run chocolate workshops and have an online chocolate club.
On my kitchen table today was: Handmade Chocolate and Kentish Cobnut Fudge provided to me for review by Potash Farm, I was not paid for this review and all opinions are my own. I received two packs of Oloves to review and was not paid for the review , all opinions are my own. The In House Chilli Chocolate was purchased and given to me as a gift and my opinions on this product are my own.