In my last post I gave you the recipe for the Pepper and Tomato Salsa which I served with the meatballs. Also on the plate above there are Lamb Skewers with Lemon and Chickpeas and Chorizo so here are the recipes for these two dishes.


Lamb Skewers with Lemon & Chilli
2 garlic cloves, finely chopped
1 onion, finely chopped
2 tsp finely grated lemon rind
Juice of whole lemon
1 red chilli, finely chopped
1tsp ground coriander
1 tsp ground cumin
2 tbsp sherry vinegar
125ml olive oil
1kg lamb steaks, cut into 2cm pieces
Mix together the garlic, onion, lemon rind, corainder cumin, vinegar and olive oil in a non-metallic dish.
Add the cubes of lamb to the dish cover with clingfilm and marinate for 2-6 hours, turning occasionally.
Thread the lamb onto skewers, put these on an oven tray and cook in a hot oven (220C) for 10 minutes until tender.
The Lamb Skewers with Lemon and Chilli, are my second entry for the Sweet Heat Tapas Challenge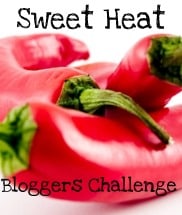 I also made:
Chickpeas and Chorizo
250g Chorizo sausage, outer casing removed
4 tbsp olive oil
1 onion, finely chopped
400g canned or freshly cooked chickpeas
1 tbsp sherry vinegar
finely chopped parsley
Cut the chorizo into cubes, heat the oil in a pan and add the onion and garlic cooking until soft but not brown. Stir in the chorizo and chickpeas until heated through. Splash in some sherry vinegar and season to taste. Serve warm sprinkled with chopped parsley.

I only used a small quantity of the lamb to make the skewers so browned off the rest in a frying pan and added it to the left over Chickpeas and Chorizo and made it into another meal which we had today. I am entering this for Frugal Food Fridays, no photo, it doesn't look very different from the Chickpeas with Chorizo except with more bits in it!

This month FFF is hosted by Pigling Bland why not join in?