This is Part II of our #smuts Food Blogger meet in Cheltenham but before I go any further, I have to say a huge thank you to Fiona of London Unattached for the sterling work she did in finding our two eateries. You can read about how well we were treated at the Well Walk Tea Room in part I. For part II we were booked for dinner at The Tavern, Cheltenham and were delighted to be treated to complimentary cocktails as Fiona had forewarned them that we would be taking photographs and writing about our experience.
Of course, I stuck to sparkling water (liar, liar pants on fire!) and loved the little tin mugs of popcorn that we enjoyed with our drinks. My drink of choice was actually a Mojito Royal and very nice it was too.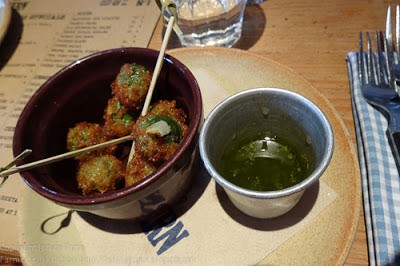 Fried Nocellera Olives
Moving on from the cocktails to the dinner, you can see the full menu on The Tavern website, we chose some nibbles to eat while we decided on what to choose from the menu. We had Fried Nocellara Olives, which I really didn't enjoy, it seemed a waste of a good olive to cover it in breadcrumbs and fry it! What we all enjoyed were the Chickpea Chips and Chilli Jam. These Chickpea chips are made using gram flour cooked and set like polenta then cut into chips, rolled in semolina and fried. They were delicious.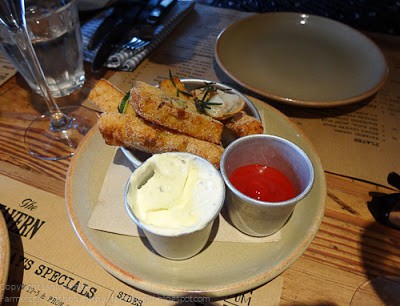 Chickpea Chips with Chilli Jam
Sea Bass was a popular choice and was a delicious dish with all the juices from the fish soaking into the vegetables below.
Choclette chose this amazing looking vegetable burger, loaded with lots of vegetable goodies with more of those amazing chickpea chips.
I couldn't resist the ribs which were one of the specials for the day, they were tasty but not quite as tender as they were billed to be.
We shared a plate of samphire and pancetta with a poached egg.
What a delightful dish, it was a great combination and my first taste of samphire.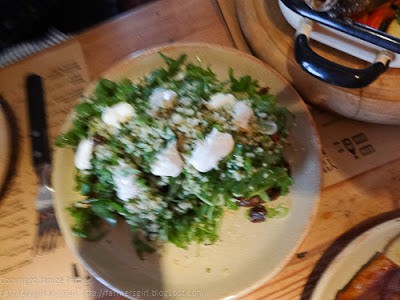 Apologies for dodgy photo!
We also had some Chermoula, Aubergine, bulgar and rocket salad, It was probably my least favourite dish, but Ros's favourite!
By this time we were stuffed but couldn't resist a pudding, we chose this chocolate fondant with pistaschio icecream to share between us, it was heavenly!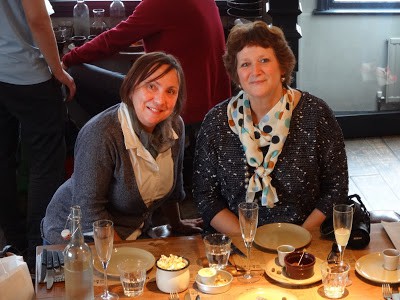 Fiona and Karen
And thanks to my fellow diners, Fiona, Karen, Ros and Choclette for their great company.