Let me introduce A FEAST OF BLACKBERRY RECIPES – THE GREAT BRITISH BLACKBERRY RECIPE ROUND UP!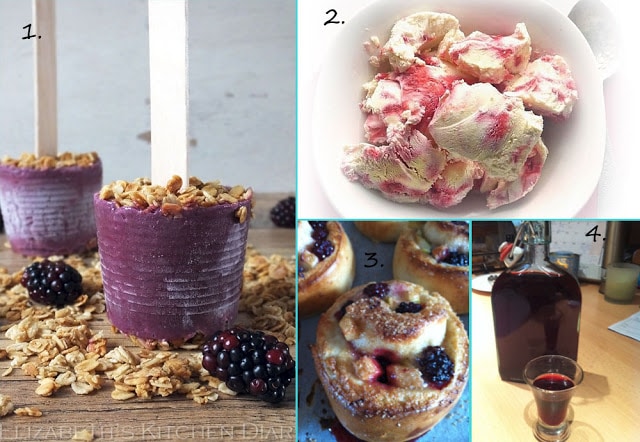 1. Blackberry Frozen Yogurt and Granola Breakfast Pops – Elizabeth's Kitchen Diary
2. Blackberry and Clotted Cream Ripple – Sudden Lunch
3. Blackberry and Apple Swirl Buns – Mint Custard
4. Blackberry Gin – Mint Custard
5. Blackberry Pear Crisp – A Palatable Pastime
6.Wild Blackberry Jam – I'd much rather bake than
7. Bramble Blackwells – Foodie Quine
8. Spiced Blackberry Jam – Farmersgirl Kitchen
9. Peach and Blackberry Galette with Lavender and Thyme Honey – A Girl and her Home
10. Blackberry and Oat Muffins – Rough Measures
11. Blackberry and Lemon Bake – Food Jam
12. Blackforest Chocolate Brownies – Sew White
13. Summer Burst Berry Cake – Belleau Kitchen
14. Simple Seasonal Blackberry Cake – Lancashire Food
15. Autumnal Blackberry and Lavender Cobbler – Lancashire Food
16. Blackberries and Rose Geranium Crumble – Lancashire Food
17. Bramble and Vanilla Cordial – Farmersgirl Kitchen
18. Baked Nectarines and Blackberry Surprise – The Peachicks Bakery
19. Summer Fruit Traybake – Sew White
20. Blackberry and Hazelnut Polenta Cake – Mainly Baking
21. Blackberry Lollipops – The Hedgecombers
22. Apple and Blackberry Chia Seed Preserve – Nutricious Deliciousness
23. Blackberry and Apple Pie – Chez Maximka
24. Spiced Blackberry Pulled Pork – De Tout Coeur Limousin
25. Double Blackberry Chocolate Gallette – Tin and Thyme
26. Blackberry, Garlic and Bay – De Tout Coeur Limousin
27. Blackberry and Apple Geranium Swirl -Lancashire Food
28. Self-Saucing Blackberry and Apple Pudding – Tales from the Kitchen Shed
29. Blackberry and Apple Cupcakes – Tin and Thyme
30. Blackberry, Lemon and White Chocolate Scones – Baking Queen 74
31.Blackberry and White Chocolate Cheesecake Cups – The Veg Space
32. Blackberry and Hazelnut Flapjacks – Chardonnay and Samphire
33. Blackberry and Apple Cake – Eco-Gites of Lenault
34. Blackberry Fairy Cake Buns (Muffins) – Lavender and Lovage
35. Blackberry, Elderberry and Damson Jelly – JibberJabber UK
Thank you for joining me for The Great British Blackberry Recipe Round Up I hope this inspires you to make some of these recipes, do let me know if you do.