The Great British Blackberry Recipe Round Up, it's a feast of blackberry recipes. A huge thank you to all the lovely cooks, bakers, and bloggers who joined me in making and sharing their love blackberry recipes.
There are so many delicious recipes and they are really varied. You will find everything from Spiced Blackberry Pulled Pork to Blackberry Lollipops. And, of course, cakes, desserts, and preserves.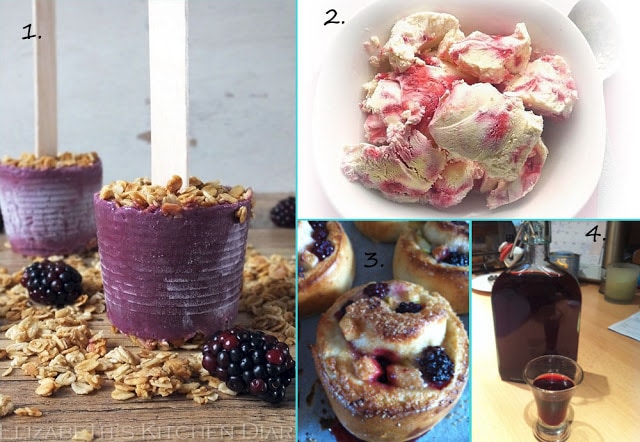 Feast your eyes on these delicious blackberry recipes, you won't be short of ideas to make with the blackberries you forage in the hedgerows or pick from your garden.
1. Blackberry Frozen Yogurt and Granola Breakfast Pops – Elizabeth's Kitchen Diary
2. Blackberry and Clotted Cream Ripple – Sudden Lunch
3. Blackberry and Apple Swirl Buns – Mint Custard
4. Blackberry Gin – Mint Custard
5. Blackberry Pear Crisp – A Palatable Pastime
6.Wild Blackberry Jam – I'd much rather bake than
7. Bramble Blackwells – Foodie Quine
8. Spiced Blackberry Jam – Farmersgirl Kitchen
9. Peach and Blackberry Galette with Lavender and Thyme Honey – A Girl and her Home
10. Blackberry and Oat Muffins – Rough Measures
11. Blackberry and Lemon Bake – Food Jam
12. Blackforest Chocolate Brownies – Sew White
13. Summer Burst Berry Cake – Belleau Kitchen
14. Simple Seasonal Blackberry Cake – Lancashire Food
15. Autumnal Blackberry and Lavender Cobbler – Lancashire Food
16. Blackberries and Rose Geranium Crumble – Lancashire Food
17. Bramble and Vanilla Cordial – Farmersgirl Kitchen
18. Baked Nectarines and Blackberry Surprise – The Peachicks Bakery
19. Summer Fruit Traybake – Sew White
20. Blackberry and Hazelnut Polenta Cake – Mainly Baking
21. Blackberry Lollipops – The Hedgecombers
22. Apple and Blackberry Chia Seed Preserve – Nutricious Deliciousness
23. Blackberry and Apple Pie – Chez Maximka
24. Spiced Blackberry Pulled Pork – De Tout Coeur Limousin
25. Double Blackberry Chocolate Gallette – Tin and Thyme
26. Blackberry, Garlic and Bay – De Tout Coeur Limousin
27. Blackberry and Apple Geranium Swirl -Lancashire Food
28. Self-Saucing Blackberry and Apple Pudding – Tales from the Kitchen Shed
29. Blackberry and Apple Cupcakes – Tin and Thyme
30. Blackberry, Lemon and White Chocolate Scones – Baking Queen 74
31.Blackberry and White Chocolate Cheesecake Cups – The Veg Space
32. Blackberry and Hazelnut Flapjacks – Chardonnay and Samphire
33. Blackberry and Apple Cake – Eco-Gites of Lenault
34. Blackberry Fairy Cake Buns (Muffins) – Lavender and Lovage
35. Blackberry, Elderberry and Damson Jelly – JibberJabber UK
More Blackberry Recipes from Farmersgirl Kitchen
How to make Easy Blackberry and Apple Trifle
Easy Blackberry and Apple Hand Pies
Thank you for joining me for The Great British Blackberry Recipe Round-Up I hope this inspires you to make some of these recipes do let me know if you do.