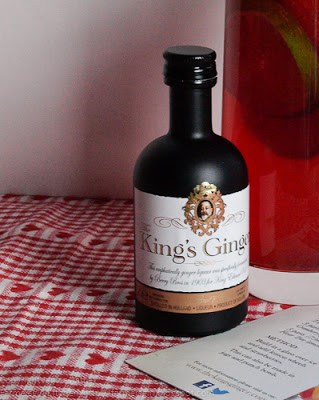 The Kings Ginger has been made since 1903, although I must confess I had never heard of it until I was offered the chance to review it along with Bulldog Gin and Appleton Estate Rum. I love anything flavoured with ginger so was intrigued to see what this liqueur was like. I was also provided with cocktail recipes and a little booklet of recipes using the Kings Ginger. Fortunately these are also available on the The Kings Ginger website.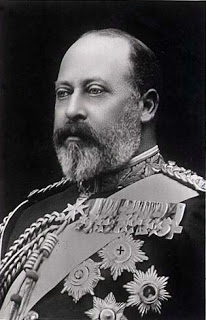 King Edward VII
The King's Ginger is the emphatically ginger liqueur that was specifically formulated by
Berry Bros. in 1903 for King Edward VII.
Rich and zesty, it was created to stimulate and revivify His Majesty and has
been appreciated by bon viveurs,
sporting gentlemen and high-spirited ladies ever since.
The King's Ginger is sporting a new look to assert the premium credentials of the
world's only high-strength ginger liqueur and to reinforce its peerless
heritage.
King
Edward VII was a thoroughly
sociable chap who enjoyed the high life; his preferred pursuits were many and
varied, chief among them driving his horseless carriage, a Daimler. His
physician, a customer of Berry Bros. (as was the King), was concerned about
Edward's health, exposed as he was to the elements in his new automobile. He
commissioned, therefore, his wine and spirits merchants to formulate a liqueur
which would warm His Majesty; the result, a rich,
golden liqueur with a pronounced spicy ginger emphasis and delightfully crisp
flavour.
The King's Ginger is a high-strength liqueur created by the careful
maceration of ginger root enlivened by the judicious addition of citrus in the
form of lemon peel. Although warming and heartening on a cold day as originally
intended, it is a splendidly uplifting tonic to be enjoyed on its own all year
round as well as in any number of cocktails and long drinks. It has been
described by Jonathan Ray in The Field
as "opulently and sublimely gingery."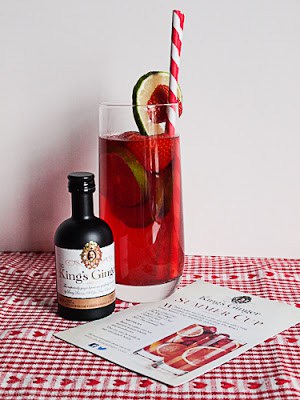 The Kings Ginger Summer Cup
1 part (25ml/1oz) The Kings Ginger
3 parts (75ml/2.5oz) Cranberry Juice
3 parts (75ml/2.5oz) Lemonade
Build in a glass over ice and add lemon wheels and strawberries. This can also be made in jugs and punch bowls.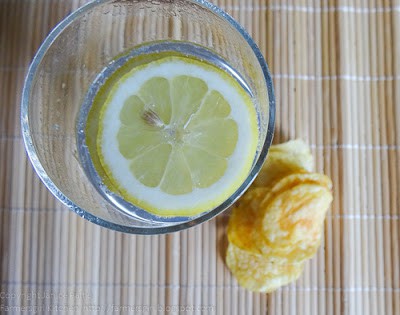 I also tested Bulldog Gin with Fever-tree Tonic water, very delicious and refreshing, it's been a while since I've had a gin and tonic and I'd forgotten how much I enjoy it. I do love the Fever-tree mixers they don't taste artificial as many other mixers do. I loved the Mediterranean Tonic which I tried at the Foodies Festival in Edinburgh last year but have found it difficult to source locally.
Here's another alternative to tonic water in your gin:
Bulldog Gin Signature Serve
Ingredients:
50 ml Bulldog
Gin
Top Cloudy lemonade
Sprig of Mint
Lemon wedge
Method:
Pour in Gin
over cubed ice, top up with cloudy lemonade and garnish with a lemon wedge and
sprig of mint.
I still have a sample of Appleton Estate Rum to try, but think I'd like to add that to a dessert or cake so I'll report back on that another time.
Bulldog Gin is available in 70cl bottles from Waitrose RRP £24.99
Appleton Estate Rum V/X is available from all major supermarkets RRP £20.29
Appleton Estate Rum 8 Year Old is available from Selfridges RRP £24.99
The Kings Ginger is available from Berry Bros. & Rudd in 50cl bottles at £17.95
I was provided with miniatures of these spirits to sample with mixers, I was not paid for this post and all opinions are my own.