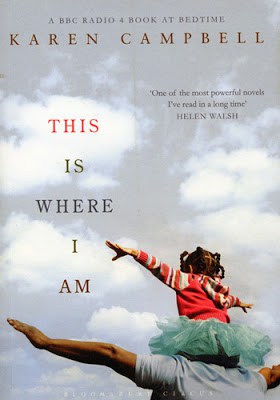 I've recently reviewed a few books for Bloomsbury, my review of Paul Hollywood's 'Bread' has been very popular, particularly since the TV series started. However, sometimes when you are on a publisher's list you get asked if you would like to review a different type of book and that is how I received a copy of 'This is Where I Am' by Karen Campbell.
Here is what the publisher says about the book:
A woman fleeing the shadows of her past.
A man bulding a gragile future in an unknown land.
A little girl whose secret will change everything.

Glasgow. A city of colour and contrast. A place where two worlds collide – and are changed forever.
When the Scottish Refugee Council assigns Deborah Maxwell to act as Somali refugee Abdi's new mentor, the two are drawn into an awkward friendship. They must spend a year together, meeting once a month in a different part of Glasgow. As recently-widowed Deborah opens Abdi's eyes to her beloved city and its people, he teaches her about the importance of family – and of laying your ghosts to rest. All Abdi has brought with him is his four-year-old daughter, Rebecca, who lives in a silence no one can reach.
Until, one day, little Rebecca starts talking. And they realise why she stopped.
Heartbreaking, uplifting and unforgettable, This is Where I Am is a novel of loss and guilt, friendship and hope, and of what we can grow from the ashes of the past.
And here are my views: I like books that are full of action, character and diaglogue, so wasn't too sure how I would get on with this book which is very different from my usual choices. However, I was attracted by the Glasgow setting as I lived in Glasgow for 8 years and have a lot of affection for the city and its people.
This is an astonshing piece of writing, it draws you into the lives of the characters and paints a picture of real people. People whose values, attitudes and ethics are challenged as the story unfolds. As in life, the characters are flawed, you don't always like them and they don't always do the right thing, but both Deborah and Abdi keep trying to overcome their differences and understand something of the other's life and past.
I loved reading the descriptions of the visits around Glasgow that Deborah organised for Abdi and Rebecca, These are described in short paragraphs at the start of a chapter and introduce well known Glasgow landmarks like Kelvingrove Art Gallery and Museum, Loch Lomond and the Tenement House. However, it's not necessary to know Glasgow to enjoy this novel, Karen Cambell provides everything you need to paint your own picture. Later the story takes us away from Scotland, providing different kinds of challenges, action and danger and an ending you couldn't possibly have expected, one which keeps slipping out of sight just when you think you have grasped it.
I've read a lot of books but it's been some time since I had a book that I was so eager to pick up to find out what was happening to characters that I had come to care for. The book was chosen as a BBC Radio 4 Book at Bedtime which in itself is quite an achievement.
Karen Campbell is a graduate of Glasgow University's renowned Creative Writing Masters, and author of The Twilight Time, After the Fire, Shadowplay and Proof of Life. A former police officer, Karen Campbell won the Best New Scottish Writer Award in 2009. She lives in Galloway, Scotland.
www.karencampbell.co.uk
This is Where I Am
Karen Cambell
Published by Bloomsbury Circus 14th March 2013
RRP £12.99
I was provided with this book to review by Bloomsbury Circus, I was not paid for this review and my opinions are my own.