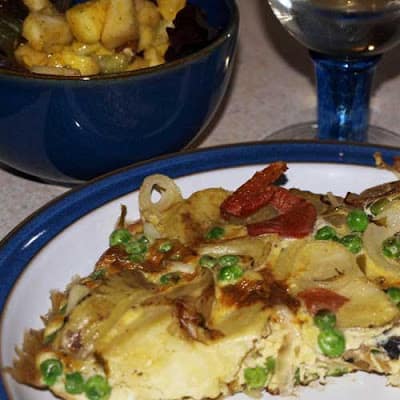 We buy half a dozen free range eggs each week from a woman who keeps hens and works in my DH's office. They seemed to have built up a bit and I had three boxes sitting on top of the fridge. I had also bought the Tesco magazine 'Light and Easy' which featured a recipe for Spanish Onion, Pepper, Pea and Potato Tortilla, not that I need a recipe for this, but it certainly prompted me to make it.
Spanish Onion, Pepper, Pea and Potato Tortilla
Serves 4
Cals 280
Fat 15.3g
Sat 3.2g
25g potatoes, peeled and cut into 1 cm cubes
Low calorie cooking spray (I used a teaspoon of oil)
Three onions, peeled and finely sliced
200g bottled roasted red peppers,drained and roughly chopped
200g frozen peas, thawed ( I didn't thaw them, they thawed out in the cooking)
2 garlic cloves, peeled and finely chopped
Five eggs
Salt and freshly ground black pepper
1. Parboil the potatoes in a large saucepan of lightly salted boiling water for five to six minutes. Drain thoroughly.
2. Spray a 20 – 23cm non-stick frying pan with low calorie cooking spray and place over a medium heat. Add the onions, peppers, peas and drained potatoes, and fry gently over a medium heat for 12-15 minutes or until the vegetables have softened, but not coloured, turning and stirring often. Add the garlic and stir to mix well.
3. Preheat the grill to medium hot.
4. Ina bowl, beat the eggs lightly and season well. Pour this mixture into a frying pan,shaking the pan so that the eff and vegetables are evenly spread. Cook gently for eight to ten minutes or until the tortilla is set at the bottom.
5. Place the frying pan under the grill and cook for five to six minutes or until the top is set and golden. Remove from the grill and allow to cool for five to six minutes. Carefully transfer to a board and cut into wedges. Serve warm or at room temperature.
I served it with a salad of mixed leaves and a sort of Waldorf salad with apples, pecan nuts and a mustard mayonaise dressing.