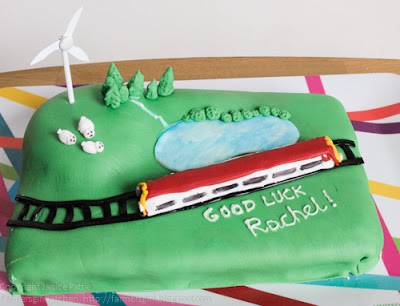 In my day job, I frequently have a one hour commute to Glasgow. This journey has become a real pleasure thanks to a group of regular travellers who share gossip, laughs and communal crossword sessions.
Rachel has been looking for a job nearer home for some time, so when she was successful we were delighted for her, but sorry to lose her from our 'Train Friends' Gang. We met up for lunch on Saturday to celebrate Rachel's new job and I marked the occasion by making her this cake.
I had planned it all out in my head before I started and was pleased when it worked out. The base is a simple sponge cake based on Mary Berry's tray bake sponge recipe. I made double the mixture (6 eggs) and baked some of it in a metal pudding basin to provide the 'hill'. The rails are made of liquorice from a liquorice catherine wheel. The Virgin train is made from a Twix Extra bar covered in fondant icing with the windows painted in. The 'sheep' look more like West Highland Terriers, I'll have to work on that, they are made of fondant, as are the trees, lake and bushes. The only think that is not edible is the Windmill (a feature of our commute) which is made from a cake pop stick, card and a brad, from my craft supplies.
Rachel is a very good baker and cake decorator who sells wedding and birthday cakes in her spare time, so it was a double challenge to make a cake for her. However she was delighted with it and it was also a hit with our fellow travellers. We don't intend to lose touch and more lunches are planned for the future.
You can follow Rachel on Twitter @CakesRachels and Like Rachel's Cakes page on Facebook