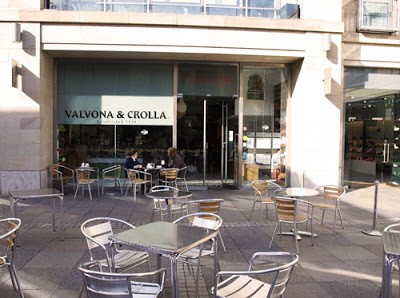 Today Mr Farmer and I went to Edinburgh with my friend Avril whose birthday was today. You can find out why we were in Edinburgh on my other blog Serial Crafter but the foodie part of the story has to be told here!
Foccacia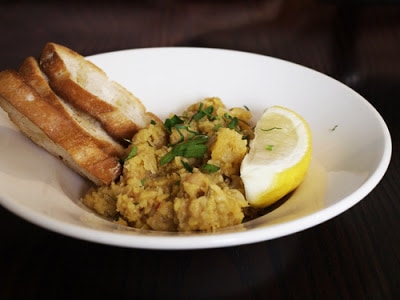 Hummus with Crostini
We started with a selection of Stuzzichini, we had the olives in a chilli mariade, foccacia and hummus with crostini. The hummus was particularly good and had nice texture.
For my main course I decided, that after watching the Great British Food Revival programme about how we were not eating British Crab, I decided to have the LINGUINE CON GRANCHIO Pasta tossed with Crab meat lightly cooked with extra virgin olive oil, garlic, chilli and parsley.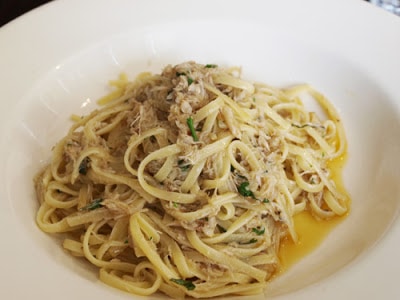 It was a lovely plateful of food, really tasty crab and the portion size was just right.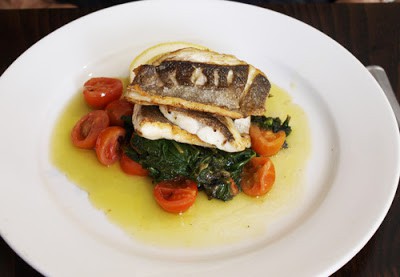 Mr Farmer chose the PESCE ARROSTO Fresh fillet of seabass panfried with extra virgin olive oil, white wine, garlic and fresh basil, served with wilted spinach and roast cherry tomatoes. Being the good farmer that he is, he insisted on an accompaniment of potatoes!
PATATE ARROSTO Diced roast potatoes sautéed with extra virgin olive oil, seasoned with Maldon sea salt
Avril chose TAGLIERINI CON SALMONE Campofilone egg pasta served with James Dickson's Oak Smoked salmon and cream sauce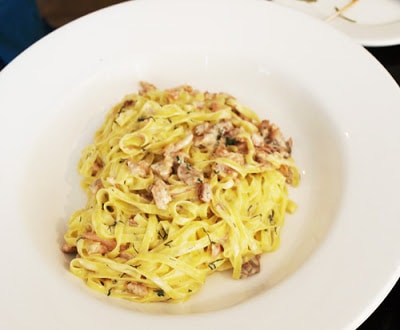 We all enjoyed our food and a glass of the house white, and other than there being no-one to greet us as we entered the restaurant, the service was good. The ambience in the upstairs restaurant was relaxed, with a mixture of business people and shoppers taking time over their meal. I would certainly return to eat there again for an informal but special lunch.