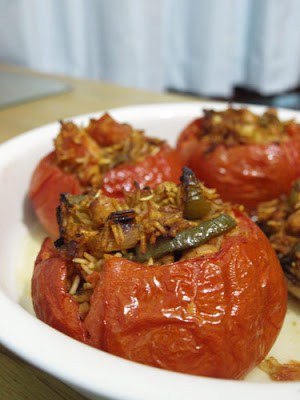 It's National Curry Week 8th-15th October. When I went to Glasgow as a student, I went for a curry with a group of friends, I can't remember the name of the restaurant, but it was just off George Square in the centre of town. It was the first time I had had a curry in a restaurant and I chose a Biryani. It was a great introduction to curry and started a lifelong love of spicy food.
To celebrate
National Curry Week
I was sent a hamper of curry products by
Pataks
. I often use Patak's curry pastes for speed and a consistently good result. Unfortunately two of the jars in the package were broken and they spilled all over the bespoke recipes that have been created especially for National Curry Week this year by Anjali Pathak.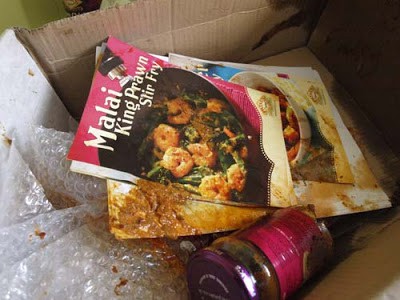 One of the jars which survived was this
'Pataks Oven Bake easy Biryani, hot & spicy'
. Although I use the Patak's curry pastes regularly, I had not tried this ready made sauce, so I thought I would create my own bespoke recipe just for
National Curry Week
.

Vegetable Biryani Stuffed Tomatoes and Mushrooms
For the stuffing
1 tbsp vegetable oil
2 green peppers, deseeded and chopped
6 spring onions, chopped
1 clove garlic, finely chopped
1 x 400g tin chickpeas
1 jar Patak's Oven Bake easy Biryani (hot & spicy)
500g basmati rice
4 beef tomatoes, insides scooped out
4 large field mushrooms, stalks removed
1. Heat the oil in an oven proof casserole dish, add the garlic and spring onions and cook for 1 minute over a moderate heat.
2. Add the peppers and cook for a further 2-3 minutes.
3. Drain the chickpeas and add to the pan.
4. Add the Patak's Biryani Sauce, the pulp from the inside of the tomatoes and the rice.
5. Put in the oven at 180C for 30-35 minutes until the rice is cooked.

6. Place the hollowed out tomatoes and mushrooms in a shallow ovenproof dish.
7. Fill the tomatoes and mushrooms with the cooked Biryani mix, add a couple of tablespoons of water to the base of the dish and return to the oven for 20 minutes or so until the tomatoes are softened and the mushrooms have shrunk and released their juices into the water in the dish.


If you bake the tomatoes and mushrooms without any covering the rice on the top will be slightly crunchy with softer rice underneath. If you would prefer all the rice to be soft, then cover the dish with foil before baking.
I would serve these with a curry sauce (not shown) and some natural yogurt or raita. You could also add some chopped coriander leaves to the mix before stuffing the vegetables.
I was supplied with a hamper of curry pastes, sauces and accompaniments by Patak's for National Curry Week. Any opinions expressed in this post are my own.
What is your favourite curry?