If you are a frequent visitor to my blog you may already be aware that my cooking is often led by what's on special offer in the supermarket. Last week it was Butternut Squash that was on offer, I didn't get around to making anything with it last week, so had a look for a recipe and found
this
on the BBC Good Food website.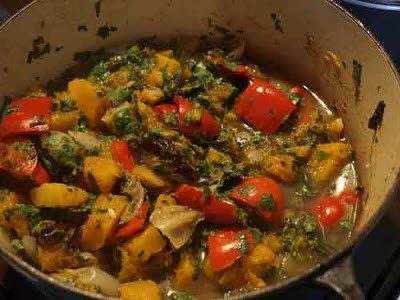 I really enjoyed the couscous which has harissa mixed through and the chickpeas were a great addition, I took the pic before remembering to add the toasted almonds, but they added a very pleasant crunch.
The Tagine itself was dominated by the flavour of the coriander and mint that is added at the end of cooking. I felt there needed to be more depth of flavour and I think this is down to the stock and the seasoning. The recipe does recommend a strongly flavoured vegetable stock, I used Marigold Boullion Powder, but that still did not seem enough. I would definitely make this again and experiment with different flavours in the stock, probably use less coriander and mint too.