Lisa at 'We Don't Eat Anything With a Face' put out a National Vegetarian Week Challenge to us meat eaters, to adapt a meat/fish based recipe and make it vegetarian.
I like to eat meatless sometimes, but it took a bit of thinking what I was going to do with my Butternut Squash that wasn't a veggie recipe, it usually goes into risotto. Eventually I settled on making Butternut Squash Lasagne.

You will need:
1 large Butternut Squash, peeled and cubed
1 onion sliced
1 can of chopped tomatoes
six sheets of lasagne (or however many you need for your dish)
Grated cheese as required
fresh or dried herbs (basil, rosemary, thyme)
2 tbsp olive oil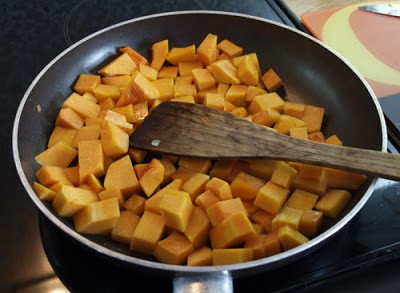 Saute the onions and butternut squash in the oil until the squash has some nice brown edges, you may need to do this in two batches.
Add the can of tomatoes and the herbs and simmer for about 10 minutes. Meanwhile make your bechamel sauce. I've highlighted the video on BBC Good Good website, but you can use any recipe. I don't faff around with bay leaves and butter, but generally make my sauce with cornflour (there is usually a recipe for a white sauce on the packet), not so flavourful, but quicker and pretty well guaranteed not to go lumpy.

Then layer up, first a layer of the butternut squash mixture, then lasagne, then more butternut squash, another layer of lasagne and finally some more butternut squash. Then pour over the sauce and cover with the grated cheese.

Bake in the oven at 170 C (fan oven), for about 30 – 40 minutes until it is bubbling and the cheese is nicely browned. These quantities will serve 6.

I served the lasagne with baby sweet corn and asparagus steamed with butter and fresh thyme. The lasagne was creamy and delicious, the sweetness of the squash contrasting nicely with the acidic tomatoes and the salty cheese.
I would definitely make this again.