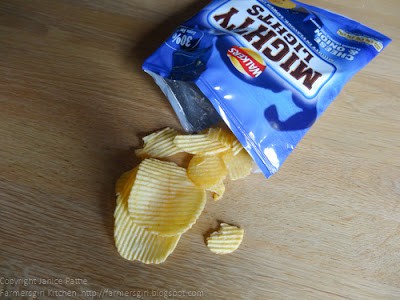 I have a bit of a confession to make…I just love crisps and snacks, I would probably choose them over cake and chocolate. But I'm very aware of the fat and calorie count in the average pack of crisps so I try not to buy them as they are just too tempting.
With 30% less fat than
standard crisps,
Walkers Mighty Lights
are the perfect way for me to enjoy my guilty pleasure without the guilt! They
are tasty, ridged crisps that come in three flavours – roast chicken,
cheese and onion and lightly salted. All the
flavours are suitable for vegetarians, and are available in shops
nationwide. They're made from real potatoes with no artificial colours
of preservatives and they're a source of fibre.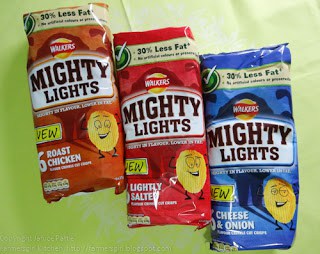 I would normally choose ready salted crisps and the Lightly Salted Walkers Mighty Lights were very tasty. They are thick and the ridged texture helps with the crunch. I don't know exactly how they are made but from looking at them I think that they are made with re-constituted potato (as with many other brands) rather than sliced potato, they are less greasy and have more of a baked flavour than a fried one. The flavour is good and I could detect no artificial taste that you sometimes get with reduced fat products. I have also taste-tested the Cheese and Onion flavour and the Roast Chicken flavour, they both tasted as you would expect for these flavours and were not over-seasoned, allowing the potato flavour to come through.
I really liked that the bags are 25g which is quite enough, particularly for children's lunch boxes.
Typical Nutritional Values
A 25g pack of Lightly Salted Walker's Mighty Lights contains 114 kcal, 4.7g Fat (7%), 1.2g Fibre and 0.28g Salt (5%).

Ingredients: Potatoes, Sunflower Oil, Lightly Salted Seasoning. The Lightly Salted Seasoning contains Salt, Flavourings, Sugar, Spices and Herbs
Tesco currently have Walkers Mighty Lights 6 pack for £1.00 (price correct on 27.08.13) which makes each pack just over 13p each which is a bit of a bargain.
I received compensation and three multi-packs of Walkers Mighty Lights for writing this post, however all views are my own.