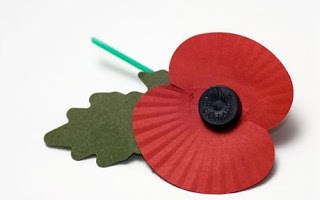 "We will remember them"
is a line from the poem
For the Fallen
by Laurence Binyon. The poem's fourth verse is now used all over the world during services
of remembrance, and is inscribed on many war memorials
My husband's uncle John was killed close to the end of WW2.
He left behind a wife and young son.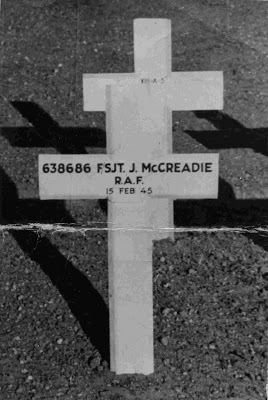 Many women found themselves widowed and grieving, often with children to bring up alone. For others the comfort and busyness of children would have been welcomed, but many city children had been evacuated to the country.
The challenge of living on rations continued whatever your situation. It wasn't only food that was on ration, clothing rationing began on 1 June 1941. Everyone was allowed 66 clothing coupons a year, which more or less added up to one complete outfit a year.
Clothes bought from the shops were designed to use a little material and possible. On a man's suit you could have only three pockets, no turn ups only three buttons with a maximum trouser length of 48cm. On a dress for a woman there were no elastic waist bands, no fancy belts and a maximum heel height of 5cm.
Night dress – 6 coupons
Pyjamas – 8 coupons
Man's overcoat – 16 coupons
Dress – 11 coupons
Underpants – 4 coupons
Handkerchief – 1/2 coupon
With these restrictions the watch word for everyone was:
'Make do and Mend'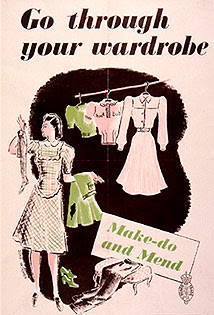 The Ministry of Information published a pamphlet encouraging people to
do whatever they could to extend the life of their clothes, from darning
socks to washing nylons more carefully. This attitude went on to apply
to everything.
When knitted garments were outgrown or wore out in places, the knitting
was unraveled and the yarn wound into balls, then it was knitted into a
new garment.
Bed sheets that had worn thin in the middle were cut in half and then
the former outer sides were sewn together to make a stronger sheet with
the worn patches on the edges and so tucked under the mattress. A seam
down the middle of a sheet might not be great but probably better than
no sheet at all. My mother was still doing this right up until I left home in the 1970's!Old curtains and blankets were recycled to make into new skirts and
jackets. Sewing patterns were published that used the least fabric
possible to make a new garment. Skirts were shorter and slimline. Fabric
couldn't be wasted on a full skirt or pleats.
Fabric was cut from the tail of men's shirts to cover frayed collars.
Shirt cuffs were made slightly shorter so the frayed edge could be
folded up onto the inside. The opposite was done with men's trousers
(pants) that had turn-ups on the bottom at the time. The turn-up was
folded so that the frayed part was on the inside even though it made
them slightly longer in the leg.
Time to return to Ration Book Cooking. This is the last visit to Farmersgirl Wartime Kitchen and I have some confessions to make. Although I made all of these dishes and did eat them, I didn't necessarily eat them according to the menu's I published. I also found it just too difficult to give up my coffee. I only have two cups each day, but tea is just not a substitute, perhaps if I REALLY couldn't get any, I would just have to get on with it!
Menu Sunday 11th November
Breakfast – Toast and Jam
Lunch – Pot Roast Lamb with root vegetables and roast potatoes, Blackberry and Apple Pie
Supper -Baked Potato with left over beef stew
WW2 Rations 1940 for
three people
Margarine: 255g
Cooking fat/lard: 120g lard
Sugar: 425g
Tea: 10g
Jam: 50g
Dried Eggs 3 packets
(36 eggs every four weeks) 9
eggs for one week
Sweets: 262g (3oz) per week.