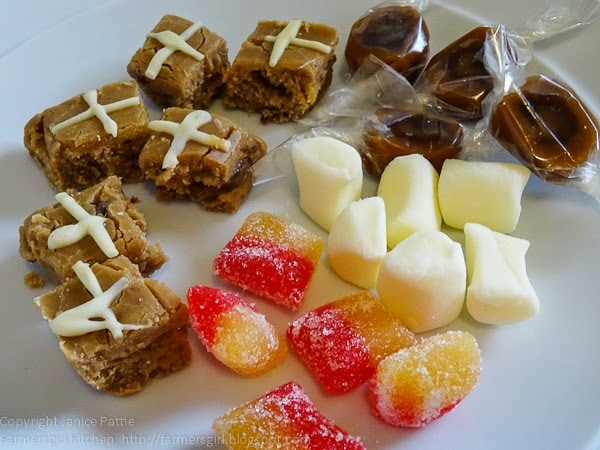 Clockwise from left: Hot Cross Bun Fudge, Caramel Swirls, American Buttermints, Roobarb and Custard.
My Granny used to ask me "would you like a wee sweetie?" She always had a bag of, what she called, 'boilings' in her handbag, a bit like the Scottish equivalent of that old guy on the telly with his 'originals' feeding sweets to his granddaughter!
·
This particular 'Wee Sweetie' is Donna Bradley, @Wee_Sweetie on Twitter, who makes delicious traditional sweets. Donna's Papa always called her Wee Sweetie, at 5'2″ and 7 stone she is still quite 'wee' and has a real sweet tooth.
Donna is a self proclaimed 'Doonhamer' born and bred in Dumfries in the South West of Scotland. When she had to give up her career as a psychiatric nurse, specialising in forensics, after illness and injury she returned home to stay with her Mum. Donna has Crohn's Disease, a chronic digestive disorder and sugar is about the only thing she can eat without pain. She got fed up with the lack of variety and quality of the sweets available to her and was thrilled when her sister bought her Hope and Greenwood's 'Life is Sweet' and she was able to make her own sweets.
The reaction to Donna's sweets, amongst her family and friends, was so positive that she soon started taking custom orders for gifts, weddings and parties. Wherever
possible Donna uses local products
including Uncle Roy's colours and extracts and Lockerbie butter. She is
looking for
someone local to buy cream and would love to find an artisan butter
maker. Wee Sweetie sweets are made in small batches to ensure the sweets are as fresh as can be
and Donna aims to make them look and feel handmade, not uniform and
mass-produced. She doesn't believe in adding anything unnecessarily so
make sure everything is
completely natural, preservative and additive free. Most are gluten free
and
veggie friendly too.
Donna kindly sent me some of her Wee Sweeties to try. Let's start with the Hot Cross Bun Fudge, what a brilliant concept! The fudge really tastes like a Hot Cross Bun and would be a perfect Easter Gift. I was a bit concerned to try the Caramel Swirls as I thought they might be hard and chewy, but far from it, they transported me back to my childhood as they tasted exactly like the Russian Toffee my Mum made. Soft and with a rich, sweet burnt sugar flavour that was completely moreish. American Buttermints were next on the tasting list, they have a real hit of mint, firm on the outside and meltingly soft on the inside, quite delightful. And finally 'the boilings' Roobarb and Custard boiled sweets were just brilliant, the balance of the acidic rhubarb taste and the sweet custard make these sweets just burst with flavour on your tongue.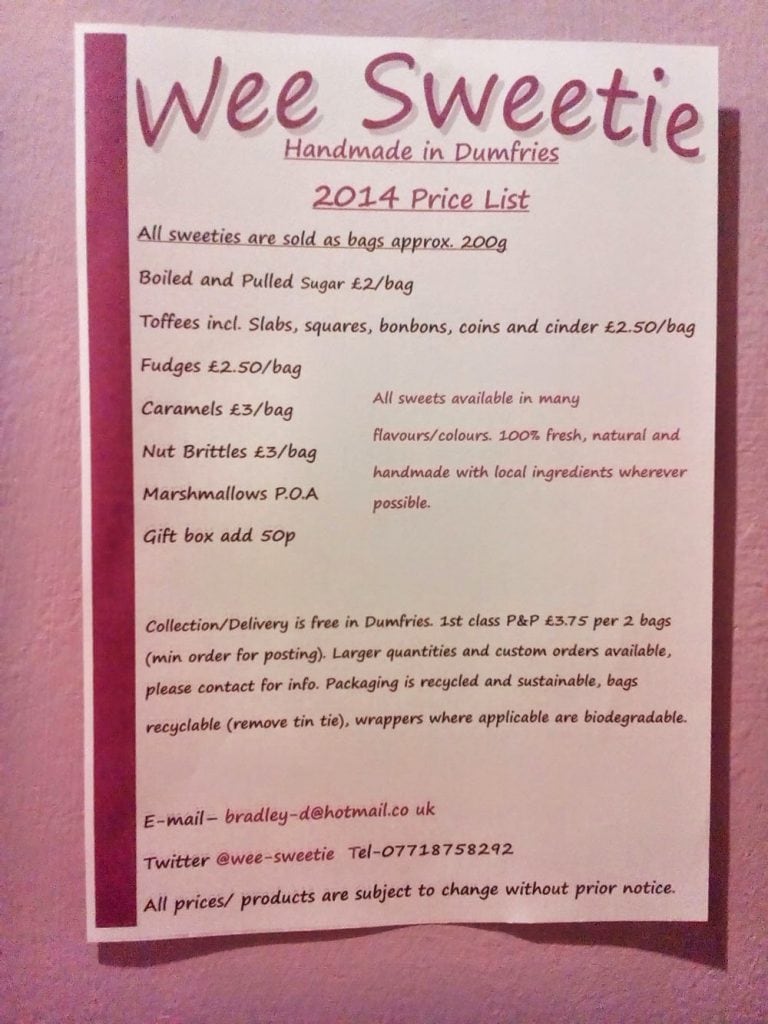 Wee Sweetie is a very new business and does not yet have it's own website. I'll keep you updated when that goes live. In the meantime if you like the sound of these delicious homemade sweets you can contact Donna using the contact details at the bottom of the price list pictured above.
Many thanks to Donna for the opportunity to review her delicious sweeties, I'll be ordering up some of that Hot Cross Bun Fudge for Easter!
I was not paid for this post and all opinions are my own.