Find more recipes at farmersgirlkitchen.co.uk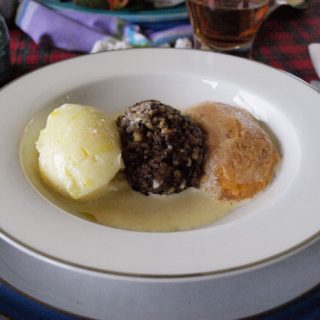 Haggis, Neeps and Tatties with a Whisky Sauce
The Ultimate Burns Supper features Scottish haggis, with its traditional accompaniments of bashit neeps (mashed swede) and champit tatties (mashed potato), less traditional is the whisky cream sauce I am serving with the haggis neeps and tatties, but oh boy is it good!
For the neeps
700

grams

swede (neeps)

1

teaspoon

whisky

1

tablespoon

cream

20

grams

butter

Salt and pepper
For the Haggis
Haggis can be cooked in different ways, traditionally it would be boiled, a 450g Haggis should be simmered for 45 min - 1 hour. I would advise that you wrap it in foil first in case the skin splits and bursts.

You can also wrap in foil and cook it in the oven at 190C in an ovenproof dish, half filled with water for about 1 hour 10 minutes.

Haggis takes well to being microwaved and this is the quickest method. Remove it from its skin and place in an oven proof dish, cover with cling film and microwave for 5 minutes on full power (800W or category E oven)
Method 1
Peel and dice

Cook in boiling salted water until tender, about 20- 30 minutes

Drain and mash with the cream, whisky and butter.

Season with copious amounts of black pepper
Method 2
Pierce swede all over. Cook upright 850 w. Cook for 1 minute per 100 g. Allow to stand for 1 minute then turn upside down. Cook for a further 1 minute per 100 grams Once cooked allow to stand for 5 minutes, cut in half and scoop out the centre and mash. Season to taste.
For the tatties
eel and half or quarter the potatoes depending on the size. Try to make the pieces of similar size so they all cook at the same time.

Cook in boiling salted water for 15-20 minutes

Drain well and mash well with the milk and butter. I put the potatoes through a potato ricer as it gives a lovely smooth mash with no lumps.