Last year I did a round up of blog posts for the year, choosing the recipe with the most page views for each month your favourite, and the one that I like best, my favourite. I enjoyed writing the post and you, dear readers, seemed to enjoy it too. I've excluded those posts which had major giveaways as those do rather skew the page views! Many thanks to all who viewed and/or commented and to the hosts of all the challenges that I have entered.
January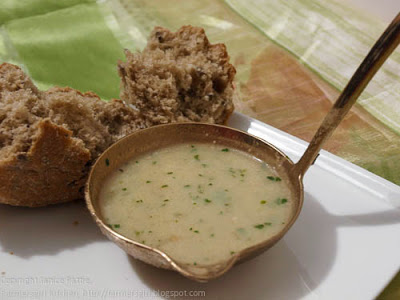 A soup of bacon and celeriac from The Kitchen Diaries II
Your favourite post in January 2013 was the launch of Dish of the Month, a blog challenge to cook the recipes of Nigel Slater.
My favourite was the Croque Monsieur Whoopie Pies from Let's Make Whoopies by Sophie Gray all part of Breakfast Club and Shake up your Wake Up Farmhouse Breakfast week.
February
Your favourite was this Rye and Spelt Bread and my review of Paul Hollywood's book 'Bread'
My favourite was Mon Cherry Amour Cupcakes from Le Cookie by Michael Benichou.
March
Your favourite was The Marmalade Awards where I met up with Sue, from A Little Bit of Heaven on a Plate and Vivien Lloyd – The Jam Mistress!
My favourite was the birthday cake I made for my Mum's 80th, decorated with crystallised edible flowers.
April
Your favourite was my Random Recipe for April – Treacle Bites
My favourite was this Rhubarb and Orange Frangipane Tart, a recipe I got from Dom at Belleau Kitchen.
May
You favourite was my Rhubarb, Mango and White Chocolate Almond Cake which was an entry for We Should Cocoa.
My favourite in May was the Kugelhopf which I made for Alphabakes. I have to say this is probably my overall favourite of the whole year, it was quite a labour of love and tasted so good.
June
Your favourite was this White and Green Cabbage with Coconut Chillies and Ginger from the Farm Shop Cookbook.
My favourite is the Vanilla and Coconut Cake I made from the Clandestine Cake Book for Tea Time Treats.
July
Your favourite was Cherry Frangipane Ramekins based on a Nigel Slater recipe for Dish of the Month.
My favourite was the Chocolate Lime Ice Cream I made using Mackays Lime Curd.You can see that my OXO Good Grips Ice Cream Scoop is well used!
August
Your favourite in August was the Cicchetti I made from Valentina Harris and Lindy Wildsmith.
My favourite was the Beef, Red Pepper and Lime Burgers from Miranda Ballard's Burgers and Sliders. I'm not much of a burger person but these were so good.
September
Your favourite in September was Dish of the Month, Lamb Pot Roast and Peach, Bramble and Almond Crumble
My choice is an old favourite with a twist, my Summer Falls into Autumn Pudding.
October
Your favourite in October was the Chelsea Buns I made from The World's Best Cakes book.
I've chosen Braised Scotch Lamb Shanks in Red Wine as my favourite, I cannot begin to tell you how good they were!
November
Sloe Cordial was a popular post in November and I can now report that it went down very well with the recipients!
I loved these Hot n Smoky Cheese and Tomato Wraps, quick and easy to make and very tasty.
December
My Virtual Christmas Party was a favourite post in December, I even won a prize from Pidy for these canapes!
It may not be the most photogenic of dishes, and I didn't think you could really improve on baked red cabbage, but Spiced Ginger Red Cabbage made with Mackays Spiced Ginger Preserve was even better than I expected.
Thank you so much for visiting Farmersgirl Kitchen in 2013, I hope you will return to see what I am cooking and baking in 2014. I'll be back to wish you a Happy New Year and tell you about my future plans tomorrow.