Find more recipes at farmersgirlkitchen.co.uk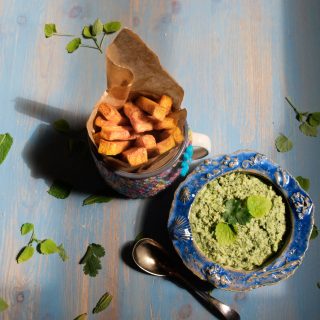 Golden Turmeric Fries with Coriander and Mint Dip
Crisp golden fries with a delicious herb and coconut dip.
For the fries (chips)
1

large potato

peeled

1/2

tsp

turmeric

1

tsp

rapeseed oil

1

tsp

Sriracha hot sauce

Plastic bag
For the Coriander and Mint Dip
For the Fries
Cut the potato into even sized chips/fries, place in a bowl and cover with water, leave for 30 minutes.

Drain the chips/fries and dry in a clean tea towel or kitchen paper.

Put the oil and turmeric into the plastic bag, add the chips and move around until they are covered and golden yellow.

Pre-heat the HealthyFry and choose the 'fries' preset

Add the chips to the HealthyFry and start the programme.
For the Coriander and Mint Dip
Place all ingredients into mini jug of the blender, blend until combined. Using a spatula, decant into a bowl. If the mixture is too thick add more yogurt or a little coconut milk.

To cook the fries in the oven

Pre-heat the oven to 200C, place the golden turmeric fries in a single layer on an oven tray, bake for 25-30 minutes, check after 15 minutes and turn the fries over.