Golden Turmeric Fries with Coriander and Mint Dip elevates the classic comfort food of chips (fries) to an impressive appetiser, party canape or as a tasty snack to enjoy with friends and family.
Let's start with the Coriander and Mint Dip.  I love herbs and grow a couple of types of mint in my garden.  This year for the first time, I have been growing Korean Mint which has a slight liquorice flavour.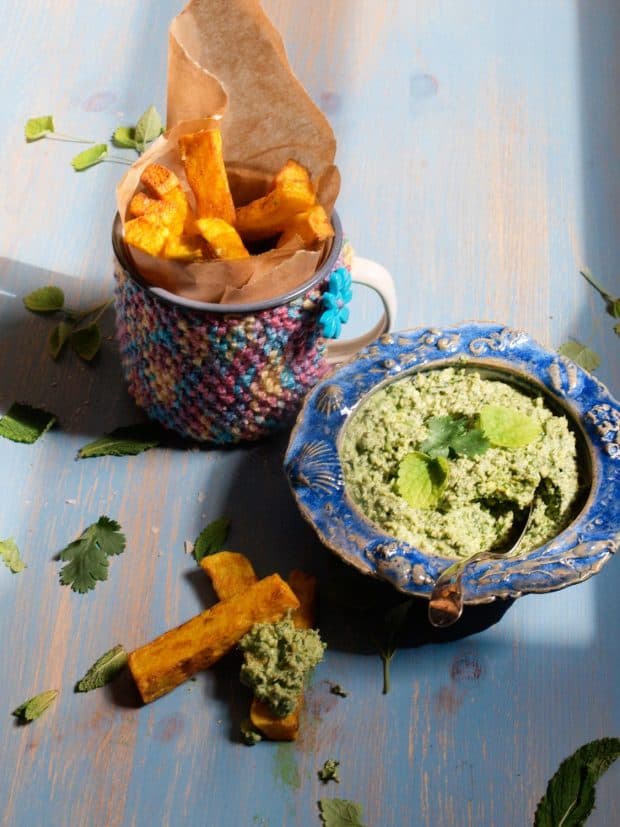 I haven't dared put it outside yet, as the weather has been variable however it is growing very well on the kitchen windowsill.  It doesn't have a strong minty flavour, so if you don't have any you can simply add an extra 10 g of coriander leaves.
The dip is really easy to make as you just throw all the ingredients into a blender and whizz it up.  It will keep in the fridge for up to a week.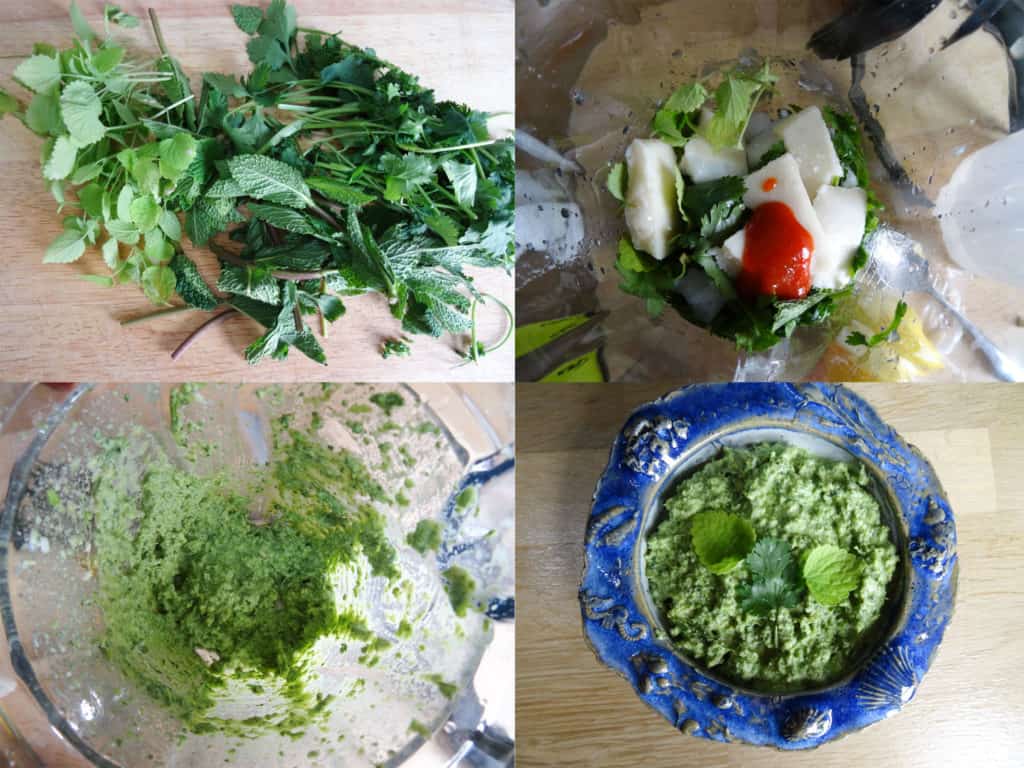 I made the Coriander and Mint Dip in the small jug of my Froothie G2.3 Platinum Induction Blender, This  is great for small quantities and thicker mixes as it has rotating blades that scrape down the mixture from the sides of the blender, see below for details of how to get free UK postage and packing and bonus gift.
Turmeric
Turmeric is really 'on trend' in the food world, however, it's anti-inflammatory, antiseptic and analgesic properties have been known for thousands of years as part of Ayurvedic medicine.
The yellow colour comes from curcumin this gives the potatoes in this recipe a lovely golden colour and an early flavour.  Turmeric is  the spice that gives curry much of its colour. It has a peppery, earthy taste, which works well with the potato of the Golden Turmeric Fries.

Make your Golden Turmeric Fries (chips) look extra special.  Cut them really square and in even sizes, soak for 30 minutes in cold water, then dry on a clean tea towel.
Add oil and dried turmeric to a plastic bag.  Add the potato sticks and move them around until they are coated and golden.
Pre-heat the Healthy Fry add the fries in a single layer and select the fries setting. Halfway through the cooking, give the fries a bit of a stir.
Make a larger batch of Golden Turmeric Fries
To make a larger batch take the fries out of the Healthy Fry 5 minutes before the end of cooking. Re-fry at 220C for 5-8 minutes. just before serving
If you don't have a Healthy Fry,  follow the alternative instructions on the recipe card.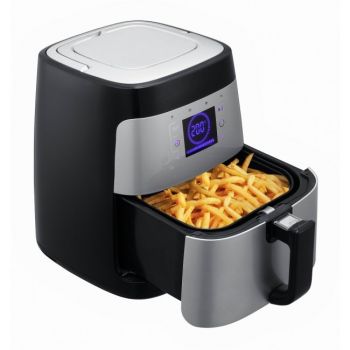 Optimum Healthy Fry
Read my review of the Optimum HealthyFry to find out more about just how versatile this nifty piece of kitchen kit can be!
The Optimum HealthyFry Air Fryer is currently on SALE for £129 (Save £70) and as I'm a Froothie Ambassador you get free delivery in the UK!  details correct at time of writing
Free Ambassador Delivery
Use my ambassador link to order your HealthyFry Air Fryer .simply type "3116" and "free ambassador delivery" in the comment section of the order. Delivery will be credited back to your card.
Salad Dressing
Coriander and Mint Dip makes a brilliant addition to a salad dressing.  Add one teaspoon to two tablespoons of oil and 1 tablespoon of white wine vinegar. Whizz in the blender or shake it up and you have really flavourful dressing with no need for extra seasoning.

Try these other Turmeric recipes from Top UK Bloggers:
Golden Banana, Turmeric and Maple Syrup Smoothie – Kavey Eats
Turmeric Hummus – Rough Measures
Spiced Parsnip Spinach Soup with Apple and Turmeric – Tin & Thyme
Cold and Flu Busting Citrus Smoothie – Rough Measures
Easy Baked Beans with Turmeric – Veggie Desserts
Golden Turmeric Latte – Tin & Thyme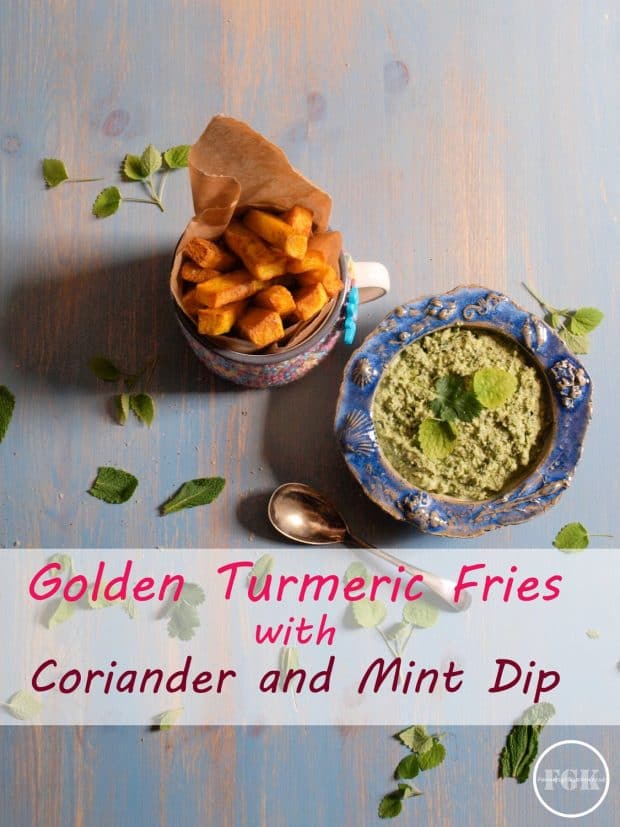 PIN FOR LATER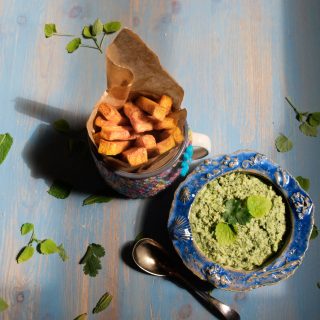 Golden Turmeric Fries with Coriander and Mint Dip
Crisp golden fries with a delicious herb and coconut dip.
Ingredients
For the fries (chips)
1

large potato

peeled

1/2

tsp

turmeric

1

tsp

rapeseed oil

1

tsp

Sriracha hot sauce

Plastic bag
For the Coriander and Mint Dip
15

g

fresh mint leaves

15

g

fresh coriander leaves

10

g

fresh Korean Mint leaves

use extra coriander if you don't have Korean Mint

1

sachet

50g coconut cream

1

tbsp

yogurt

1/2

a small clove of garlic

Pinch

of salt
Instructions
For the Fries
Cut the potato into even sized chips/fries, place in a bowl and cover with water, leave for 30 minutes.

Drain the chips/fries and dry in a clean tea towel or kitchen paper.

Put the oil and turmeric into the plastic bag, add the chips and move around until they are covered and golden yellow.

Pre-heat the HealthyFry and choose the 'fries' preset

Add the chips to the HealthyFry and start the programme.
For the Coriander and Mint Dip
Place all ingredients into mini jug of the blender, blend until combined. Using a spatula, decant into a bowl. If the mixture is too thick add more yogurt or a little coconut milk.

To cook the fries in the oven

Pre-heat the oven to 200C, place the golden turmeric fries in a single layer on an oven tray, bake for 25-30 minutes, check after 15 minutes and turn the fries over.
Don't Miss My Latest Recipes
CLICK TO SUBSCRIBE NOW to join my newsletter list & receive a FREE 'How To Adapt Recipes For Your Slow Cooker' printable!
Share by Email
I'm adding the Golden Turmeric Fries with Coriander and Mint Dip to 'One Potato, Two Potato' the link up for potato recipes. Thanks to  Helen at Family Friends Food and Michelle at Utterly Scrummy Food for Families  

Disclosure: Froothie UK sent me the Optimum G2.3 Platninum Series Blender  and Optimum HealthyFry to use and review at home.
I have not been paid for this post and was not required to give the G2.3 Blender a positive write-up.  All opinions are my own.  Affiliate links included in this post.