Recipe round up coming soon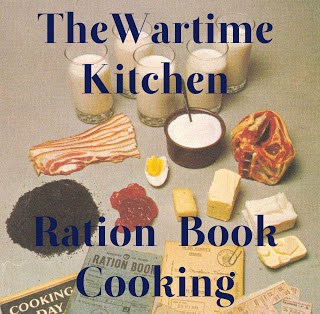 WW2 Rations 1940: per one person (adult)
Butter: 50g (2oz)
Bacon or
ham: 100g (4oz)
Margarine: 100g (4oz)
Cooking fat/lard: 100g (4oz)
Sugar: 225g (8oz).
Meat: To the value of 1/2d – 1lb (450g)
Milk: 3 pints (1800ml) occasionally dropping to 2
pints (1200ml).
Cheese: 2oz (50g) rising
to 8oz (225g)
Eggs: 1 fresh egg a week.
Tea: 50g (2oz).
Jam: 450g (1lb) every two months.
Dried eggs 1 packet (12 eggs) every four weeks.
Sweets: 350g (12oz) every four weeks

Leek and Potato Soup
1 tbsp lard or oil
3 large leeks
1 1/2 lb potatoes
4 pints stock
Heat the oil over a moderate heat, add the cleaned chopped leeks, and
let them sweat for while until they start to soften. Add the potatoes,
chopped into 2in chunks and cook for a couple of minutes. Add the stock
and cook until the leeks and potatoes have cooked, about 30 minutes.

Egg and Sausage Pie
3 eggs
8oz sausages (approx 4 sausages) I browned the sausages first although this is not required
1/4 pint milk
salt and pepper
1/2lb short pastry (I substituted vegetable shortening, couldn't face lard, for half the butter in this recipe)
Line a deep sandwich tin with pastry, Place sausages, sliced length
ways, on the pastry. Beat the eggs with the milk and a dash of salt and
pepper and pour over the sausages. Bake for 45 minutes in a moderate
oven. Use hot, or when cold cut into wedges and serve with lettuce and
sliced tomatoes.
Porridge
Ministry of Food Leaflet No. 22 is all about Oats and Barley and
features, not only porridge, but also a 'Swiss Breakfast Dish' which
appears to be a version of Bircher Muesli.


Porridge – Recipe 1
NB – If thick porridge is preferred use the larger amounts of oatmeal, rolled oats or barley kernels. 4-6oz oatmeal
2 pints water
2 tsp salt
Soak the oatmeal in water overnight. Next morning add salt, bring to
the boil and boil for 15-20minutes, stirring occasionally to prevent
sticking.
Recipe 2
6-8oz rolled oats or barley kernels
2 pints cold water
2 tsp salt
Mix the rolled oats or barley kernels with a little of the cold
water. Boil the rest and pour on to the oats stirring well. Add the salt
and boil the porridge for 5-10 minutes stirring at intervals
Swiss Breakfast Dish
4oz rolled oats or barley flakes or kernels
4 tbsp milk
1/2 – 3/4lb grated raw apple
1-2 tbsp sugar
Soak the rolled oats or barley flakes or kernels overnight in barely
enough water to cover. In the morning beat up well with the other
ingredients. This is a delicious alternative to porridge on summer
mornings.