Beef Bourguignon Pie is a lovely variation on this classic beef and red wine stew from the south of France.  The rich stew is topped with semi-circles of crisp puff pastry and served with fresh French beans.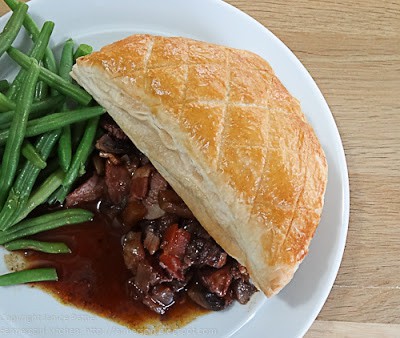 Beef Bourguignon Pie
This recipe comes from 'A Suitcase and a Spatula' by Tori Haschka, a Sydney-born food and travel writer, blogger at eatori.com and intrepid gourmet.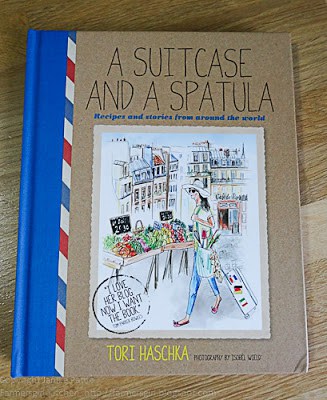 A Suitcase and a Spatula
A Suitcase and a Spatula is a quirky little book, a kind of hybrid travelogue cookbook.  At first glance, it seems a bit wordy, but the words are well written, amusing and informative and the recipes are very good.
The Introduction tells you  about Tori, her travel companion or 'co-pilot' and some of the places they visited.
Off to a good start – Food for a sociable start to the day and when you crave breakfast for dinner 
Here are a few of the Breakfast treat,  starting in London with Mushrooms, Brown Butter and Parmesan on Toast, New York gives us Corn Popovers with Tomato Bacon Relish, in Paris a Raspberry Croissant Pudding is the delightful offering.  In Agadir,  warm and spicy Baked Moroccan Eggs brighten up the breakfast table and we finish up in Sydney with Latte Banana Bread, nuff said!  My favourite part of this chapter was the double pager called "How to get the best out of a breakfast buffet" what a brilliant idea and so many good tips to avoid gluttony but have your fill of the good stuff.
Summer – Feasts best eaten with sand between your toes
Living in Scotland, we don't often have the kind of weather that makes you want to eat light summer dishes, but on those days when the sun shines and the temperature gets above 16C (yes, really 20C is a heat wave!) I'm going to be trying out some of the following summery recipes:  Griddled Bread with Ricotta, Mint, Chilli and Lemon from Bondi, Sydney's iconic beach, Pork Burritos with Spicy Pineapple Salsa from Avoca Beach (that's in Australia, not Ireland) Sardines with Campari Peach and Fennel from Venice, Fava with Lamb Meatballs from Athens.  There is a lovely section on The South of France featuring Mussels, Fennel and Chickpeas in Pink Wine and Rose Jelly with Vanilla Cream – mmm how delicious.
Another fun section is the Minibar Cocktail Party – create a Citrus Gin Fizz, a Coffee martini or a Lazy Sangria, amongst others!   The chapter ends with Avocado Milkshake Popsicles displayed in stunning coloured glasses.
Winter – Feasts best eaten when hunkering down in front of a fire.
I would certainly eat Roast Apple and Pumpkin Soup with Maple Nut Crumble while hunkering down in front of a fire in the Blue Mountains and Tori has some sound advice for would be frontier-braving campers!
Another great section provides a Formula for Carpet Picnics, for those days when the weather doesn't allow you to eat outside, some simple combinations of local ingredients make for a great picnic no matter where you are.
More winter dishes include Slow Cooked Pork Ribs with Rhubarb Pickle from Brooklyn, Icelandic Hot Dogs and Pecorino, Pepper and Pig Cheek Pasta from Rome. I will definitely be making Koshary a  spicy rice, pasta and chickpea dish from Cairo.  Full details of the French Beef Bourguignon Pie below, another pie from San Francisco: Tomato Soup Pie!
The Sweet Stuff – Desserts for sharing, treats for snaking and things to call on when a grey day needs a lift
There are some nice recipes in this chapter, but I don't think it is as strong as the other chapters, I was drawn to the following recipes: Elderflower Almond Cake with Summer Berries from London Fields, Apricot Frangipane Puddings from Val D'Isere a perfect 'chalet girl' pud!
In 'A Tale of Two Christmases' we are given menus for a hot Christmas in Sydney and a cold Christmas in London.  I liked the look of the Christmas Pudding Semifreddo with Boozy Chocolate Sauce which I think would go down just as well in London as Sydney.
Pros
The presentation of some of the recipes as pages stuck in with tape appealed to me, and the photographs of the completed recipes were beautifully styled. There was also a theme of airmail and postcards which was effective. Each recipe comes with a few paragraphs to tell you about the author's travels and the dish featured. The narrative pieces, some of which I have already mentioned but there are more e.g. 'Plane Food', are a real treat. Great ideas for travellers written with gentle humour.
Cons
It is a rather eclectic mixture of recipes, which is inevitable given the travel theme.   There are still quite a lot of Australian themed recipes, but all the recipes use ingredients which should be fairly easily available.
Ease of use
Both imperial and metric measures are shown.  The instructions are clear and well laid out.  There is a photograph for all the main dishes, some simple recipes mentioned in the narrative pieces don't have photographs.
Beef Bourguignon Pie, Beaune and Burgundy
I chose to make the Beef Bourguignon Pie because it is the dish in the book chosen for the the delightful French town  of Beaune in the Burgundy area of France.  I was fortunate to have the opportunity to visit this historic and charming town on a recent holiday.
Hotel de Dieu – Beaune
The Hotel de Dieu or Hospice de Beaune once served as a charitable refuge for the poor. Now, you can visit the museum and admire the glazed tile roof.

Charcuterie – Beaune
I loved this cute pig promoting Artisan Charcuterie or cured meats.

Fromagerie – Beaune
The fromagerie  featured a very long counter filled with amazing French cheeses.

Wine Tasting – Beaune
And, it would be rude to visit the Burgundy region without trying the wine, would it not?

Janice in Beaune!
Tori tells us "one option is to serve the silken hunks of meat over mashed potato or white bean purée. Or you could do what every homesick Australian does when stranded in the middle of France, and ponder how it would taste under a cap of pastry."
Beef Bourguignon Pie (serves 4)
1kg/2 1/4lb beef shin or chuck steak, cubed
1 1/4 tbsp plain/all purpose flour
1tsp salt
1tsp black pepper
3tbsp olive oil
2 carrots, diced
3 garlic cloves, crushed
2 onions, diced
2 bay leaves
675ml/2 3/4 cups red wine (burgundy is classic)
2tbsp tomato purée/paste
1tsp sugar
2tbsp cassis or sherry (optional)
150g/5oz lardons/streaky bacon, cut into strips
200g/6 1/2oz button mushrooms, halved
375g/12 1/2 oz puff pastry
1 egg, beaten
4 ovenproof bowls or pudding containers
Preheat the oven to 230C/450F/Gas 8. Dust the beef in the flour, salt and pepper.
Heat 1 tablespoon olive oil in a casserole dish over a high heat, and brown half the meat. Remove and add another tbsp of oil before browning the other half (try not to crowd the pan – you don't want the meat to stew.
Remove the meat and add 1tbsp olive oil to the pan. Sauté the carrots, garlic and onions until the onion is translucent.
Return the meat to the pan. Add the bay leaves and red wine. Scrape up the sediment on the bottom of the pan with a spoon to encourage it to join the stew. This is where the flavour is.
Simmer over low heat with the lid off for 2 hours or longer if you have it. An hour before serving add the tomato purée/paste and sugar. (If you feel inclined, add the cassis or sherry).
Just before serving, brown the lardons or streaky bacon in a frying pan. Add both to the beef stew, season with salt and pepper.
Divide the stew among 4 pie dishes. Divide the pastry into four, roll out on a floured surface and place on top of the pies. Seal around the edges of the dishes. Brush with beaten egg, make a cut in the centre and bake for 25-30 minutes, until golden.
I don't have any little pie dishes so decided to bake the pastry separately and serve with the meat stew.
Stunning dish, worthy of a restaurant (even though I say it myself) the Beef Bourguignon was rich and full of flavour and deconstructing the pie worked really well as the pastry was crisp, airy and light.
A Suitcase and a Spatula
Recipes and stories from around the world
AUTHOR Tori Haschka
PHOTOGRAPHER Isobel Wield
RRP £18.99
POPULAR ONLINE RETAILER £12.15
PUBLISHER  Ryland Peters and Small
SPECIFICATIONS 144pp
c. 100 colour photographs
ISBN 978-1-84975-349-4