Doesn't this Chocolate Berry Pavlova look fabulous? The meringue base has added cocoa for chocolatey flavour, then it's painted with melted chocolate and topped with whipped cream and a berry compote. I can confirm that not only was it totally delicious, it wasn't difficult to make at all.
The recipe comes from 'Make it Easy' by Jane Lovett published by New Holland Publishers. Jane describes Make it Easy as "A book for the home cook with the emphasis on get-ahead, easy, seasonal recipes with a contemporary twist" Make it Easy starts with useful top tips, notes on presentation, do's and don'ts and some general notes.
There are nine chapters: soups and starters, fish & shellfish, meat, poultry, weekend lunches, vegetables and salads, desserts, quick nibbles & drinks, bits, bobs & basics.
I found so many great dishes in this book and loved the 'Get Ahead' tips showing you how much of the recipe you can prepare before the meal. This is an ideal book for anyone who new to entertaining or who is concerned about which dishes to make and getting their dishes to the table on time! You can wow your guests with Vietnamese Herby Chicken with Nutty Green Rice Salad or Salmon en Croute with Lime and Coriander Sauce
Even if you don't do much entertaining, there are some great recipes to eat with the family, like the Quick Creamy Smoked Haddock Saffron and Chive Risotto and Spicy Sausage, Lamb and Bean Bake.
I was drawn to one particular dessert, not only because it contains some of my favourite flavours, but also because it fits perfectly with the July 'We should Cocoa' challenge which requires a combination of Blackcurrants and Chocolate, it's a Chocolate Berry Pavlova.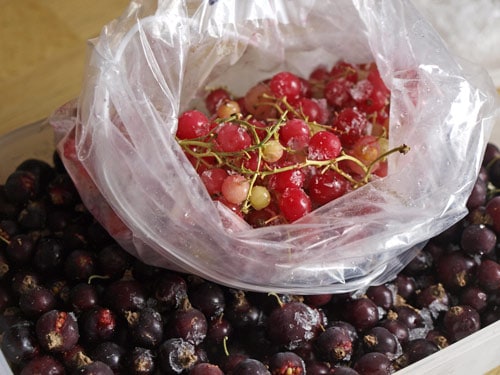 I've never brushed chocolate on my pavlovas before, but it is absolutely brilliant and really adds to the rich, earthy flavours of the berries without overpowering them. I would highly recommend this Chocolate Berry Pavlova recipe and will be bookmarking more recipes in Make it Easy which is available through a popular on line bookshop for £14.99.
As I said earlier, the Chocolate Berry Pavlova is my entry for the July 2012 'We should Cocoa': Chocolate and Blackcurrants which is hosted this month by Choclette at Chocolate Log Blog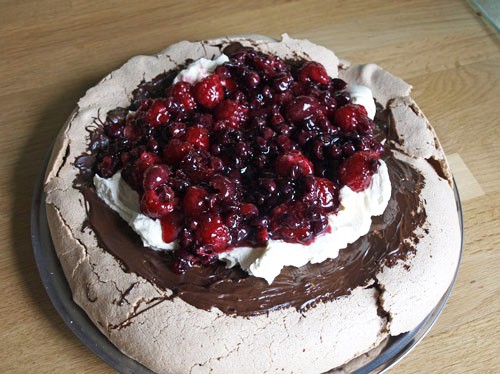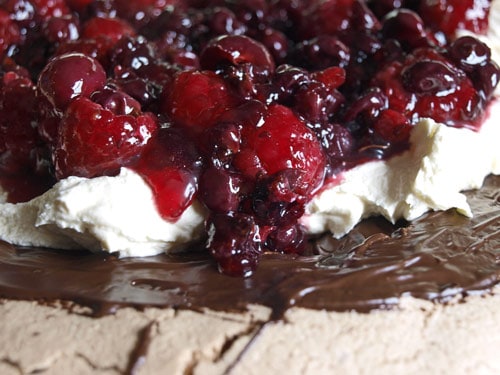 What do you like to make with summer berries?