Doesn't this Chocolate Berry Pavlova look fabulous? The meringue base has added cocoa for chocolatey flavour, then it's painted with melted chocolate and topped with whipped cream and a berry compote. I can confirm that not only was it totally delicious, it wasn't difficult to make at all.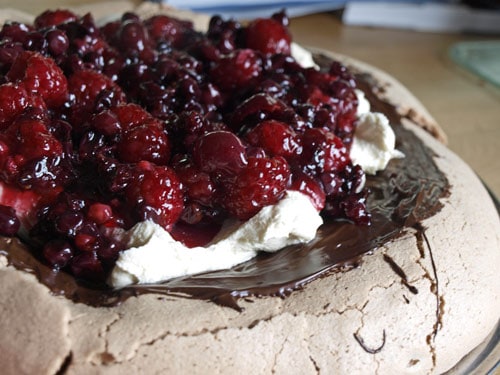 The recipe comes from 'Make it Easy' by Jane Lovett published by New Holland Publishers. Jane describes Make it Easy as "A book for the home cook with the emphasis on get-ahead, easy, seasonal recipes with a contemporary twist" Make it Easy starts with useful top tips, notes on presentation, do's and don'ts and some general notes.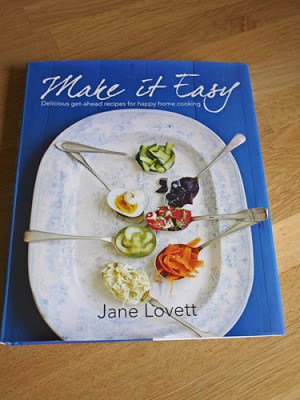 There are nine chapters: soups and starters, fish & shellfish, meat, poultry, weekend lunches, vegetables and salads, desserts, quick nibbles & drinks, bits, bobs & basics.
I found so many great dishes in this book and loved the 'Get Ahead' tips showing you how much of the recipe you can prepare before the meal. This is an ideal book for anyone who new to entertaining or who is concerned about which dishes to make and getting their dishes to the table on time! You can wow your guests with Vietnamese Herby Chicken with Nutty Green Rice Salad or Salmon en Croute with Lime and Coriander Sauce
Even if you don't do much entertaining, there are some great recipes to eat with the family, like the Quick Creamy Smoked Haddock Saffron and Chive Risotto and Spicy Sausage, Lamb and Bean Bake.

I was drawn to one particular dessert, not only because it contains some of my favourite flavours, but also because it fits perfectly with the July 'We should Cocoa' challenge which requires a combination of Blackcurrants and Chocolate, it's a Chocolate Berry Pavlova.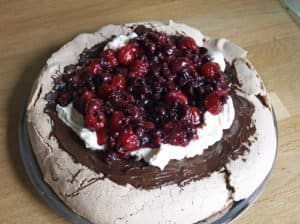 Chocolate Berry Pavlova
Crisp chocolate meringue, brushed with melted chocolate and topped with whipped cream and a berry compote.
Ingredients
4

egg whites

1

pinch

salt

280

g

caster sugar

1

tsp

cornflour

1

tsp

cocoa powder plus extra for dusting

1

tsp

vanilla essence

1

tsp

white wine vinegar

500

g

frozen mixed berries

I used frozen blackcurrants and redcurrants and fresh raspberries

50

g

good quality plain or white chocolate

425

ml

double cream

Icing sugar for dusting
Instructions
Preheat the oven to 140C (275F), gas 1 and line a flat baking sheet with foil or baking parchment.

Whisk the egg whites with a pinch of salt until stiff, then add 225g of the sugar, a tablespoon at a time, whisking it in well between each addition. The mixture will be very thick and shiny.

When all the sugar is incorporated add the cornflour, cocoa powder, vanilla essence and vinegar and whisk well again.

Pile the mixture onto the lined baking sheet and mould it into a flattish round shape, roughly 20-25cm across and 4cm deep. Make a dip in the middle using a metal spoon.

Cook for 45 minutes, then turn the oven off leaving the pavlova inside until cold, without opening the door.

Carefully peel off the foil.

Put the frozen berries into a non-reactive pan with the rest of the sugar. Warm gently over a low heat, just until the fruit has thawed, trying not to break it up.

Tip into a sieve over a bowl and leave to drain for 15 minutes or so. Pour the juice back into the pan and boil fast, giving it the odd stir, until it has reduced to a syrupy consistency and just coats the back of the wooden spoon. Leave to cool. It will thicken up much more when cold.

Melt the chocolate in a small bowl suspended over a pan of hot water or in a microwave and carefully brush over the inside of the pavlova. Dust the outside with cocoa powder, then icing sugar (I forgot to do this!)

Whip the cream lightly into soft peaks and spoon into the centre of the pavlova. Mix the berries and the sauce together (this is when I added the fresh raspberries) and spoon over the top.
Notes
Get Ahead:
The pavlova can be made several weeks in advance,wrapped tightly in clingfilm and kept somewhere cool and dry. The chocolate can be brushed over a few days in advance. Make the fruit compote several days in advance and keep the fruit and sauce covered separately in the fridge, or freeze. Only mix together just before using. The cream can be whipped as early as you like on the day but should be under whipped as it will thicken up whist in the fridge.
Hints and Tips:
Leave out the cocoa if you prefer and the chocolate too.
Cracks don't matter at all and most of them can be concealed by the filling if you so wish
Adapted from Make it Easy
Nutrition
Calories:
392
kcal
Carbohydrates:
48
g
Protein:
3
g
Fat:
22
g
Saturated Fat:
13
g
Cholesterol:
72
mg
Sodium:
52
mg
Potassium:
116
mg
Fiber:
2
g
Sugar:
43
g
Vitamin A:
810
IU
Vitamin C:
1.9
mg
Calcium:
41
mg
Iron:
0.3
mg
Don't Miss My Latest Recipes
CLICK TO SUBSCRIBE NOW to join my newsletter list & receive a FREE 'How To Adapt Recipes For Your Slow Cooker' printable!
Share by Email
I've never brushed chocolate on my pavlovas before, but it is absolutely brilliant and really adds to the rich, earthy flavours of the berries without overpowering them. I would highly recommend this Chocolate Berry Pavlova recipe and will be bookmarking more recipes in Make it Easy which is available through a popular on line bookshop for £14.99.

As I said earlier, the Chocolate Berry Pavlova is my entry for the July 2012 'We should Cocoa': Chocolate and Blackcurrants which is hosted this month by Choclette at Chocolate Log Blog


What do you like to make with summer berries?