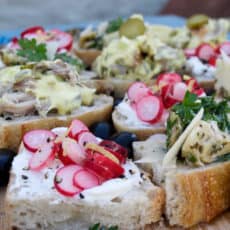 After a fabulous visit to Venice, I've created some easy homemade recipes for Cicchetti. These little fish and vegetable appetisers are served with drinks, or for lunch, in Venice and the surrounding area.
Cicchetti are the Venetian equivalent to tapas, served in bars, bacari and other eateries. Outside Venice these special snacks are not called cicchetti, but spuntini, piccolo cibi and stuzzichini. CICCHETTI
The one part of Christmas Lunch which always taxes my brain is 'The Starter'. This year I used the Smoked Salmon from the Forman and Field hamper that I won.