I like to bring back a recipe or two from my travels abroad and as we recently visited Venice, Italy. So I'm bringing you, Cicchetti 3 Easy Venetian Appetiser recipes.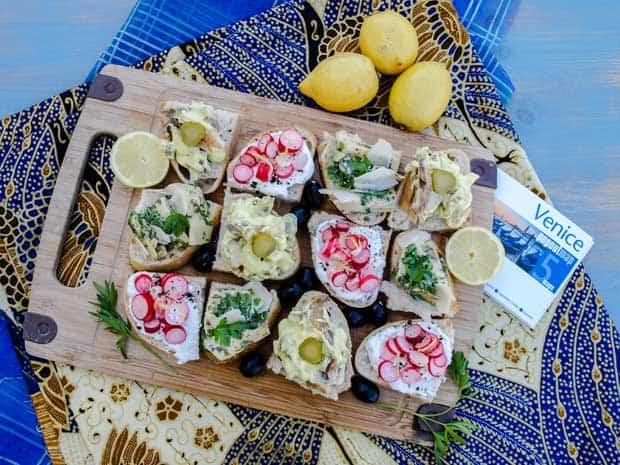 We had an amazing four days to enjoy Venice, it's a remarkable city with its glittering gold Basilica and towering Campanile in St Mark's Square.
If you visit Venice don't miss the ornate Doge's Palace and my favourite place, the elegant Peggy Guggenheim Modern Art Museum.  There is so much to see and, of course, everywhere you go you see the iconic canals and gondolas.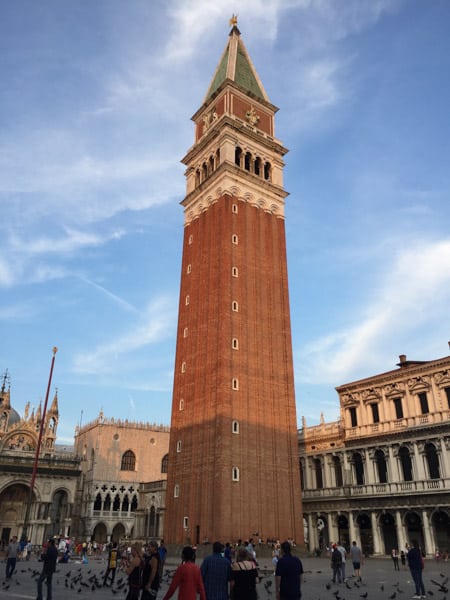 Venice and Gondolas
If you visit Venice take a ride in a gondola, it is expensive but it is such a great experience.  We had the good fortune to be in Venice at the same time as my blogging friend Christina of Christina's Cucina.  We met up with Christina and her mother on our first night in Venice for a pre-dinner drink. and thought that would be our only chance to get together.
The next evening Christina messaged me to ask if we wanted to join them for a gondola ride, it took us zero seconds to say YES and 15 minutes later we were on a gondola heading towards the Grand Canal!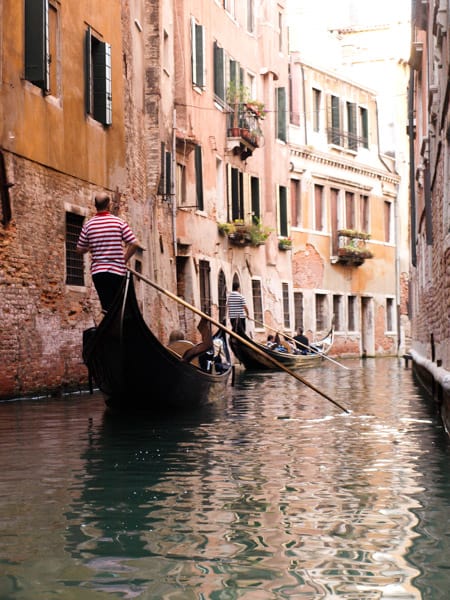 Did you know that gondolas are counterweighted so they balance evenly when the gondolier stands to one side?  They are also asymmetrical in shape because the gondolier uses only one oar due to the narrowness of the canals.  If they were straight they would simply go round in circles!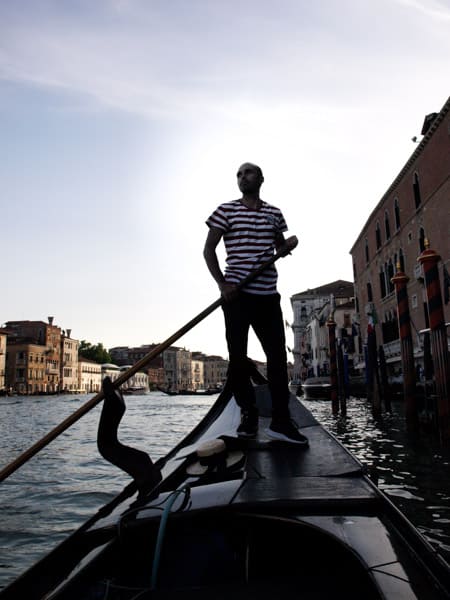 Fabio, our gondolier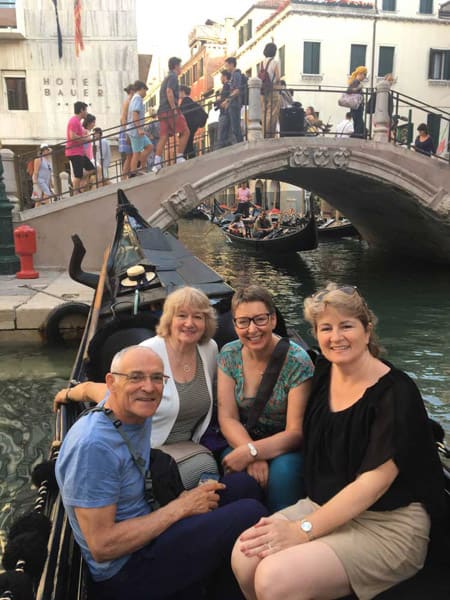 With Christina and Lidia
What are Cicchetti?
They are small appetisers you eat with an aperitif in the bars of Venice. We didn't actually have any Cicchetti in Venice. We took the Vaparetto (water bus) to visit the Venetian island of Burano and I saw a Cicchetteria and decided we just had to try these local delicacies.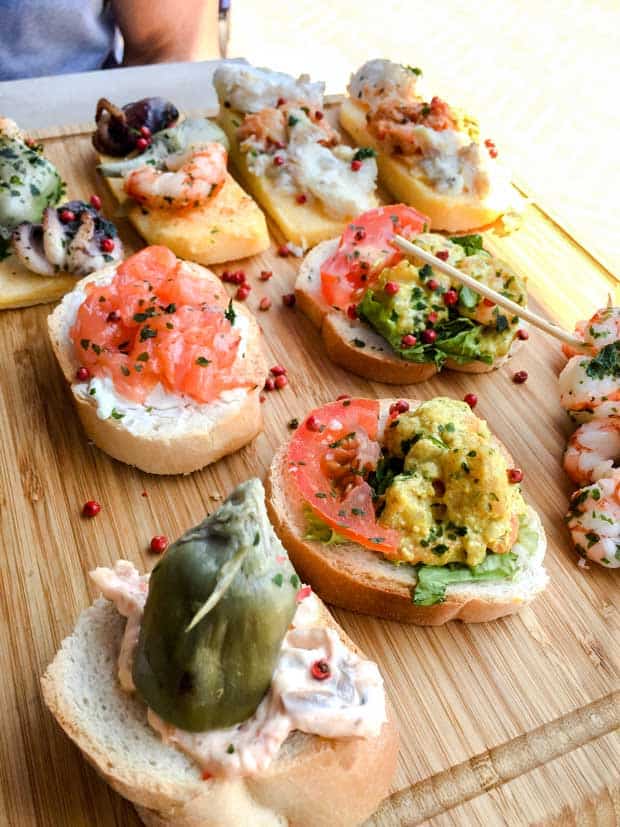 We asked for a selection of  Cicchetti and it came on a wooden board.  There were with slices of bread and slices of cold polenta topped with fish and seafood or vegetables, like artichokes and tomatoes.
There were also skewers of cooked prawns.  It was a really filling meal and it was fun to try the different varieties.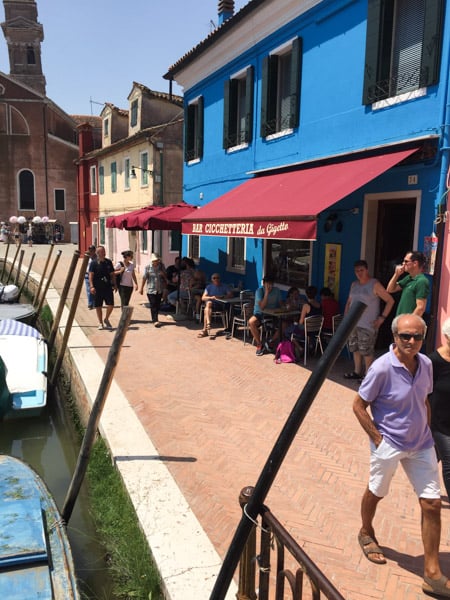 We visited Buatno on a very hot day, so it was great to sit in the shade beneath that red awning. We each tried all the varieties of Cicchetti and washed down with a welcome cold glass of beer.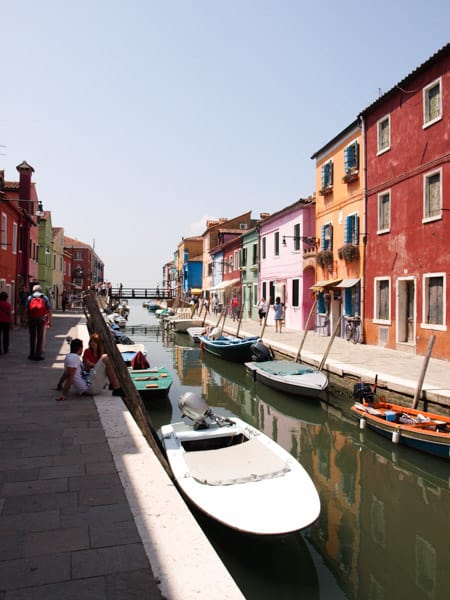 Burano and Murano
Burano is a beautiful island, traditionally a fishing community. II is also famous for its lacemaking and the brightly painted houses that you see in these photos.
Burano is much prettier than the island of Murano which is famous for its glass making, We did visit  Murano, but it seemed to be mainly either very high-end expensive shops or souvenir shops.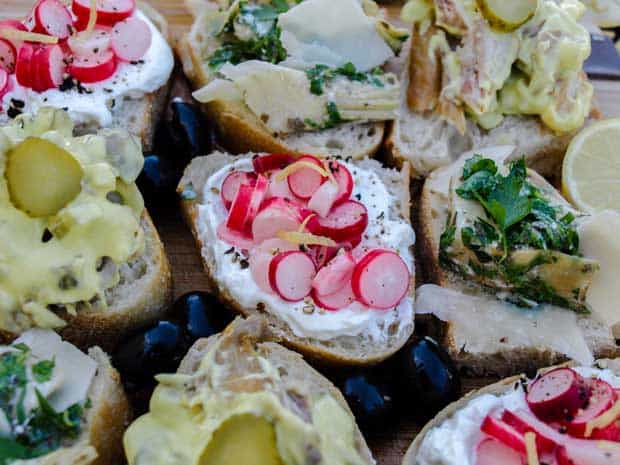 Make Cicchetti at home
Once I returned home I wanted to recreate these delicious little bites. So I  created Cicchetti 3 Easy Venetian Appetiser Recipes. These are Cicchetti-style recipes which to make at home using ingredients you can get in the supermarket.
I made all of the open sandwiches with slices of bread. It's quick and easier than making polenta. I don't make any claim that my Cicchettii recipes are authentic.  What I've tried to do is recreate some of the flavours from this plate of Cicchetti we enjoyed on the beautiful Venetian island of Burano.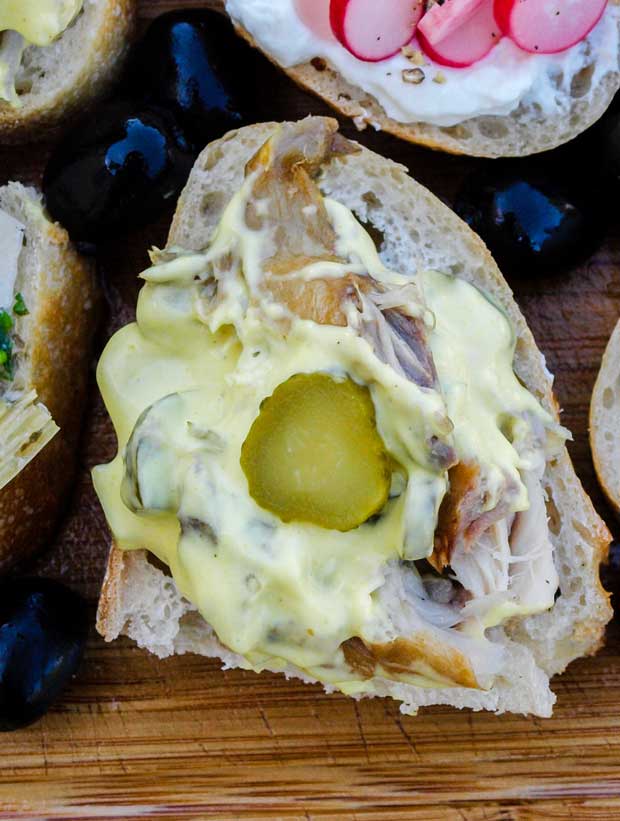 Smoked Mackerel in Mustard Sauce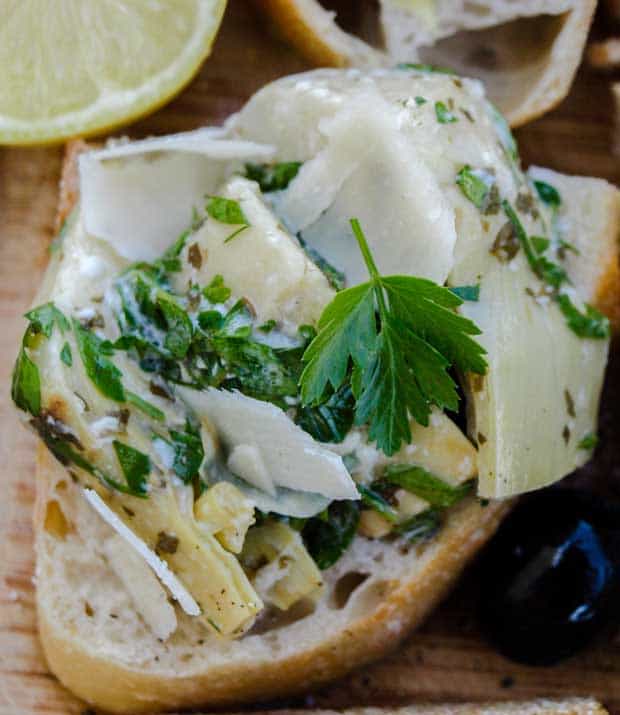 Artichoke Hearts with Parsley Dressing and Grano Padano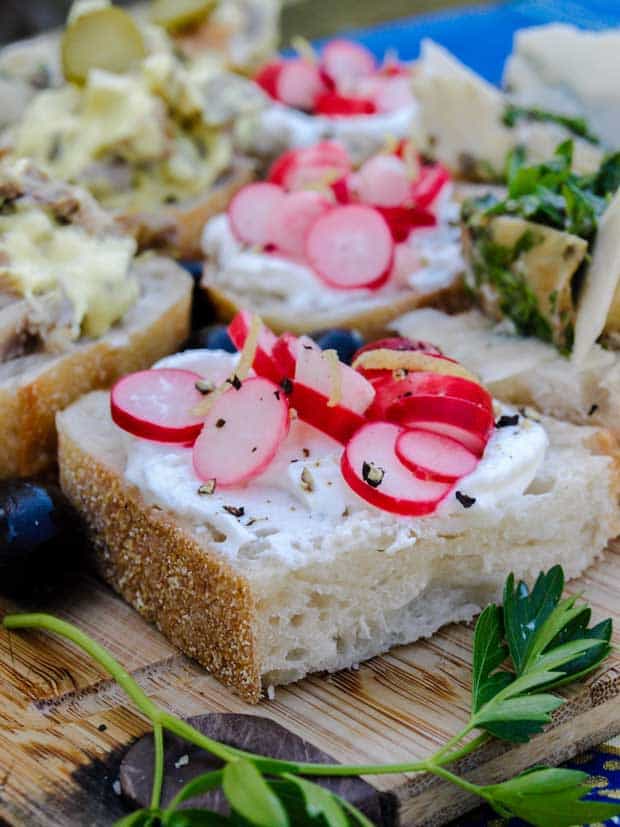 Cream Cheese with Quick Pickled Radishes
Light Bites Recipes from Farmesgirl Kitchen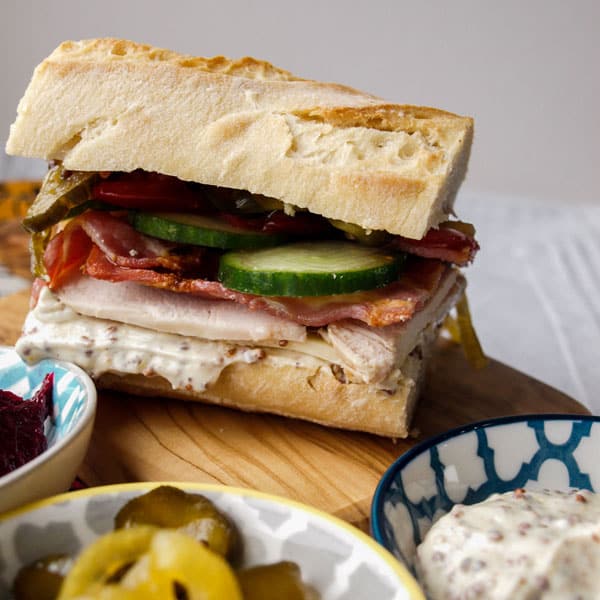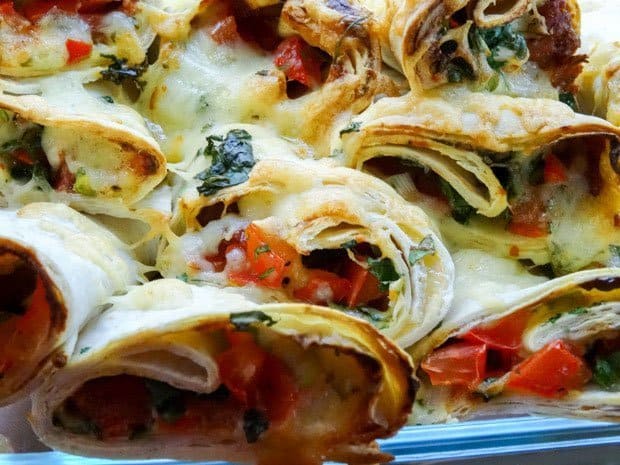 More Light Bites Recipes
Nori-Wrapped Hot Smoked Salmon Bites with Miso mayonnaise – Kavey Eats
Cucumber Roll-Ups with a Garlicky Feta & Mint filling – Tin & Thyme
Bruschetta with Jerte Picotta Cherries, Serrano Ham and Goats Cheese – Foodie Quine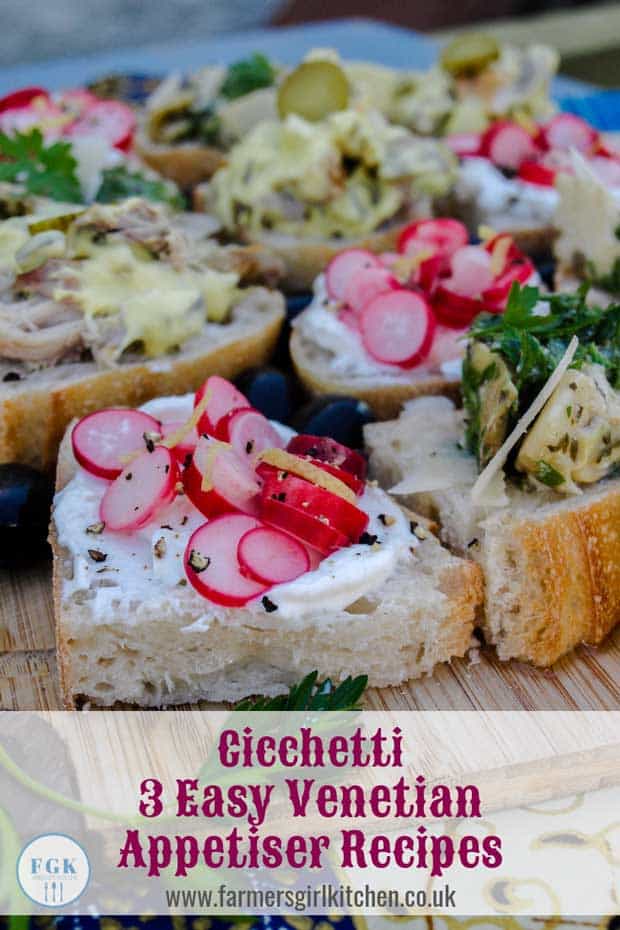 PIN FOR LATER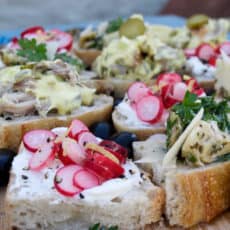 Cicchetti
3 Venetian Appetisers - Smoked Mackerel in a mustard sauce, Artichoke hearts with grana padano and parsley dressing and soft fresh cheese with pickled radishes all served on slices of bread.
Print
Pin
Rate
Ingredients
12

slices of bread, lightly buttered (see notes)

filone. baguette or sourdough
Smoked Mackerel in Mustard Sauce
1

medium

smoked mackerel fillet, skinned and roughly flaked

1

tbsp

mayonnaise

1

tbsp

Dijon mustard

1/2

lemon juice only

2

gherkins

sliced

salt & freshly ground black pepper to taste
Artichoke Hearts with Grana Padano and Parsley dressing
4

artichoke hearts in oil

3

tbsp

olive oil

1/2

lemon, juice only

1

tbsp

finely chopped parsley

100

g

grana padano or parmesan shavings

salt & freshly ground black pepper to taste
Cream Cheese with Quick Pickled Radishes
50

g

soft cheese

cream cheese, ricotta or quark

4

medium

red radishes, sliced

or 6 small radishes

60

ml

white wine or cider vinegar

60

ml

water

1

tsp

fine sea salt

1

tbsp

caster (superfine) sugar

zest of half a lemon in fine strips

freshly ground black pepper
Instructions
Smoked Mackerel in Mustard Sauce
Mix the mayonnaise, mustard and lemon juice together,

Add the flaked smoked mackerel to the mayonnaise mixture, season to taste.

Pile the smoked mackerel mixture onto slices of bread and top with a slice of gherkin
Artichoke Hearts with Grana Padano and parsley dressing
Mix the olive oil, lemon juice and finely chopped parsley together, season to taste.

Cut the artichoke hearts into halves or quarters, depending on size and gently mix with the dressing.

Divide the dressed artichoke hearts onto the slices of bread and top with shavings of Grano Padano cheese.
Cream Cheese with Quick Pickled Radishes
First, make the quick pickled radishes, wash the radishes and slice thinly and pack them into a jar. Mix together the water, vinegar, salt and sugar and pour over the radishes. Leave for 15 minutes then use.

Spread the bread thickly with cream cheese, ricotta or quark.

Top with the quick pickled radishes and garnish with thin strips of lemon rind.
Notes
I used a sourdough loaf and cut the slices in half. As long as it's a crusty type of bread it should work fine.
I didn't butter the bread as we don't eat a lot of butter, but the butter will prevent the bread going soggy if you have to keep the Cicchetti for more than 15 - 20 minutes.