I can't recommend this Roasted Carrot Hummus highly enough, it is just so good.  The intense sweetness of roasted carrots combines beautifully with chickpeas, tahini, lemon juice, and cumin.  Make it thick for spreading or thin it down to make a great dip for vegetable sticks or crisps/chips.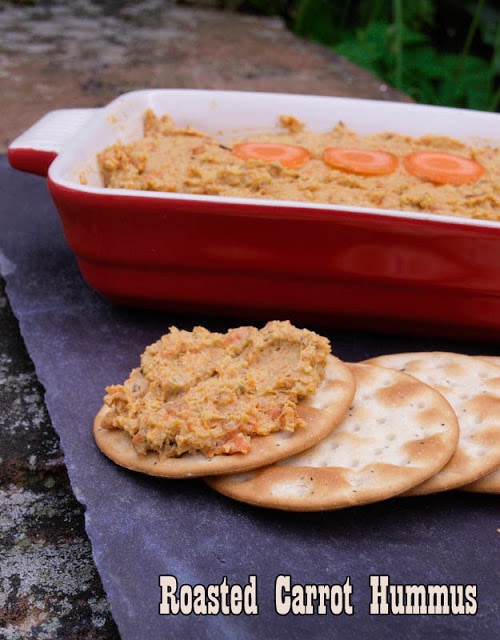 Roasted Carrot Hummus is one of the recipes in the One-Pot Gourmet Gardener by Cinead McTernan, delicious container recipes to grow together and cook together.  If you have been following my blog then you'll know that I'm growing vegetables in containers this year, so this book is right up my street.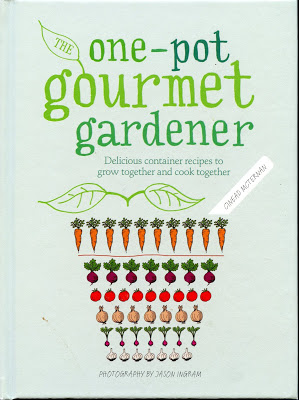 Author CINEAD McTERNAN is a horticulturally trained writer and gardening editor of The Simple Things magazine. She was previously editor of The Edible Garden magazine and worked on The English Garden and BBC Gardeners' World magazines. Her previous book Kitchen Garden Experts was published by Frances Lincoln in 2014.
Award-winning photographer JASON INGRAM has worked on numerous garden and food magazines. His published books include The Ethicurean Cookbook and Kitchen Garden Experts
The Blurb
With these exciting container recipes, you can grow all the ingredients you need for a single dish in a single pot. One-Pot Gourmet Gardener presents 25 carefully devised container recipes grouped into soups and salads, delicious main courses, handy picnics, quick suppers, and divine drinks and puddings, including gazpacho, garden pizza, ratatouille, smoothies, sauces, and tarts. Each one-pot recipe provides every step from sowing to serving. And after being guided through an introductory masterclass on how to grow crops in pots, readers will have the confidence and skills to devise their own one-pot recipes. With a little planning, you can prepare the food for a one-pot celebration, when you sow the crops in spring!
My thoughts
The concept of this book is simple, plant up a container with a variety of herb and vegetable plants, then when they have grown, you are ready to make the recipe.  All of this is explained in the Introduction which tells you how to get started and encourages everyone with even the smallest patio balcony or roof garden to give growing your own a go. Everything from choosing a pot, tools, and equipment to compost, positioning your pot, watering, pests and diseases, harvesting and storage are covered at the start of the book.
The Recipes
For each recipe, there is a 'Grow Me' section and an 'Eat Me' section.  Here are some of the recipes which I found attractive:  Courgette and Fennel Tart, Hummus Three Ways (including Carrot Hummus), Honey and Thyme Blackberries with Thyme Shortbreads. Kale and Celery Soup, Rainbow Chard Pesto, Radish, and Shallot Pickle and Pimms Jelly.
Who is it for?
Anyone who wants to grow vegetables in containers, but also cooks who would like to try making something a bit different with produce.  Whether you grow your own vegetables or not, you can still enjoy the produce from farmers markets or greengrocers or even the supermarket.
Pros
Everything you need to learn how to grow vegetables and herbs in containers.  A variety of interesting, well-written recipes, good photographs and clear instructions for sowing and growing.
Cons
For those of us living a bit further north, some of the containers would be unlikely to thrive.  I know this because I have been gardening for many years, however not everyone would be aware that tomatoes and aubergines are unlikely to thrive outside in Scotland and might be disappointed, especially in a summer like this one, where even my courgettes have failed to thrive. Some information on regional differences would have been helpful.
The Verdict
A fun book which would be a good gift for a gardening cook or a cooking gardener! The containers looks as attractive as containers of flowers with the variety of plants really complementing each other. As you will see below, I was impressed by the Carrot Hummus, and I'm sure many of the other recipes will be well worth making too.


Roasted Carrot Hummus
Sweet roasted carrots combined with chickpeas, tahini, lemon juice, and cumin, a delicious dip or spread.
Ingredients
200

grams

carrots

7 oz

Drizzle of olive oil

Salt and pepper

to taste

440

grams

tin cooked chickpeas

15 oz

1

garlic clove

crushed

2

tsp

tahini

heaped

2

tbsp

lemon juice

2

tsp

ground cumin
Instructions
Preheat the oven to 200C/400F/gas mark 6.

Place the carrots on a baking sheet, drizzle with olive oil and season. Roast in the oven until soft - about 30 minutes.

When the carrots have cooked, place them and the remainder of the ingredients into a mixer and blitz until blended and smooth. Spoon into a bowl and level to remove any air pockets.

Serve immediately, with warm pitta bread, or cover with a film of olive oil to preserve it and store in the refrigerator.
Notes
Save the water from the can of chickpeas, when making the hummus you can change the texture from spread to dip by adding more of the chickpea water.
Don't Miss My Latest Recipes
CLICK TO SUBSCRIBE NOW to join my newsletter list & receive a FREE 'How To Adapt Recipes For Your Slow Cooker' printable!
Share by Email
As I said at the beginning of this post, this Roasted Carrot Hummus  is a truly delightful recipe, roasting the carrots brings out the sweetness and combined with the other ingredients it makes a delicious spread or dip.
One-pot Gourmet Gardener by Cinead McTernan
Photographs by Jason Ingram
Published by Frances Lincoln
Wild Garlic Hummus – Farmersgirl Kitchen
Roasted Butternut Squash Hummus – Recipes from a Pantry
Aubergine and Red Pepper Houmous – Penelope's Pantry
Easy Roasted Red Pepper Hummus – Hungry, Healthy, Happy
Kale, Coriander and Hemp Hummus – Tinned Tomatoes
Sweet Potato and Lime Hummus – Maison Cupcake
Huomous with Peanut Butter – Fab Food 4 All
Courgette and Preserved Lemon Hummus – Natural Kitchen Adventures