Strawberry Tarts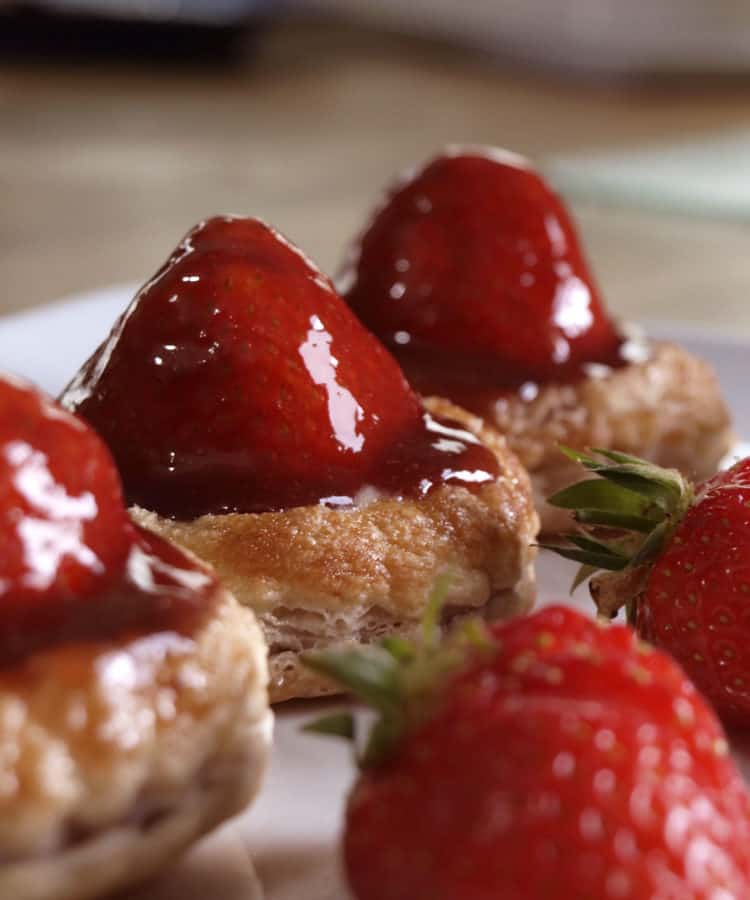 It may not look much like summer outside, but Strawberry Tarts are very much part of a British summer. When I saw that 'Summer Berries' was the theme for the June Tea Time Treats challenge run by Karen at Lavender and Lovage and Kate at What Kate Baked, I decided to have a go at making them myself. As a bonus, strawberries are the 'One Ingredient' for the One Ingredient challenge run by Laura, How to Cook Good Food and her co-host Nazima, Working London Mummy who is hosting this month.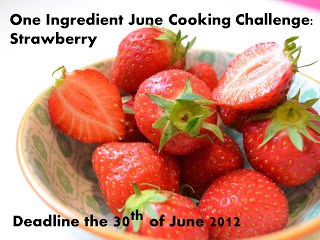 Strawberry Tarts (makes 8)
1 sheet ready rolled puff pastry
Punnet of strawberries
2tbsp strawberry jam
1 egg white
1tbsp caster sugar
For the creme patisserie
2 egg yolks
50g caster sugar
15g cornflour
175ml milk
1tsp vanilla extract
15g butter
1. Using a large pastry cutter, cut out 8 circles of puff pastry. Using a small cutter, mark the centre (do not cut all the way through.)
2. Place the circles on a piece of baking parchment on a baking tray, brush with egg white and sprinkle with caster sugar.
3. Bake at 220C for about 10 minutes until risen and golden. Leave to cool.
4. Make the creme patisserie: Beat the egg yolks with the sugar until it becomes pale and fluffy, add the cornflour and mix thoroughly.
5. Heat the milk in a pan until nearly boiling, pour slowly over the egg mixture beating all the time, return the mixture to the pan and add the vanilla extract.
6. Heat gently until it comes to the boil, continue to cook for 2 minutes until it has thickened, add a knob of butter to add a little gloss to the sauce.
7. Pour into a bowl (if you have any lumps, you can sieve it into the bowl), cover with cling film and chill.
8. Sieve the jam to make a smooth glaze.
To assemble:
1. Carefully cut the centre circle out of the baked pastry circles and remove the centre of the shell.
2. Put a teaspoon of jam in the bottom of each of the cases.
3. Add 3 tsp of creme patisserie into the case.
4. Place a large strawberry on top of the creme patisserie.
5. Spoon over more strawberry glaze.
6. Slice a strawberry into a fan (optional)
I know puff pastry isn't traditional for strawberry tarts, but it worked really well adding a lovely light, sweet crunch to the strawberry and creme patisserie.
If you want an even easier way to make these tarts, buy some vol-au-vent cases, which is effectively what I made, use a high quality ready made chilled vanilla custard, you could knock these up in no time at all.