What better way to celebrate summer than with a delicious homemade Strawberry Shortcake?  I absolutely love a fresh crumbly scone layered up with strawberry jam, fresh cream, and fresh strawberries.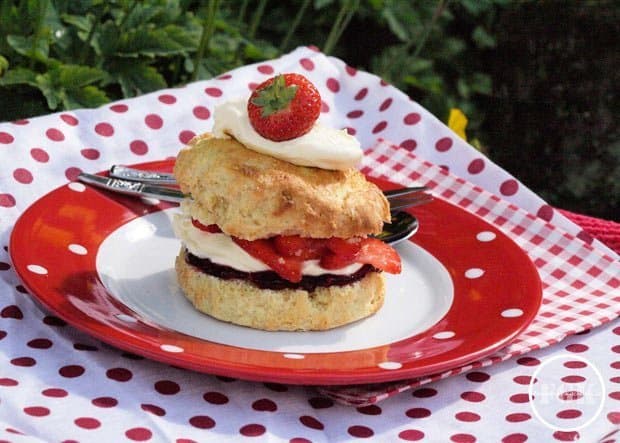 Strawberry Shortcake is a classic American dessert as well as an annoyingly twee little pink cartoon character, search online and you will see what I mean.  I did a little research online and it soon became obvious that 'shortcake', in this context, is simply a sweet scone.  So if you can make scones, you can make Strawberry Shortcake!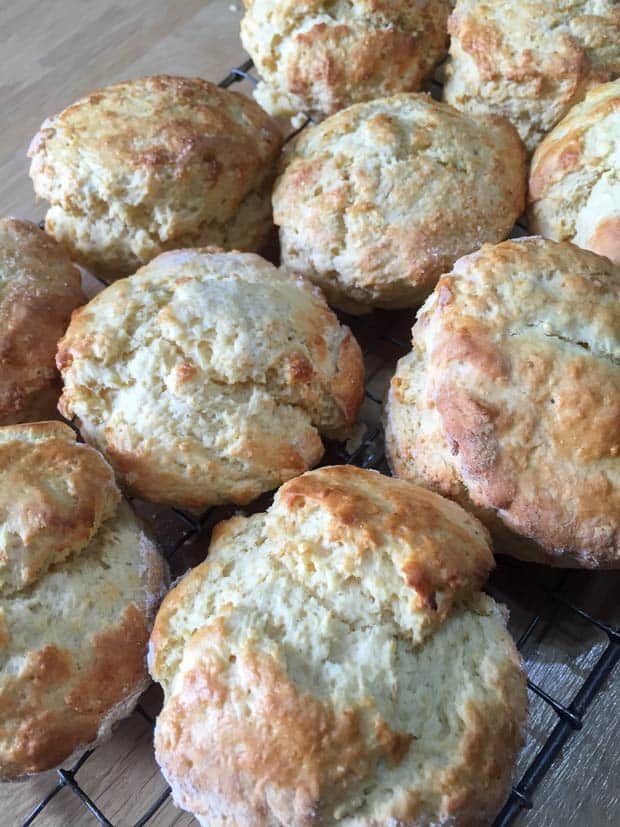 TOP TIPS FOR BAKING SCONES:
Rubbing the fat into the flour is best done by hand, but if I have a large batch to make I do use my stand mixer or sometimes a food processor.
Never add the liquid in the mixer or food processor (unless you are really expert) as this is likely to overwork the dough, add it slowly and bring together the dough first with a knife and then with your hands.
Never knead the dough, just bring it together pressing a little until it's smooth.
There's no need to roll out the dough, just pat it down.
The height of the uncooked dough should be about half what you want for your finished scone, so cut them thick.
Never twist your cutter when cutting out the scone, it stops it from rising properly.
Make sure your oven is really hot before putting the scones in to bake.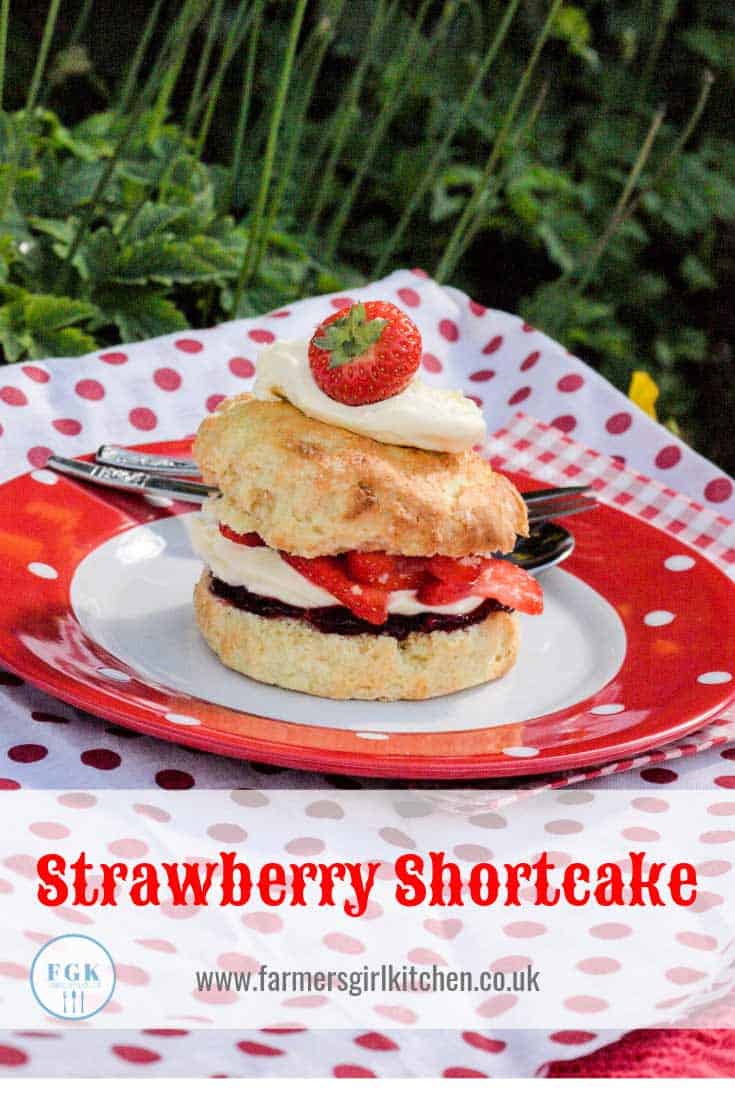 Strawberry Shortcake Recipe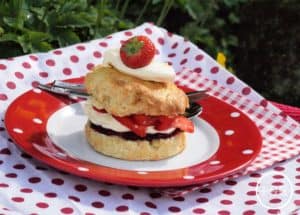 Strawberry Shortcake
A sweet scone type shortcake filled with strawberry jam, sliced strawberries and cream.
Ingredients
For the Shortcake

225

g

self-raising flour

1

tsp

baking powder

50

g

soft butter

25

g

caster

superfine sugar

1

egg

milk

1

tbsp

granulated sugar

For the filling

2

tbsp

strawberry jam

12

strawberries

150

ml

double

heavy cream whipped (or 100g clotted cream)
Instructions
For the shortcake
Heat the oven to 220C

Line a baking tray with parchment paper.

Put the flour and baking powder in a bowl, add the butter and chop it into the flour, then rub the butter into the flour with your fingertips, until it looks like breadcrumbs, add the caster sugar.

Crack the egg into a jug or other measure and beat with a fork, add milk up to 150ml.

Gradually add this mixture to the flour bringing the liquid and flour together into a soft dough, you may need a little less or a little more depending on your flour.

Pat the dough out to about 1.25cm (1/2 inch)

Cut into rounds with an 85 mm (3 1/4 in) cutter and place on the baking tray

Brush the tops of the scones with milk, or the milk/egg mix if you have any left.

Sprinkle with granulated sugar

Bake for about 10 minutes until the scones are pale golden brown.

Remove from the baking sheet and cool on a wire rack.
To assemble
Take one cooled scone per person

Split the scones in half

Spread strawberry jam on the base of the scones and place on the serving plate

Top with a spoonful of whipped or clotted cream

Set aside 4 of the best strawberries (preferably quite small) for the top of the shortcake

Slice 8 of the strawberries and sprinkle with a teaspoon of caster sugar and 1/4 tsp lemon juice

Divide the strawberry slices between the four scones

Place the top of the scone over the strawberries

Add a small spoonful of cream and top with a small whole strawberry.
Notes
If you don't have time to make scones, you can always buy some good quality scones and layer them up with jam, cream and strawberries.
Nutrition
Calories:
514
kcal
Carbohydrates:
61
g
Protein:
9
g
Fat:
26
g
Saturated Fat:
16
g
Cholesterol:
119
mg
Sodium:
125
mg
Potassium:
281
mg
Fiber:
2
g
Sugar:
16
g
Vitamin A:
923
IU
Vitamin C:
22
mg
Calcium:
102
mg
Iron:
1
mg
Don't Miss My Latest Recipes
CLICK TO SUBSCRIBE NOW to join my newsletter list & receive a FREE 'How To Adapt Recipes For Your Slow Cooker' printable!
Share by Email
You could, of course, make one single large Strawberry Shortcake.  For this, you would make two larger circles, use a small plate as a template, leave one circle whole and cut the other into wedges, once baked these will sit on top of the strawberries and cream.
Here are some other strawberry dessert ideas you might like to try: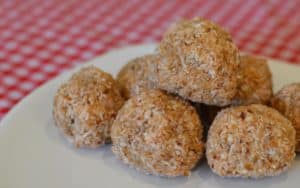 Raw Strawberry Coconut Macaroons – Planet Veggie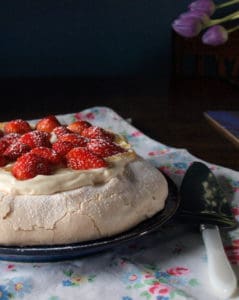 Sensational Strawberry Pavlova – Farmersgirl Kitchen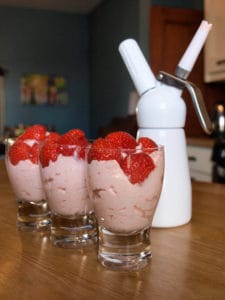 Strawberry Mousse – Farmersgirl Kitchen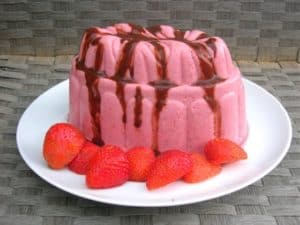 Vegetarian Strawberry Blancmange – Tin & Thyme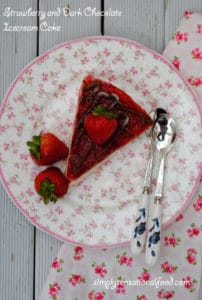 Strawberry and Dark Chocolate Ice Cream Cake – Simply Food
And one last look at the Strawberry Shortcake…