I am totally sold on the concept of an Ice Cream Sandwich and especially a Strawberry Shortcake Ice Cream Sandwich. You can pick it up and lick the ice cream from the centre with the melting ice cream running down your fingers or eat it from a bowl breaking through the crisp cookie to reach the sweet, icy centre. The addition of delicious Scottish strawberries makes this the perfect dessert.
If you don't have time to make your own shortbread, you could buy some shortbread cookies to make a really speedy Strawberry Shortcake Ice Cream Sandwich, but there is no doubt that homemade butter shortbread is much better and it's simple to make.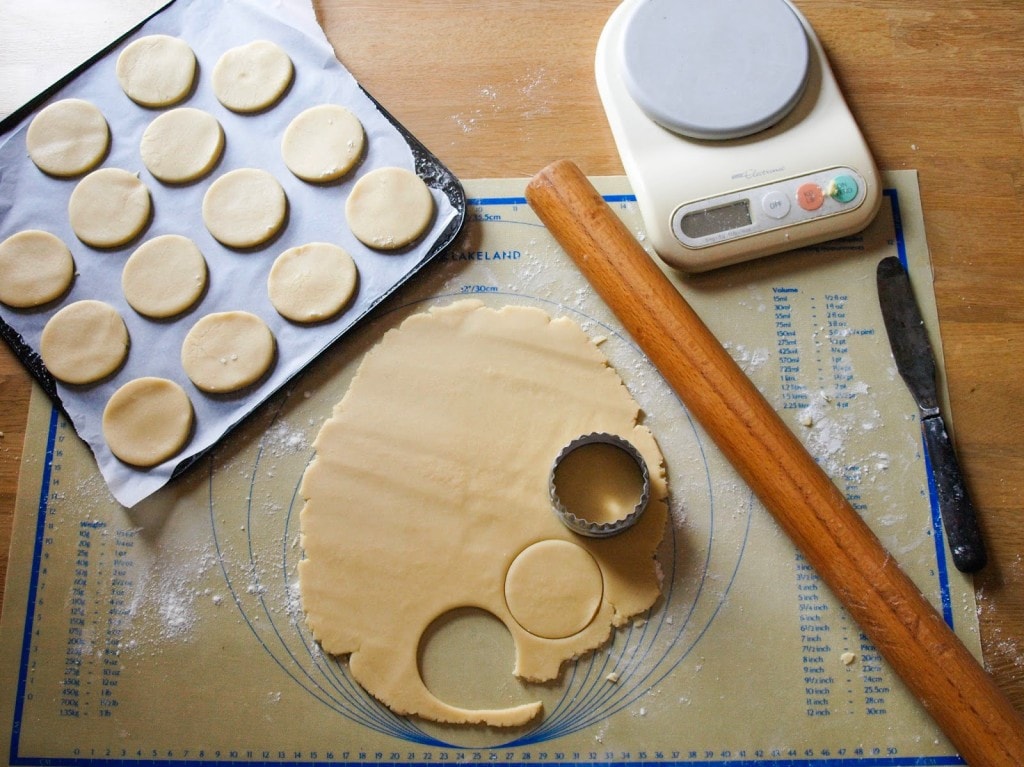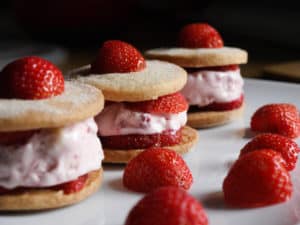 Strawberry Shortcake Ice Cream Sandwich
2017-05-10 20:23:56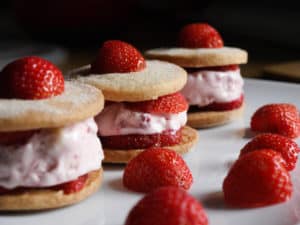 Serves 6
A homemade shortbread biscuit (cookie) filled with strawberry ice cream or frozen yogurt and sliced strawberries.
For the shortbread biscuits
300g (10oz) plain flour
100g ( 4oz) caster sugar
200g (8oz) butter
caster (superfine) sugar for dredging
Ice cream of your choice
250 g strawberries
To make the shortbread biscuits
Sift the flour into a bowl and add the sugar. Work in the butter with your fingertips - keep it in one piece and gradually work in the dry ingredients. Knead well until the dough has come together.
Pat down on a work surface and use a rolling pin to roll the dough to about 1/2 cm (1/8 in) and cut out with a cookie cutter. You will probably have to keep pushing the dough back together again as it is very crumbly.
Slide the cut biscuits off the work surface with a knife and onto a baking sheet.
Bake in the oven at 170C (325F) Mark 3 for about 8 minutes until firm and pale golden brown.
Lift onto a cooling tray with a spatula and dredge with caster (superfine) sugar.
To assemble the ice cream sandwich
Using the ice cream of your choice, I used ready made Strawberry Shortcake Frozen Yogurt, let it soften slightly and press it into the cookie cutter that you used to cut the biscuits, remove the cookie cutter and refreeze the ice cream patties. Once I'd made these I realised that they were too deep for the sandwich so, once frozen, I cut them through the middle to make six. Then all you need to do is assemble the sandwich: take a biscuit, layer on some sliced strawberries, add the ice cream pattie, more sliced berries, top with another biscuit and decorate with a halved strawberry.
Notes
You can easily adapt this recipe to be dairy free by using a dairy-free spread in the biscuits and a dairy free frozen dessert to replace the ice cream.
Farmersgirl Kitchen https://www.farmersgirlkitchen.co.uk/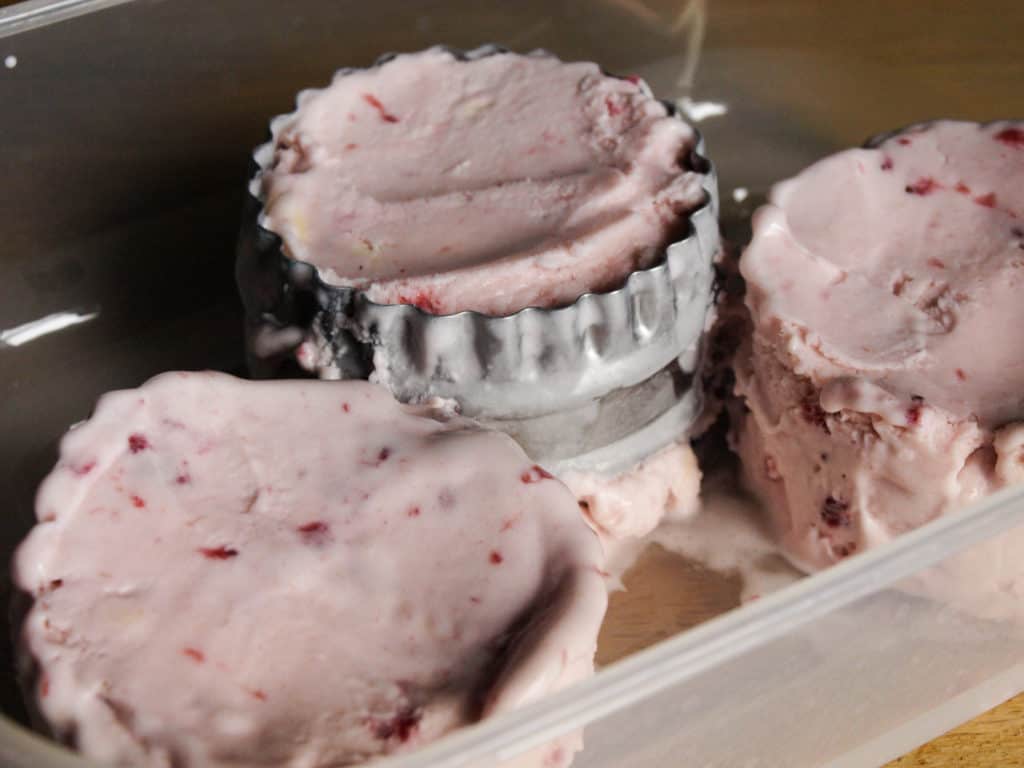 Using the cookie cutter to make the ice cream rounds for the Strawberry Shortcake Ice Cream Sandwiches means that they are always the correct size. Store some in your freezer so they are always on hand when you want to create an ice cream sandwich.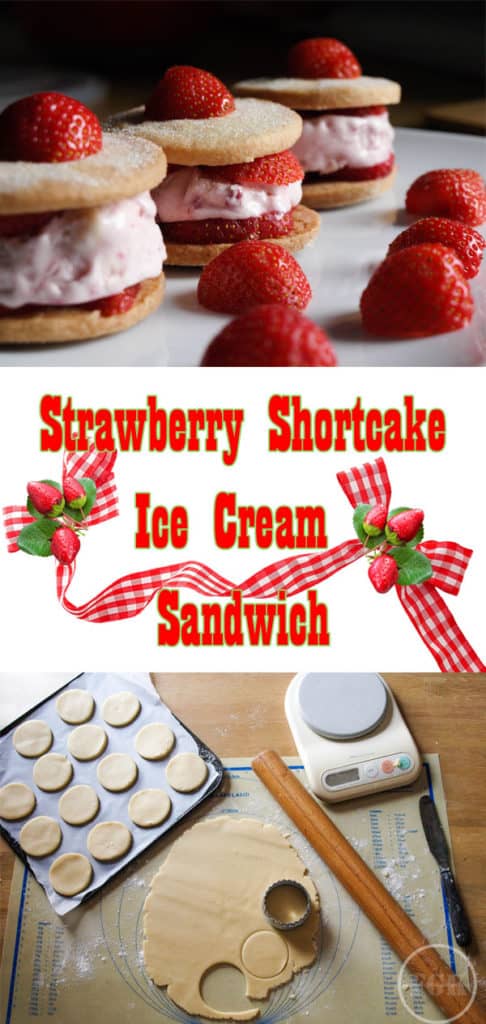 PIN ME FOR LATER
I used Graham's butter from
Graham's the Family Dairy
to make the shortbread. In a sign of the growing demand for local produce, Graham's have beaten Danish rivals Lurpak to become the best selling butter brand in
Scotland
. Made from milk supplied only by Scottish dairy farmers, Graham's butter is then churned the traditional way north of the border.
The new research confirms the consumer trend to increasingly choose Scottish produce. When it comes to block butter, Graham's have overtaken Lurpak and now have 10.9% market share with their Danish rival trailing with just 9.8%.
I found Graham's butter light, creamy and easy to work with when making shortbread, the shortbread was very good, with a nice snap to it then melting in your mouth, just as it should.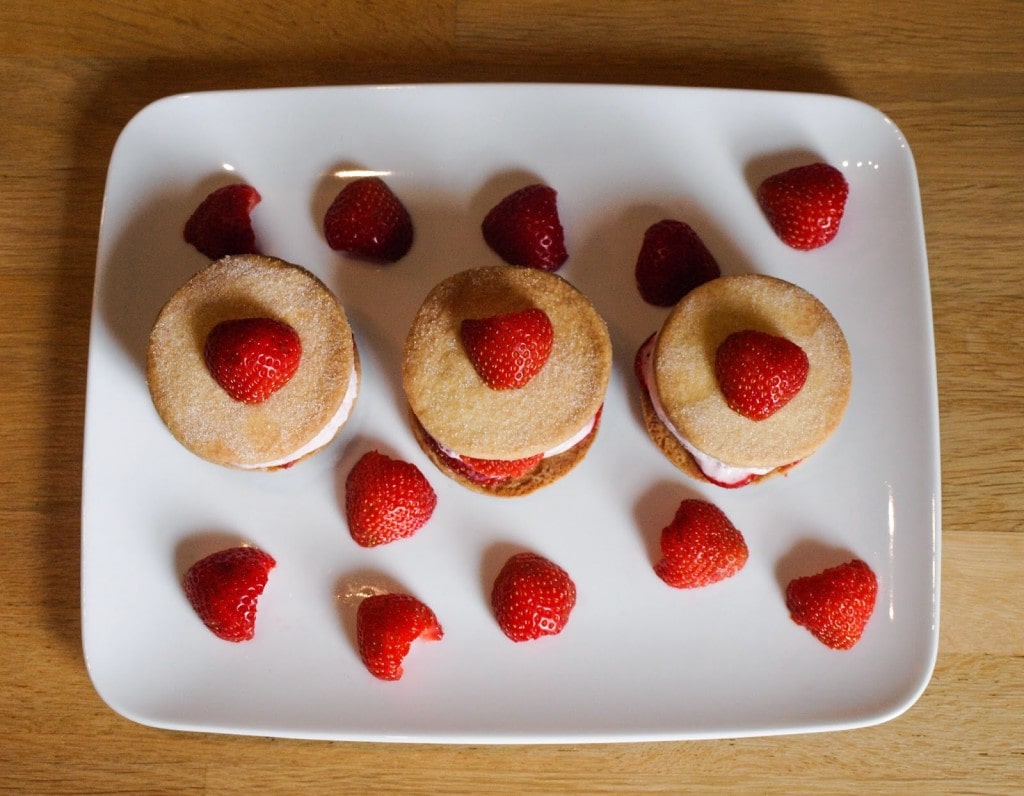 I was supplied with butter by Graham's Family Dairy, I was not paid for this post and all opinions are my own.