As my regular readers know, I am slightly obsessed with my slow cooker and use it pretty much every week to make all kinds of slowly cooked recipes. I'm also a fan of Moroccan food and this Crock-pot Chicken Tagine certainly hits the spot.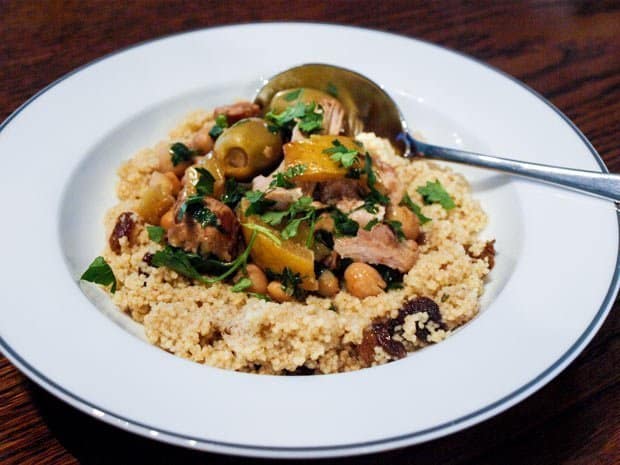 There are many different brands of slow cooker but the original Crock-pot is still has a certain cachet, if slow cookers have cachet! I was delighted to be invited by Crock-pot to try out the Crock-pot Countdown Slow Cooker join them making some recipes for Crocktober over on their Facebook page.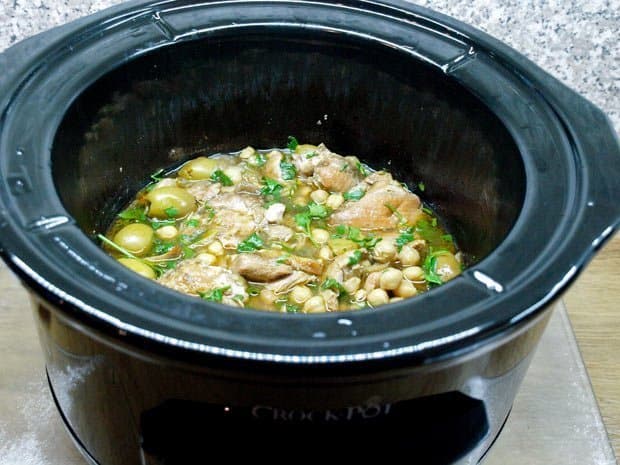 My sister-in-law gave me a jar of preserved lemons that she had made and every time I open the larder I see them there, so it seemed like the ideal opportunity to make a Chicken Tagine with Preserved Lemons in the Crock-pot.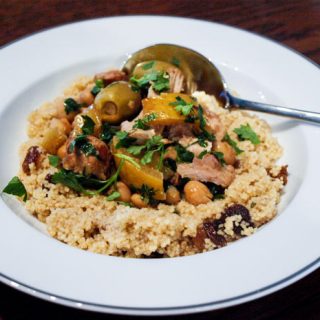 Crock-pot Chicken Tagine with Preserved Lemons
A light fresh Tagine made with chicken, olives and lemons.
Ingredients
300

g

 hot chicken stock

pinch

of saffron

6

chicken thighs

1

tbsp

vegetable oil

1

onion

finely chopped

2

cloves

garlic

finely chopped

1

tsp

ras el hanout

1

tsp

ground ginger

1/2

tsp

ground coriander

1

cinnamon stick

1/2

large preserved lemon

two quarters

400

g

can chickpeas

drained and rinsed

100

g

green olives

50

g

chopped flat leaf parsley

salt and freshly ground pepper
Instructions
Soak the saffron in the hot stock to bring out the colour.

Heat the oil and brown the  chicken thighs and place in the bottom of the Crock-pot

Cook the onion until it starts to become transparent.

Add the garlic, ras el hanout, ginger coriander and cinnamon stick and cook for a minute.

Add the stock and bring to the boil, add to the Crock-pot and cook on Low for 5 hours.

Add the chickpeas, the olives and the preserved lemons, roughly chopped.

Cook on Low for a further 1-2 hours.

Check the seasoning and adjust to taste.
Notes
If you are not ready to eat, the Crock-pot will keep the Tagine warm for a couple of hours without coming to any harm. Serve with couscous, I added some sultanas to the cous cous and used some of the juices from the Tagine, with some added boiling water, to swell the grains.
Nutrition
Calories:
576
kcal
Carbohydrates:
23
g
Protein:
35
g
Fat:
38
g
Saturated Fat:
11
g
Cholesterol:
168
mg
Sodium:
913
mg
Potassium:
690
mg
Fiber:
7
g
Sugar:
2
g
Vitamin A:
1300
IU
Vitamin C:
19.1
mg
Calcium:
108
mg
Iron:
3.9
mg
Don't Miss My Latest Recipes
CLICK TO SUBSCRIBE NOW to join my newsletter list & receive a FREE 'How To Adapt Recipes For Your Slow Cooker' printable!
Share by Email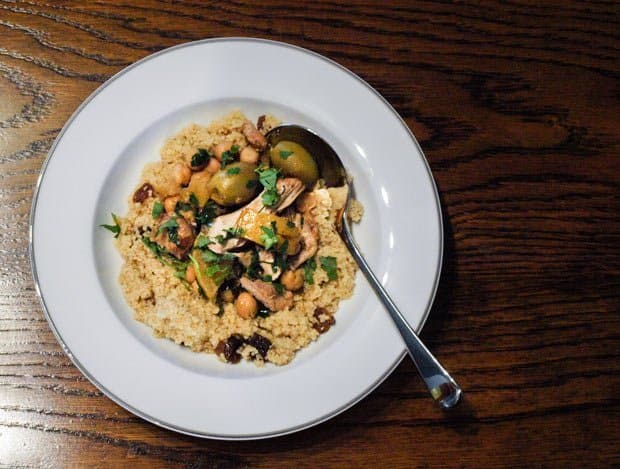 The Tagine was much lighter than the usual lamb recipe that I make, I missed the sweetness of dried fruit in the dish, which was why I added sultanas to the couscous. I would probably add some dates or apricots if I was making it again. I would recommend that you don't add any salt to the dish while cooking as I found that the preserved lemons (preserved in salt or brine) and the olives added enough salt without any additions.

So how did the Crock-pot perform?
I really liked the solidity of the Crock-pot, it feels substantial and looks attractive
The 'stay warm' feature is really valuable as you know that if you are a little later getting home, your meal will be kept warm without being over cooked.
My other slow cooker has a metal 'pot' which can go on the hob, I did miss that but not as much as I thought I would.
The electronic timer means that you can be accurate with your timings.
Best of all for me, the Crock-pot bowl and lid can go in the dishwasher – woo hoo!
If you would like to try to win a Countdown Slow Cooker Crockpot and Crockpot Warmer (I'll tell you about the Crockpot Warmer in another post) my friend Karen is running a giveaway over at her blog Lavender and Lovage – Crockpot Slow Cooker and Crockpot Warmer Giveaway ending 9th December 2014.

I'm adding this to my own Slow Cooked Challenge, anyone is welcome to join in with a slowly cooked recipe whether in a slow cooker or by other slow cooking methods.
Thanks to the people at Crock-pot for providing me with this Countdown Slow Cooker Crock-pot, I was not paid for this review and all opinions are my own.