Easy Smoked Mackerel Kedgeree is a mildly spiced rice dish with flakes of soft smoked mackerel, and sweet peas and topped with quartered hard-boiled. It is traditionally served for breakfast but makes the perfect lunch or speedy supper.

What is Kedgeree?
Kedgeree is a mixture of cooked smoked fish, spiced rice, curry powder, and eggs. The recipe originated in India where kitchari is the name given to a large variety of rice and lentil dishes.
The early British colonists enjoyed this dish served for breakfast alongside varieties of fish. Eventually the two were combined and later the eggs were introduced as a garnish.
The recipe was described in letters home and gradually the lentils disappeared from the dish and smoked haddock was introduced.
Kedgeree was a typical breakfast dish in wealthy households in the Victorian and Edwardian periods when a variety of dishes were served from the sideboard. Today it is more likely to be served for lunch or supper. Read more about the origins and development of Kedgeree in this article in The Guardian.

I love smoked fish and have a soft spot for kedgeree. My mum and my gran used to make it with leftover rice and cooked smoked haddock. All the ingredients were re-fried in butter and it was so luscious and tasty.
While cooked smoked haddock is the traditional fish to use for kedgeree, I use Smoked Mackerel for speed and convenience. Smoked mackerel is hot-smoked so is already cooked and this cuts out an extra step in the process.

What is Smoked Mackerel?
Mackerel is a fast-swimming fish that is abundant in cold and temperate seas around the world, they are known for their slim shape, numerous finlets, and oily meat.
You should eat fresh mackerel as soon as possible for best results. To make the fish last longer, Smoked Mackerel is preserved by curing and smoking. The hot smoking process not only cooks the fish but provides the wonderful smoky flavour.
Smoked Mackerel is a very versatile fish and is one of the richest sources of Omega 3 oils. Serve smoked mackerel just as it is with salad or flake and add it to pasta dishes.
One of my favourite ways to serve smoked mackerel is to whizz it up in the food processor with cream cheese or creme fraiche to make a Smoked Mackerel Pate. It also a great addition to a Fish Pie.

What does Smoked Mackerel Kedgeree taste like?
My recipe has a mild curry flavour from a Korma curry paste and a rich smoky taste from the fish. The basmati rice and hard-boiled eggs balance out the richness of the flavours.
I also add fresh parsley to provide a fresh flavour. However, if you don't have any parsley you can still enjoy the dish.
How long does Easy Smoked Mackerel Kedgeree take to make?
You can make this recipe in 20 minutes. Because it is so quick to make it is ideal for a lunch or a light supper. You can easily increase the quantities to serve a crowd, just put a large pan of Kedgeree on the table and let everyone help themselves.

Can you freeze kedgeree?
Yes, you can freeze kedgeree although you have to be careful freezing rice. Cool the kedgeree and freeze as soon as possible after making it. Do not freeze the hard-boiled eggs. Defrost in the fridge and heat through thoroughly before serving.
You can also keep kedgeree in the fridge for 2 -3 days, again make sure you cool it and put it in the fridge in a sealed container as soon as it is cooled. Reheat thoroughly before serving.

How to make Easy Smoked Mackerel Kedgeree
Follow the step by step instructions and photographs.
Heat the oil in a large pan,
Add onion and garlic and cook until soft.
Next, add the rice and stir around till covered in oil.
Add the curry paste and cook for a minute.
Pour on the stock and simmer until the rice is soft and all the liquid has been absorbed.
Put the peas in the pan and mix through the rice.
Remove the skin from the smoked mackerel fillets and flake the fish.
Mix the fish through the rice mixture.
Hard boil the eggs and peel.
Cut into quarters.

How do you serve Smoked Mackerel Kedgeree?
Chop the parsley and mix through the rice then, serve the Easy Smoked Mackerel Kedgeree topped with the hard-boiled egg quarters and some extra chopped parsley.
More Smoked Mackerel Recipes from Farmersgirl Kitchen

I use Smoked Mackerel as a topping for one of these Venetian style Cicchetti. They are Open Sandwiches with delicious toppings that are also ideal to serve as appetisers.

We love Smoked Mackerel Pate. Make it in a food processor for a speedy spread. It tastes great on toast or crackers.
More Delicious Smoked Mackerel Recipes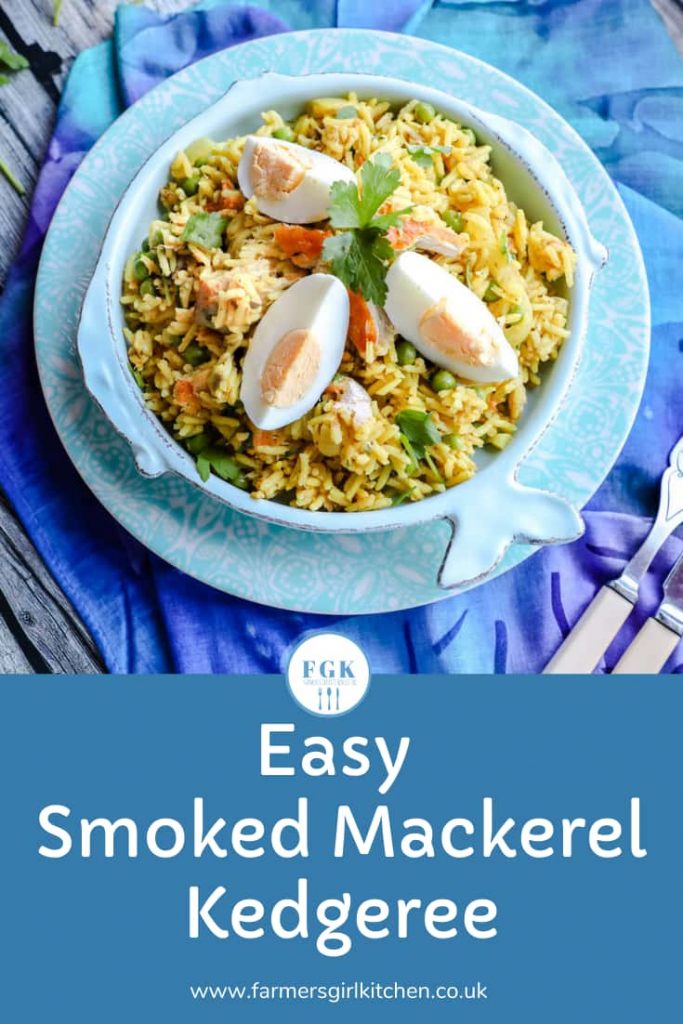 Stay in touch with everything that's going on at Farmersgirl Kitchen.

Smoked Mackerel Kedgeree
Smoked Mackerel Kedgeree is a mildly spiced rice dish with flakes of soft smoked mackerel, and sweet peas, top it with quartered hard-boiled eggs for the perfect lunch or speedy supper.
Ingredients
1

tbsp

oil

2

cloves

garlic

finely chopped

1

onion

sliced

195

gram

basmati rice

2

tsp

mild curry paste

500

ml

stock

or water

200

gram

smoked mackerel

50

gram

frozen peas

20

gram

parsley

2

eggs

hard-boiled

1

pinch

salt

to taste
Instructions
Heat the oil in a large pan, add the garlic and onion and cook until soft.

Add the rice and stir around till covered in oil, add the curry paste and cook for a minute.

Add the stock or water and simmer until the rice is soft and all the liquid has been absorbed, about 10 minutes, add the peas.

Flake the smoked mackerel and add to the cooked rice, season to taste.

Finish by adding the chopped parsley and quartered hard boiled eggs.
Notes
You can double up the quantities to feed a crowd. 
Nutrition
Calories:
354
kcal
Carbohydrates:
46
g
Protein:
18
g
Fat:
10
g
Saturated Fat:
2
g
Cholesterol:
105
mg
Sodium:
591
mg
Potassium:
388
mg
Fiber:
2
g
Sugar:
3
g
Vitamin A:
1327
IU
Vitamin C:
15
mg
Calcium:
60
mg
Iron:
2
mg
Don't Miss My Latest Recipes
CLICK TO SUBSCRIBE NOW to join my newsletter list & receive a FREE 'How To Adapt Recipes For Your Slow Cooker' printable!
Share by Email