Fresh Mint Chocolate Cake is a rich dark chocolate cake filled and topped with fresh mint buttercream. Add a little fresh mint and chopped chocolate to the buttercream and take it to a whole new minty level!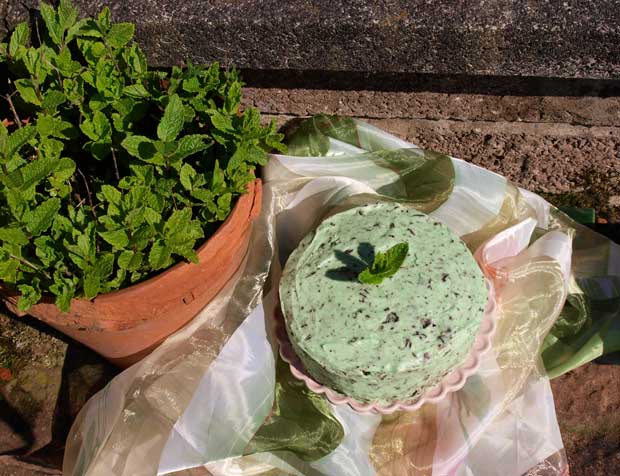 A Passion for Chocolate Mint
My mother-in-law has a passion for chocolate mints. Offer her pralines, truffles, cream centres or toffees and she always chooses a chocolate mint. As my mother-in-law's birthday is in early June I decided to make her a
I love to grow fresh herbs and I grow a big pot of peppermint so there are plenty of leaves to use in recipes, for example, Lemon and Mint Tabbouleh My mother-in-law's birthday is in early June so the fresh mint plant has plenty of leaves it inspired me to make a celebratory Fresh Mint Chocolate Cake.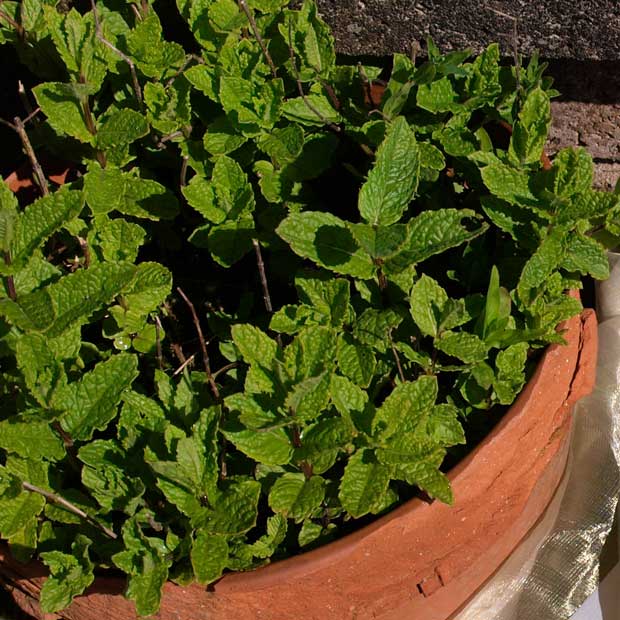 Mint
There are many different types of mint, apple mint, spearmint, ginger mint and even a chocolate mint plant. The mint plant in the photograph is a standard peppermint which I rescued from the front of a ruined cottage at the top of one of our fields.
The mint grew by the door of the cottage. I like to think of it being planted there by the person who lived there. I can just imagine someone coming out of the door to pick some mint to make mint sauce for their roast lamb.
Can I make this cake without fresh mint?
There is a little peppermint essence in the buttercream icing however you can make the cake without fresh mint. The fresh mint definitely adds an extra minty zing to the icing therefore, I recommend that you use it.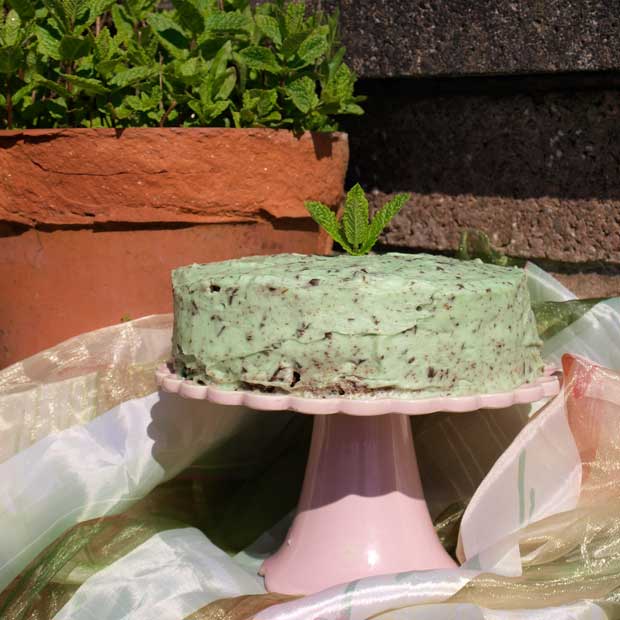 In conclusion, the Fresh Mint Chocolate Cake was a big success espcially with my mother-in-law.
More Celebration Cakes from Farmersgirl Kitchen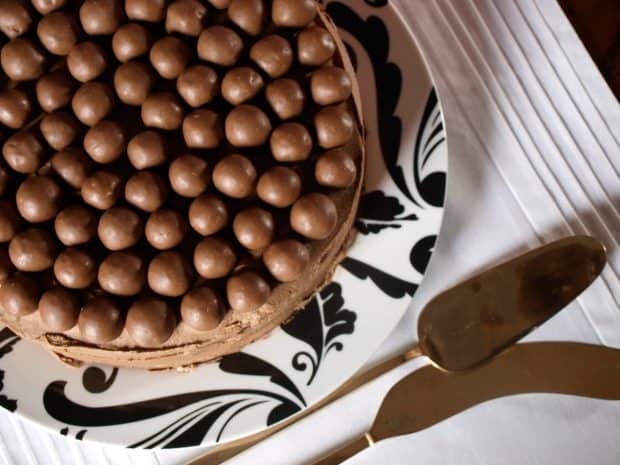 Chocolate Caramel Malteser Cake is a really simple celebration cake. Decorate the cake with circles of maltesers for a really effective look.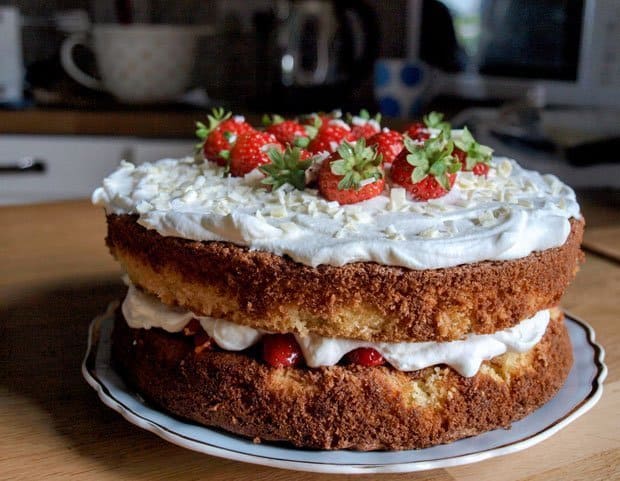 White Chocolate Strawberry Cream Cake is a delicious light sponge that is made with white chocolate and orange zest, fill and top with whipped cream, orange curd and lots and lots of strawberries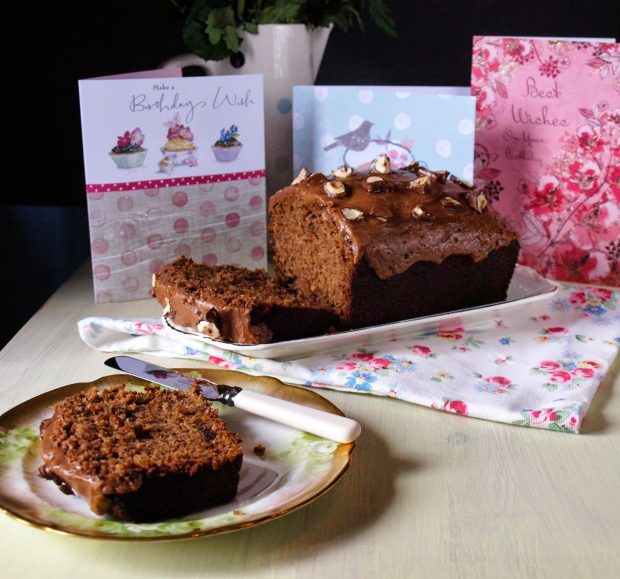 Chocolate and Banana Nut Cake is one of the best I've ever made, the texture is fine and it cuts beautifully. The chocolate hazelnut spread has a subtle flavour and the banana gives the cake moisture.
More Cake Recipes with Herbs
Lemon, Lavender and Almond Cake (Gluten Free) – Food Family Friends
Olive Oil, Orange and Oregano Cake – Fuss Free Flavours
Chamomile Cake with Salted Honey Buttercream – Veggie Desserts
Thyme for Lemon Cake – Thinly Spread
Lavender Honey Cake – Tin & Thyme
Apple and Thyme Cake – Tin & Thyme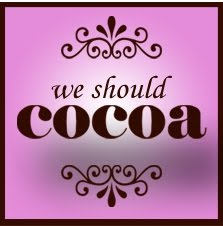 I'm entering the Fresh Mint Chocolate Cake for We Should Cocoa, the monthly link up for recipes using chocolate and cocoa. We Should Cocoa is run by Choclette at Tin & Thyme, why not visit and see all the lovely recipes there?

This recipe links with the #GBBOBloggers2018 and #GBBOBakeoftheWeek Linky as I am really loving this series of The Great British Bake Off and want to share this great recipe.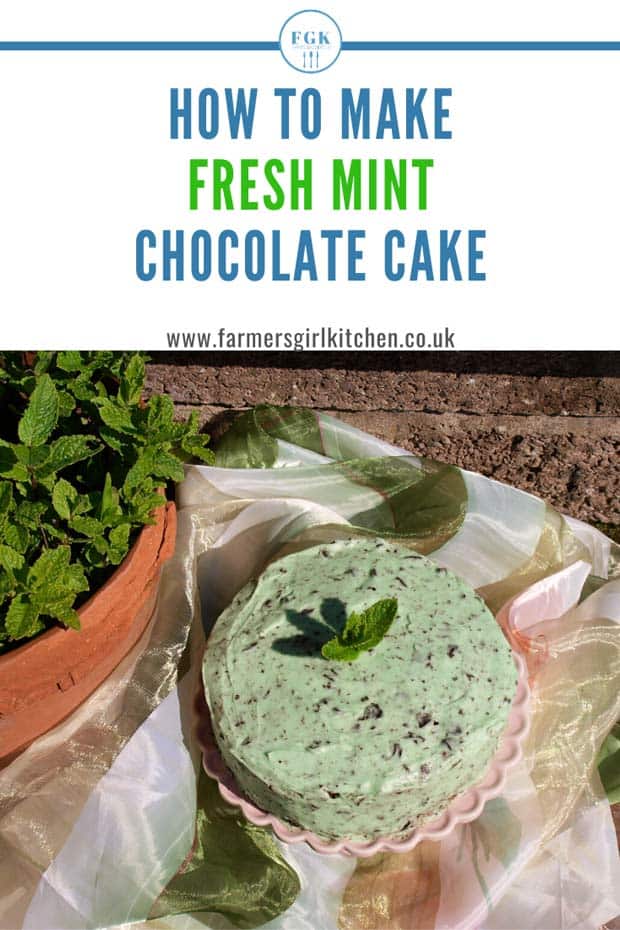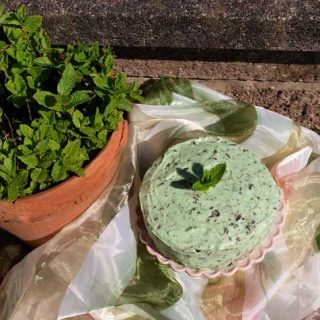 Fresh Mint Chocolate Cake
Rich chocolate cake, filled and covered with a mint and chocolate buttercream with a little bit of fresh mint zing!
Ingredients
For the Cake
100

grams

butter or soft margarine

100

grams

caster sugar

100

grams

self-raising flour

1

rounded tbsp of cocoa powder

2

tablespoon

hot water

2

large eggs

beaten

1

level tsp baking powder
For the buttercream frosting
100

grams

butter

375

grams

icing/powdered

sugar, sieved

1

teaspoon

peppermint essence

1/2

teaspoon

vanilla extract

Teeny tiny squeeze of green food colouring paste

optional

1

tablespoon

milk

50

grams

dark chocolate

finely chopped

2

teaspoon

very finely chopped fresh mint leaves
Instructions
For the Cake
Heat the oven to 180C/350C/Gas 4

Grease and line the base of two 17.5cm (7in) sandwich tins

Blend the cocoa powder in a bowl with the hot water and leave to cool.

Put the butter, sugar, flour, baking powder and eggs in a large bowl, add the cooled chocolate mixture and, using an electric mixer, beat until smooth.

Divide equally between the two tins, smooth the top, and shake or tap the tins to evenly distribute the mixture.

Bake for 20-25 minutes until the sponges start to come away from the sides of the tins and spring back when the centre is pressed.

Leave in the tin for 3-4 minutes, then turn onto a rack to cool. The cakes must be completely cool before icing, and even better if you can leave it till the next day.
For the buttercream frosting
Put the butter in a large bowl and beat until soft.

Gradually add the icing sugar until it starts to come together then add the milk and flavourings. Beat again until you have a spreading consistency.

Add the green colouring paste and beat until you have a consistent pale green colour.

Finally add the chocolate and finely chopped fresh mint leaves and mix so they are distributed throughout the buttercream

This quantity will fill the sandwich cake and cover the top and sides. No further decoration is really needed but you could add some chocolate curls and as sprig of fresh mint.
Notes
Tip: To smooth the buttercream, keep a mug or jug of hot water beside you and regularly dip your metal palette knife (or other flat knife) into the hot water, dry on kitchen paper and when you are spreading on the buttercream, the heat in the knife will help to slightly melt it, giving a smooth finish.
Nutrition
Calories:
511
kcal
Carbohydrates:
72
g
Protein:
4
g
Fat:
24
g
Saturated Fat:
15
g
Cholesterol:
95
mg
Sodium:
197
mg
Potassium:
85
mg
Fiber:
1
g
Sugar:
61
g
Vitamin A:
684
IU
Calcium:
26
mg
Iron:
1
mg
Don't Miss My Latest Recipes
CLICK TO SUBSCRIBE NOW to join my newsletter list & receive a FREE 'How To Adapt Recipes For Your Slow Cooker' printable!
Share by Email